The saying 'All good things come to those who wait' could not be more apt for singer songwriter Elio Pace. After a 30 year dream to be fronting a show and performing a collection of songs of his idol, that dream was realised in 2014 and he is currently touring the country for the fourth year delighting and entertaining audiences everywhere. Tonight at The Charter Theatre Preston with a five piece band it has all been worth the wait for the audience too. The band took to the stage alongside the incredibly talented Elio Pace and kicked off with 'Angry Young Man'. With the cheers, whistling and even some standing to applaud at the first song, this promised to be an evening not to be forgotten.
Many would have given up on that dream after so long with his idea of The Billy Joel Songbook being rejected by agents and theatres again and again despite there being no other like it. Pace stuck with that dream and after being contacted unexpectedly in 2013 by Billy Joels original touring band from the early 1970's with a request to join them for two reunion concerts in America his luck changed. With new enthusiasm and approaching agents again, Pace finally got that longed for break and was booked by Barry Collings Entertainment for initially 70 dates in 2014..... The rest is history. Pace is living that dream and we as an audience, are lucky enough to be sharing it. The man is passionate about Billy Joel and his own performance, he is also a fabulous pianist. He chats to the audience with a warmth that makes you feel you are one of his mates and you can't help but love his easy manner.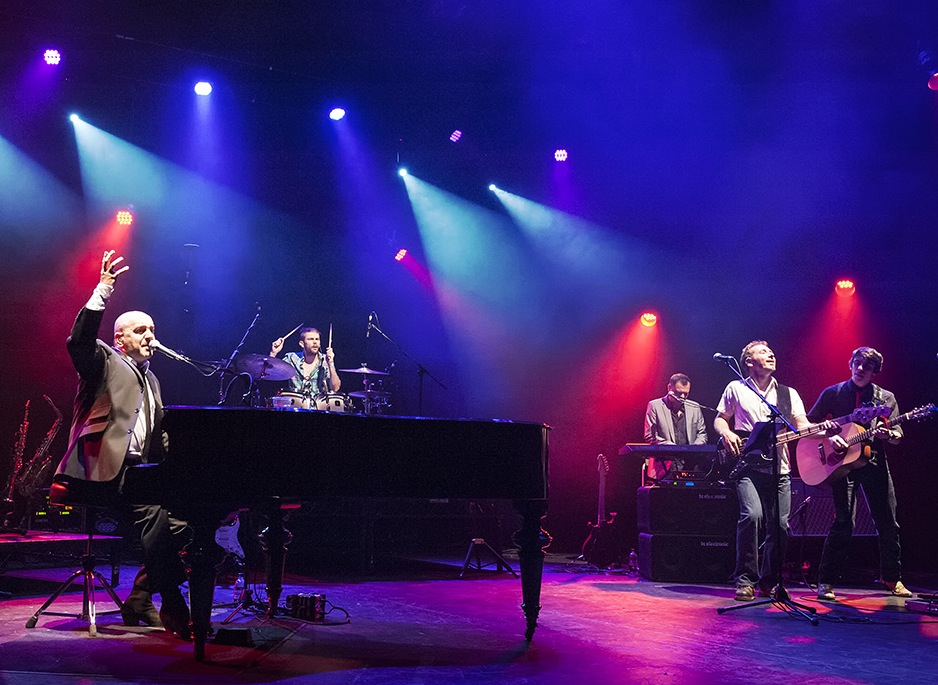 The comradeship between him and the band members is clear and several have been friends for over 20 years. It's evident all are seriously focused on their performances and although only being 22, Mikey Ciancio on drums and Tom Wright on guitar and vocals fit right in with the line-up of, Neil Fairclough on bass and vocals, the multi talents of John Meaney on keyboards, guitar, harmonica, percussion and vocals and Frank Walden on saxophones, keyboards, percussion and vocals. As a fan of sax its fortunate for me that so many songs feature the instrument and tonight it was a real treat to hear it being played so well although it is unfair to single out one musician above another as they are all extremely talented.
The first half of the show is fast paced and although I was not familiar with many of the songs performed from albums as despite loving Billy Joel's music I have to confess to only really knowing his chart successes....but that did not spoil any of my enjoyment of the show. Pace is a born entertainer and his exuberance shines through, he gives it it all from start to finish and crams an incredible amount of songs into his songbook including all those much loved and known hits such as 'My Life' 'Tell Her About It,' and 'The Longest Time' which demonstrated the vocal harmonies of the band members. The second half starts off with ballads but progresses to more upbeat again with 'River of Dreams' having most of the audience up and dancing, you just want to join in with the fun being had on stage!
'Uptown Girl' may have been there but there is no 'Downtown Man'.... Elio Pace delivers much more, he bares his soul, a true class act.
Reviewer: Lorna Weekes
Reviewed: 28th April 2017
North West End Rating: ★★★★★