It always seemed odd that a big town like Huddersfield with a lively local theatre didn't have an annual panto and now it's back with a bang……Oh, yes it is.
The Lawrence Batley Theatre has gone for a decidedly old school pantomime, and it's paid off worked judging by the enthusiastic audience participation from young fans especially as many of them will be getting their first taste of live theatre.
So there's plenty of classic call and responses like 'He's behind you' – check! Loads of lusty singing including a few contemporary pop hits – check! Bit of mild smut for the grown-ups– check! Local in jokes – check! Cross dressing for no good reason – check! Professional actors and no rubbish z-list 'celebrities – check!
There's no need to recap the 'plot' such as it is as Andrew Pollard's script is exactly what you might expect from the classic fairy tale, and panto veteran Joyce Branagh's direction encourages daftness at every point. It's all played in broad Yaaarkshire accents, so it's like Northern Broadsides doing panto which just adds to the fun.
Former Waterloo Road star Nisa Cole's works hard as Cinderella, but lacks the perky charm needed to make this rags to riches totally believable, and Adam Barlow's Price Charming is a tad on the mature side. Stephanie Hackett's cod 'Italian' accent as the cross dressing Dandani is wonderfully rubbish.
Natashsa Magigi has a big voice doubling up as a Beyonce wannabe Fairy Godmother and the evil Baroness Hardup, which might confuse some younger members of the audience, and quite why the company didn't just employ another actor is a mystery.
Richard Hand and Michael Hugo as Kylle and Miley Hardup are the perfect ugly sisters making the most of Glitter Pantomimes' gloriously OTT outfits and dropping in some sly innuendo for the adults. Both look like they are having great fun which transmits to a full house of baying kids, and their campy meagmix of pop hits is a delight.
But the undoubted star of this show is Gareth Cassidy's utterly charming Buttons as he effortlessly carries the show along with great wit, and skilfully takes his young audience along with him with a succession of well-timed awful gags, which is really what panto is all about.
This is no cheap and cheerful production as a hard working cast give it everything and the Lawrence Batley team were clearly determined to spend a bit of brass to re-establish a hugely entertaining local panto for local folk.
Oh, yes they have!
Cinderella runs at Lawrence Batley Theatre until Saturday 31st December. To book www.lbt.org.uk or 01484 430528.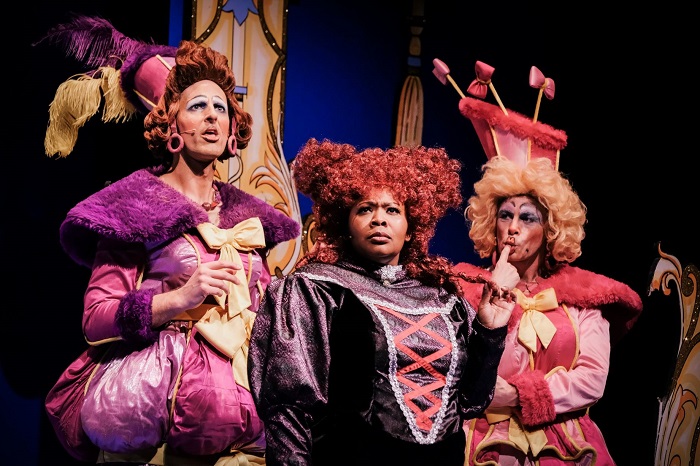 Reviewer: Paul Clarke
Reviewed: 20th December 2016
North West End Rating: ★★★★
Photo: Andrew Billington Photography