What a night of fantastic, festive, fun! There is nothing quite like a pantomime that allows adults to become big kids and believe me it wasn't just the little ones shouting out "It's Behind You", "Oh No You're Not"' and hissing and booing at St Helens Theatre Royal on the opening night of Snow White. Once again to a packed house, Regal Entertainments present a children's favourite tale and bring to life the characters.
Lucy Jo Hudson (Coronation Street, Wild at Heart) is a wonderful, delightful Snow White, a talented singer and her stint in TV's Dance Dance Dance is certainly paying off, you can't help but be charmed by her. Local star Johnny Vegas makes his appearance on a huge Magic Mirror by pre-recorded video which works well in this instance. Si Foster and Ben Engelen are the talented writers of this production with Si also starring as the evil Queen Camilla and oh is he bad.... really bad, which I am sure he will be delighted to hear as there is nothing quite like hearing an audience booing at you when you walk on stage as a baddie, tonight the roof was nearly lifting!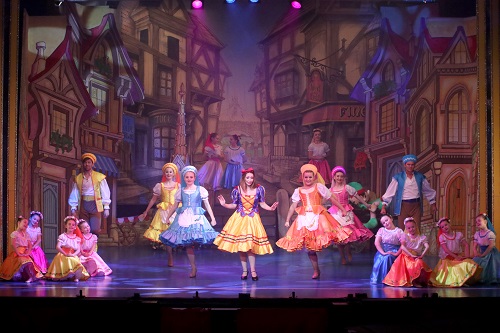 Making his pantomime debut is Lewis Devine as Muddles, an instant hit with young and old alike bringing laughter at his every appearance with his crazy antics and impressions and engaging with the audience. All good fairytales have a handsome prince and this is no exception with Jack Rigby cast fittingly as the debonair Prince Philip. Ric Hazlewood is the evil queen's henchman, Herman, will he carry out the task of killing Snow White?
Choreography is impressive, courtesy of Nazene Danielle Langfield, with both the senior ensemble and children from local dance schools enchanting to watch. Well done to all. There are spectacular costumes throughout and fabulous sound and lighting effects although we did find on occasion some of the performers were slightly drowned out by music, but this could be as we were relatively close to the speakers.
No panto is without innuendo that goes above the kiddies heads and this is no exception, especially during a slightly risqué hilarious 'Andy Pandy' section.
There is a truly incredible 3D scene during the second half and the audience are supplied with 3D specs for it....stunning and a real stand out moment in the panto as creatures literally appear to interact with the audience. Totally unexpected but a great addition to the show.
So who is missing? Heigh Ho, Heigh Ho, there's Seven Dwarfs you know! (Clue is in the title). Each and every one of the real life dwarfs played their characters as Grumpy, Prof, Cheeky, Blusher, Sniffly, Snoozy and Loopy to perfection, bringing a magical moment to the stage as they trooped across it singing the signature tune 'Heigh Ho, Heigh Ho' with the audience joining in.
The current run of Snow White and the Seven Dwarfs has been extended by a week until the 14th January 2018 due to demand so be sure to get your tickets booked as soon as you can!
For tickets and more information: http://www.sthelenstheatreroyal.com/show/?show_id=873570157
Reviewer: Lorna Weekes
Reviewed: 6th December 2017
North West End Rating: ★★★★