J. M. Barrie's classic tale of a boy who never grows up, Peter Pan, has been delighting audiences since the very first production in 1904 and judging by the packed Epstein Theatre, Liverpool this evening, will continue to for many more years to come. Pantomime is a must see for generations of families and a great way to introduce kiddies to theatre where they don't have to sit still and be quiet all night.
Almost deafened by the three little boys sat behind as they excitedly shouted 'Behind You' and a slip of the tongue with 'Lewis look out!' (Lewis Pryor performs as Peter Pan and obviously someone they knew) made it all the more enjoyable for me, it's what panto is all about, fun and laughter and to see it through kiddies eyes is magical. Pryor as Peter Pan is a great choice, he is instantly likeable and comfortable as he flies through the air with the lovely Wendy (Joanne Harper) and the other Darling children, John and Michael as they accompany him to Neverland. Harper and Pryor sing several lovely duets together and there is a good chemistry between them.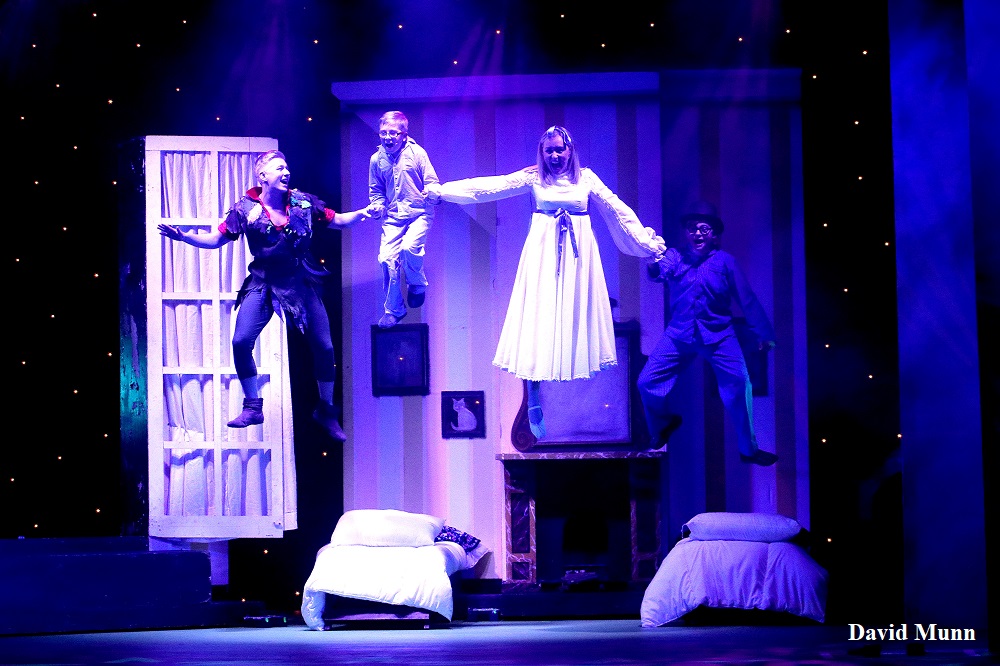 Now it's not every night you get the handsome Dane Bowers (successful boyband member of Another Level in the 90's) sprawled across your knee but this is exactly what happened to me tonight during a crazy chase through the audience with Captain Hook (Bowers) closely followed by Dame Betty (Michael Chapman). A little miscalculation of space resulted in both characters struggling to get across the row but just added to the hilarity as they got stuck, (I certainly wasn't complaining!). If there is one criticism of Captain Hook it is he doesn't appear evil enough and I would have liked to see him with long hair and pirate hat, but maybe that's the traditionalist in me, although he still gets the boos and hisses at his every appearance. On occasion it was difficult to hear Bowers sing and I think that was more a microphone issue as he did appear to adjust it on his face sometimes.
Chapman is a typical panto dame with a dry sense of humour and deliverer of some of the many innuendos which are a great addition for the adults in the audience. Local radio presenter Claire Simmo is no stranger to pantomime and I have seen her perform many times, tonight she is enchanting with a touch of naughtiness as she flits around the stage as the glittering Tinkerbell.
Hooks pirate sidekick Smee (Chris Barton) engages with the audience from the start encouraging everyone to shout back 'Sound lad' when he appears and asks 'How you doing shipmates?', and along with 'She's boss' from one of the Lost Boys upon finding Wendy are just a couple of the 'Scouserisms' I had to explain to my Southerner husband! There are several references to local areas too. I loved Kieran Carr's and Jonathan Oliverira's delivery of their lines as the Lost Boys, future stars to look out for.
Georgia Austin as the beautiful Tiger Lily is a pleasure to watch and she shone during her portrayal of the feisty Indian squaw.
With fabulously choreographed dancers from LHK and Jelli Studios, colourful costumes, pyrotechnics and an amazing cast, LHK Productions presentation of Peter Pan is swashbuckling festive fun and 'tick tocks' all the boxes!
With a current run until 1st January 2018 tickets and more information can be found at http://www.epsteinliverpool.co.uk/events/peter-pan/
Reviewer: Lorna Weekes
Reviewed: 11th December 2017
North West End Rating: ★★★