St Helens Theatre Royal and Regal Entertainment Ltd have undoubtedly delivered a rip-roaring success of a pantomime this year with wonderful songs and dance routines through to top drawer comedic performances from a cast that were clearly enjoying themselves.
The delightful Fairy Godmother (St Helens' Resident Dame, Simon Foster) got the audience going from the very beginning before the show launched into the first of many well choreographed routines led by senior dancers from Dance-Dynamix who were ably supported by young volunteers from local dance schools.
A standout performance from Ben Engelens as love sick Buttons kept the show moving along and the audience engaged throughout with a selection of one-liners and turns of phrase - we'll say no more about what might have 'trapped' in the wardrobe...
With Coronation Street's regular bad guy Marc Baylis added to the mix as the evil Dandini there were soap references galore although it must be noted that he has an impressive theatre résumé as well.
Pouty Pippa (Benidorm's Crissy Rock) and Kambridge Kate (Charlie Griffiths) were believably Ugly 'Scouse' Sisters and got that favourite chant of 'oh yes we are/oh no you're not' going very quickly. In a performance littered with topical and local references, their later appearance in two Supermarket-branded outfits certainly showed them to be 'bags for life'.
Well-detailed and varied backdrops and scenery allowed the pantomime to easily develop from the opening village scene through to the woodland where Prince Charming (Jack Rigby) and Cinderella (Laura Gregory) first meet and on to the palace ballroom and all that follows thereafter.
The costumes throughout were rich and bright and much credit must go to Giles Bishop and Rebecca Quinn for these. The wonderful choreography of Nazene Danielle Langfield was superbly reflected in the musical arrangements of Callum Clarke and Nick Anderson.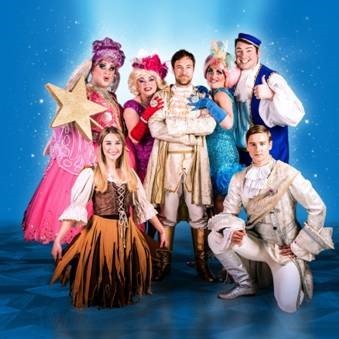 The appearance of two Shetland ponies just prior to the interval added that extra magic for a predominantly young audience as did the 'interview' with one of them at the beginning of the second half.
A bespoke rendition of the Twelve Days of Christmas couldn't go on long enough in my opinion as Benedict Relton's Baron Hardup accompanied by Baylis, Foster and Engelen delighted the audience with props galore as they well and truly got in amongst us which proved to be superb fun.
An unusual psychedelic mime/puppet sequence at one point, with mushrooms well and truly stage front, allowed for a major scene and costume changes.
It's easy to forget nowadays that fairy tales were originally intended as a means of moral education so call me old-fashioned but it was pleasing to see this performance echoing this point throughout as it reinforced 'love will conquer all' as our royal Prince seeks and finds the girl of his dreams in an apparently ordinary working girl and the villains of the piece ultimately come to see the error of their ways, all with a little fairy magic thrown in - worthwhile dreams for children to cling on to in the unsettling times we live in at present.
I have seen many pantomimes over the years and I have to say this one well and truly stood out. Much praise must go to Chantelle Nolan, in her dual role of Producer and Company Manager, whose passion really comes through - not surprising since she has spent over ten years producing and directing the annual Christmas, Easter and Autumn Pantomimes at St Helens as well as playing principal roles up until only a few years ago.
The cast's closing song of 'Let's Have A Party' was perfectly chosen - we did.
Cinderella plays at St Helens Theatre Royal until 10th January 2016. Tickets available online at www.sthelenstheatreroyal.com or via the Box Office on 01744 756 000.
Reviewer: Mark Davoren
Reviewed: 9th December 2015