I'd like to start with people who sometimes get overlooked in reviews, the unsung heroes and for me, tonight's shining stars and they are the Scenic Artists... People say "the stage crew were great, seamless" but no-one ever really mentions the actual set. The scenes created for this pantomime were very well done. From the woodland to Baron Hardup's kitchen – all with excellent detail. Over the top, but superbly so... Well done to the artistic team for their talents.
The music came from under the stage which you would think would help to guide the vocalists rather than overpower them, but I still found, on occasion, that the actors were pushing their voices and sometimes, even shouting. I'm not sure how large the orchestra was or whether there was another music medium, but I do feel it may need toning down a little.
Sound and lighting were spot on and the special effects were fantastic. I won't say any more as I wouldn't want to spoil it, but I will say, it may turn a little cold...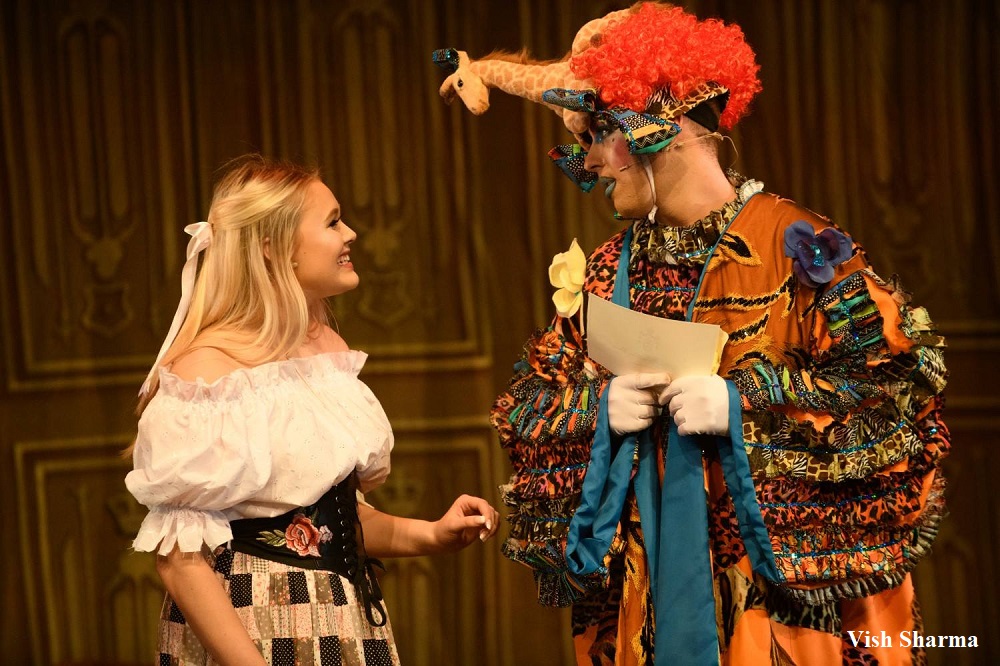 Costumes were fantastic, extremely bright and colourful and very befitting of a pantomime... However, I was disappointed in the fit of both of Buttons' costumes, he looked very uncomfortable in both. That having been said, the chorus/company costumes were super and the Sisters' costumes were spectacular. (Again, without ruining it, the red would always win for me)
That leads me in the right direction to discuss the cast, and the sisters in particular (played by Phil Edwards and Max Fone). They worked well together although I have a feeling that there were a few missed lines/jokes this evening, that may have put one of them off a little but hey, it's panto... When does anyone follow a script in panto? Their makeup was amazing especially the blue lippie – wouldn't mind some of that.. They rose to the 'boos' and accepted the challenge of a relatively, at first, quiet audience.... However, with over a 100 children in the audience, there wasn't quiet for long and the guys seem to really enjoy that energy and most definitely got better in the second half.
Our Buttons played by Liam Dodd, was simply super... He had the audience, especially the children in the palm of his hand... His rapport with them was fantastic and his obvious 'adoration' of Cinderella was just so cute.... His vocals were good and strong in what he had to sing and comedic timing was great. He even managed to keep it together when the sisters were 'doing their thing' and going off script... As an ex-pantomimer, I know how hard that can be.
Baron Hardup was played well by Johnny Temple and Dandini, played well by Charlotte Foden whose voice shows much promise. Prince Charming was played by Danielle Chester and I'm not sure as to whether the music chosen for Danielle was the right choice. Her acting was brilliant, but I was a little disappointed by the lack of strength in the vocals and I'm thinking that was the music choice – I believe one of them was too 'pop-y' and the other, too high. I'm hoping she can grow in strength as the performances go on, but her acting alone, really was fantastic.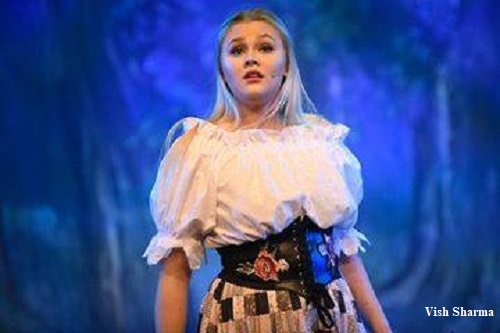 Beverley Stuart-Cole played The Fairy Godmother and looked every bit the part... Although this role is a relatively small role, it packs a punch and she certainly knew how to deliver the rhyming script with professionalism... And she looked fab.
Now for Cinders... She was played by Kate Perkins and perfectly..... Cheery when she needed to be and sad when taunted by her truly 'ugly' sisters... Perkins' vocals were amazing and, as there was no list of musical numbers, you must forgive for calling this one 'my little chair', was enchanting... Her storytelling through song was brilliant. She looked super (although could do with being a bit dirtier and dishevelled – I'd have worn that top out on a night out ha-ha) in all of her costumes and coped well with some rather high glass slippers.
The company of wonderful young ladies topped it all off with some super dancing choreographed by Vanessa Cockburn.
For me, the highlight was the most beautiful coach I have ever seen. Absolutely stunning... Well done, to set and stage team.
All in all, with a 100 screaming children, a very good night out. I'm led to believe there's a possibility this is a sold-out show, but you can always try and get a ticket... I would encourage you to do so. It's Christmas and Christmas needs a pantomime (oh yes it does!!!!...) and this should be it.
Reviewer: Hazel Bumby
Reviewed: 19th December 2018
North West End Rating: ★★★