One of the more irritating aspects of modern panto is the increasing amount of smut replacing good old fashioned end of the pier innuendo, but this warm-hearted version of a festive classic is fully family friendly.
That's mainly down to the director Joyce Branagh and writer Andrew Pollard who are panto fanatics, so this is not just another gig, but more a labour of love. Branagh's direction of a strong cast who really get the nuances (yes, there are some – oh yes, there is) of this very British form fizzes with energy, and comes with all the required sight gags/pratfalls/general mayhem that makes for great festive fun.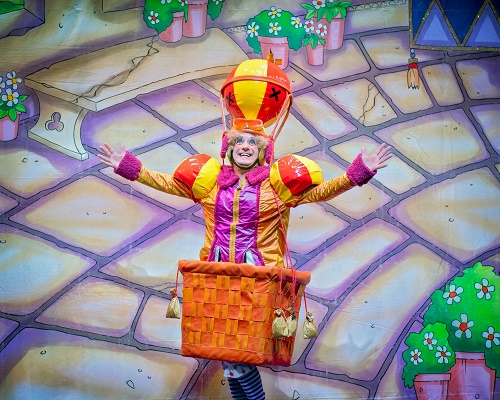 She's helped by Pollard's very funny script packed full of cheeky local references that had just enough slightly naughty gags that go over the heads of the kids, and plenty of silly wordplay from daft characters to delight the kids.
In truth all pantos live and die on how good their Dame is, and in the experienced Robin Simpson they have one of the best as Nanny Fanny (and, yes, that inspired a few gags). Dressed in a series of increasingly outrageous outfits Simpson knows exactly how to play an audience with sly asides, plenty of mugging, and archly delivering the soft smut with as much as subtly as any panto actor can muster
Now the Grand Dame Berwick Kaler has hung up his wigs Simpson is making a serious bid for his crown.
Last year rising star Alyce Liburd was a bit underused, but this time round she is a sparky modern Princess Aurora belting out all the big pop tunes that puncturate all pantos, and showing off her increased confidence after a recent run in a much more serious Red Ladder production. Her leading man Thomas Cotran is another returnee to this panto and the perfect charming foil for the Princess as they duet on the hits.
Nicola Jayne Ingram's broad Yorkshire accent as Hester the Jester is a lovely running gag, and her occasional stumbles only added to the fun as panto is often at its best when things go wrong, Making her panto debut Hayley Russell swaps cruise ships for the stage as a wonderfully beastly Belladonna Bile, earning a mighty boo every time she appears, and Esther-Grace Button is a splendidly daffy Fairy Falalala-la-la-la-la who helps break the curse on the Princess.
This theatre might have been a bit late to the money spinning annual panto game, but they are certainly spending the cash now as Mark Walters' set is garish, and adaptable enough to deliver a big surprise in the second half.
One of the great joys of panto is watching the kids getting involved as the cast do all the classic calls and responses (oh yes, they do) encouraging them to yell and scream. You only can hope that this warm, funny and value for money panto for all the family is those children's gateway into the joys of live theatre.
Sleeping Beauty is Huddersfield's Lawrence Batley Theatre until Sunday 5th January 2020. To book www.thelbt.org or 01484 430528.
Reviewer: Paul Clarke
Reviewed: 10th December 2019
North West End UK Rating: ★★★★