It's April, the sun is shining and I'm by the sea. I never thought I'd say this, but it seems it's panto season!
This is the new craze in recent years of the Easter pantomime, and this would be my first 'Easter' panto. I'm a big fan of panto at Christmas, I think it's fun and a great introduction to the theatre for kids and usually go to around 2 or 3 different pantomimes at Christmas to really get in that Christmas spirit, but an Easter pantomime is a totally different thing all together.
Walking in to the Winter Gardens theatre at Blackpool, I was disappointed to discover the main star; Dani Harmer was not performing today and would be replaced by Keira Laws. There was a number of very disappointed young faces at the entrance with some die hard Tracy Beaker fans in tears but the absence was due to illness so this couldn't be helped.
The lights went down, and the show kicked off with some very exuberant dancers welcoming us to Kansas, the costumes and stage is everything you'd expect from a pantomime, there's modern songs such as panto favourite 'I Got A Feeling' and 'Cotton Eye Joe'. At times it was hard to understand what everyone on stage was saying and the audience interactions were not as responsive as a result.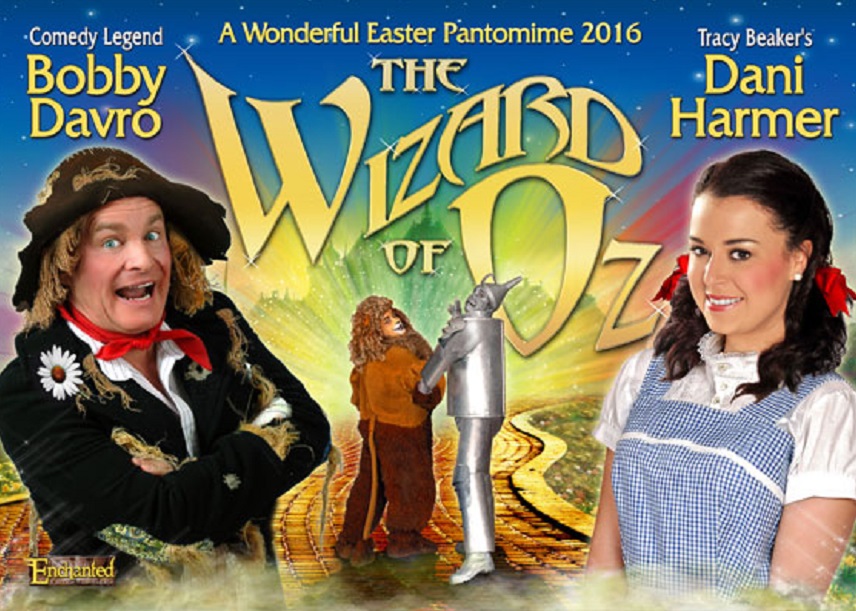 At times I did cringe while watching as some of the material was poor and not even the comical panto standard. Kiera Laws (Dani Harmer's understudy) took on the role well and she did everything by the book, the script in this case. In panto though, the best laughs usually come from improv and I found that Bobby Davro's performance was the most entertaining, from walking into the audience and eating people's sweets to rolling off famous impressions, he felt very comfortable in the role and the audience reacted well to him.
To be honest, the show improved a lot once Dorothy had landed in Oz and felt like a different show to the Kansas section.
In the end, all the cast came together and put on an entertaining show, it was a rocky journey to get there and on the first half it felt rather amateurish, more than usual from a Panto but the second half seemed like a different production all together and I was really impressed, especially impressed bythe lion; David Phipps Davies who genuinely shocked the audience with his vocal skills and had people belly laughing with his gags.
As I looked around, I saw three generations of family coming together and enjoying live theatre, and anything that gets more people to see live arts is a good thing in my books, Easter pantomimes are more than welcome, oh yes they are!
Reviewer: Max Eden
Reviewed: 19th April 2016