Patrick Ness's piercing novel 'A Monster Calls' came to the Lowry Theatre as it continues its UK tour bringing to life the Olivier Award-winning production under the direction of Sally Cookson.
The story's origins were found in an idea that was formed by a fellow author Siobhan Dowd who outlined the plot who unfortunately died from breast cancer before she had a chance to write the complete book herself. Siobhan Dowd wrote all her books knowing that her breast cancer was terminal, but she passed away sooner than expected leaving Patrick Ness to continue forward with Dowd's original idea. After storming the 'Young Adult' fiction scene it became a star-studded feature film – and came to life once more for the stage previewing at the Bristol Old Vic before having its first run at The Old Vic in London as part of their 200th anniversary season, and in 2019 the play won an Olivier for 'Best Entertainment and Family' award.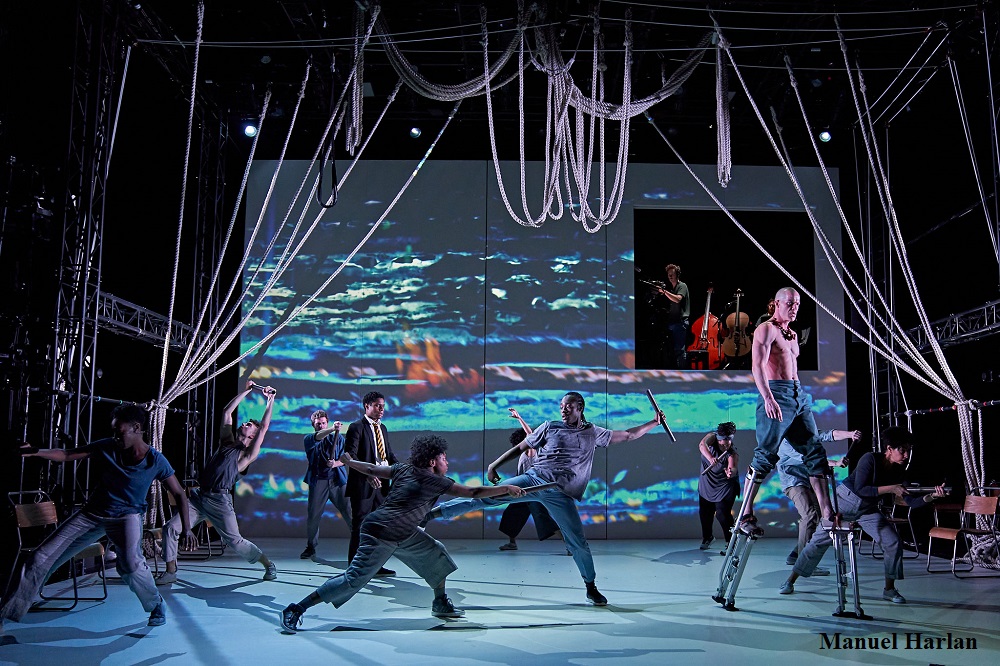 For those who have not read the book, watched the film or even familiar with the story it is a powerful and touching story about a solitary thirteen year old boy Conor (Ammar Duffus) whose single mum (Maria Omakinwa) has terminal cancer and neither want to accept the severity of the situation. No one in Conor's life is telling him what he wants to hear which leaves him isolated and alone, weighed down by the nightmares that come every night at 12.07am he floats through his days half-present at school and his lessons just drift by as all he can think of is his mum's condition blotting everything else out.
Each day Conor runs through his routine - getting dressed, putting his school blazer on, eating breakfast, preparing for class but seems only able to focus on one thing at a time due to his overwhelming trauma, grief, and deep rooted love for his mum.
With no-one to talk to neither his grandma (Kaye Brown) who is putting on a brave face and offering very practical help, nor his dad (Ewan Wardrop) who flies in from America to offer his some reassurance and not even his beloved mum (Maria Omakinwa) who is clinging to the belief that she can beat the disease Conor has no one to help him make sense of this senseless disease.
Conor is plagued by nightmares and bullied at school and starts to receive a series of three consecutive visits from the spirit 'Monster' (Keith Gilmore) of the ancient yew tree in his garden who routinely comes at 12.07am and tells him three stories of morals from the past, making the fourth story Conor's forcing him to face up to a truth he cannot bear to speak of.
Using a bare white stage bordered with basic chairs and hanging ropes the ensemble smoothly represent Conor's daily routine: taking care of his Mum, fighting with his Grandma and evading off the school bullies Harry (Greg Bernstein), Sully (Jade Hackett) and Anton (Kel Matsena). However it's the night time scenes that made the stage strikingly powerful as Conor's vivid nightmares torment him and the 'Monster' comes alive. This is done through the use of the ropes hanging from the rafters where the cast cleverly create the yew tree with Keith Gilmore wrapped up in its winding branches generating an impressive imposing effect transforming and revealing the colossal monster. As the play progresses and Conor comes closer to facing the inevitable truth, the effects and the yew tree monster begins to reduce in its menacing gravity and becomes less of a monster and more the male parental figure that Conor so lacks in his life, by being uncoupled from the branches of the tree he is able to comfort, hold and guide the boy through his grief.
Huge credit must go to the production and creative team for enhancing this magnificent moving plot with set, costume, video, projection, lighting design and movement direction. The 15 strong cast provided a phenomenal performance and had the audience attention throughout the whole evening which was a marvel in itself as 75% of the auditorium was filled with primary and secondary school children.
The show is extremely moving as it explores the impact and intensity of grief and loss through a child's mind it is a truly amazing production which is quite often painful to watch and heart rendering but equally innovative in how its conveys the power of emotions through the show.
Well done to all involved special mention must go to each and every member of the cast who executed an accomplished and outstanding interpretation of 'A Monster Calls' which deservedly received a standing ovation at the finale.
The play continues its tour until 13th June 2020 venues and tickets can be found online, I would highly recommend you give this touching and poignant show a visit but be prepared to bring your tissues along.
Reviewer: Katie Leicester
Reviewed: 25th February 2020
North West End UK Rating: ★★★★★