Mozart's The Marriage of Figaro is a comedic opera full of infidelity, deceit, disguise and of course, love. The story follows servants, Figaro and Suzanna, on the day of their wedding who run into trouble when their master, the Count, a notorious womaniser, takes a shine to Suzanna and wants to invoke his feudal rights (an ancient tradition, in which the lord of land are permitted have sexual relations with subordinate woman on their wedding nights.)
Opera North truly have triumphed with this production. The opera used Jeremy Sams' English translation without surtitles which, although potentially risky, on this occasion made the comedy and storytelling the main focus of the show.
Jo Davies, as director, brought this opera to life, focusing on real characters and making their lust the driving force of the story. This was exemplified by the sexual tension between the Countess, played by Máire Flavin, and the Count's young pageboy, Cherubino, played by Heather Lowe. Usually played as if Cherubino, as a horny teenage boy, loves any women he can get his hands on, this production showed a real connection between the two characters.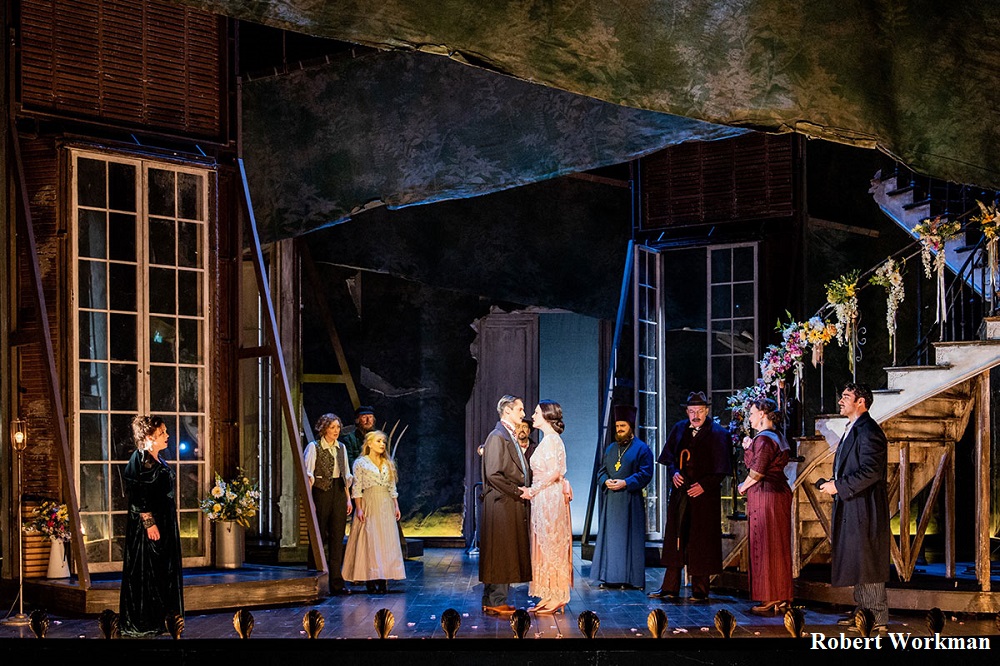 There were two very sexually charged moments: a tense almost-kiss in the first act and a meaningful look between them as the last tablo before the final blackout. Antonio the gardener, played by Jeremy Peaker, performed in a northern accent which worked hilariously for his character and the audience loved it. I thought this showed a fresh outlook on these ancient characters and a commitment by Davies to push the boundaries of 'traditional' opera and wring out the maximum amount of drama from the text.
The moving set, designed by Leslie Travers, comprised of a large wall with three doors, three sky-scraping windows complete with realistic rain effects and a staircase that lead to nowhere. These pieces moved like a jigsaw puzzle to create the different rooms of the castle, and it served the production very well. Costumes, designed by Gabrielle Dalton told the story of 1920's Russia very clearly, which complimented the rustic set of run-down castle.
On this night I saw the assistant conductor, James Hendry, who mastered this whirlwind opera creating vibrant orchestral passages and sensitive moments with the singers too.
Amongst the cast, there wasn't a weak link. Not only the clarity, but the dramatic force of the text was achieved thoroughly by all, as well as the great vocal performances that we have come to expect from all of Opera North's productions. Phillip Rhodes' Figaro was a very likeable, comedic character with a rich and powerful baritone voice, and Fflur Wyn was a witty and feisty Suzanna, balancing beautiful, fluttering vocal lines and quick, sharp recitative. The Count, played by Quirijn de Lang was delightfully pompous, and chose to speak a lot of his recitative, which I thought worked really well for his characterisation. Flavin really encapsulated the beauty of the Countess's long lyrical vocal lines and shimmering high notes, whilst also creating a rounded, strong personality.
However, the standout performance for me was Lowe's Cherubino. Not only were her vocals a delight, her ease of movement on stage and her boyish idiosyncrasies were so enjoyable to watch. She was also able to be the clown of the piece and show genuine emotions that hit the audience hard.
Bravo to all involved at Opera North, what an unforgettable evening of entertainment.
Reviewer: Olivia Rose Tringham
Reviewed: 10th March 2020
North West End UK Rating: ★★★★★