From a dark, dank, rusty urban landscape emerged a troupe of tumblers, acrobats, silk spinners, knife throwers, motor cyclists and a clown. Each marking their entrance with the traditional circus cry of, "Hey!" I'd love to credit the performers by name but, as the brochure I was given seems to be for a slightly different show, it may prove difficult. I'll give it a go.
The Timbuktu Tumblers punctuated the show at various moments with a wide selection of tumbling, acrobatics, limbo dancing and skipping. There seemed to be a disproportionate amount of skipping in this circus. I'm not averse to skipping, indeed I may well have skipped myself in my youth, but there are only so many tricks you pull off with a piece of string. The brochure tells me Bolas Argentinas, are up next but, no, I didn't see them.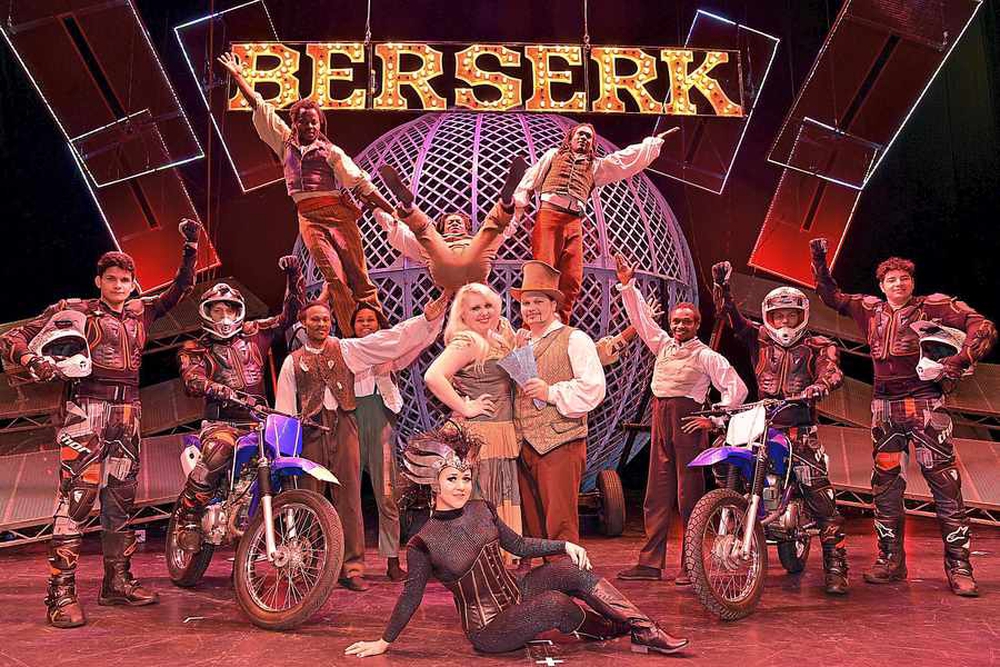 I did see a fabulous east Asian acrobatic act who were very distinctive and risky. I guess we'll never know who they were. Elberel was next, she was definitely in the show. She arrived in a bottle, decanted herself, stood on her head and fired an arrow at one of the aforementioned tumblers. The audience whooped, cheered and there were endless mutterings of, "I can't look!" Next a couple of lads who did very impressive handstands, some girls on silks which was pretty death-defying, a guy on a seatless unicycle (think about that for a moment) and a knife thrower who clearly didn't want to throw knives at his partner from too far away in case it caused an accident. Very wise, whoever you are.
Two stand out stars, however, are Brazilian Paul Dos Santos - what he doesn't deliver in clowning he amply makes up for with dancing, acrobatics, and a splendid and quite moving flying routine at the end. And the headline of the show and, I guess what everyone comes to see, is The Globe of Death. Two motorcyclists make their entrance with the obligatory "Hey", ride their bikes into a huge, mesh globe and set about riding around whilst narrowly avoiding a head-on collision. What a great way to end the first half, but wait they also end the second half with not two, not three, not four, but, yes, ladies and gentlemen, five motorcyclists all dipping and diving and swooping and loop the looping within a hair's breath of each other. Very thrilling, very dangerous and very entertaining. My colleague, who is no stranger to circus skills, sat mouth agag as the fifth motorcycle appeared - "Hey!"
So, all in all not a top notch circus, but certainly not the worst. When so many death-defying, heart-beating stunts can be seen at the push of a button on YouTube it is very refreshing to see, albeit lesser stunts, performed "before your very eyes!"
Reviewer: Peter Kinnock
Reviewed: 18th February 2020
North West End UK Rating: ★★★