When We Are Married is a comedy written by Bradford born J B Priestley and first premiered in 1938 at London's St Martin's theatre. Cleckleywyke, a fictional village in Bradford, is the place chosen for the comedy and is set at the beginning of the 20th Century and during the Edwardian era. This is where many have prospered financially and socially from the ownership of factories and mills and its production.
Northern Broadsides and York Theatre Royal jointly presents this production under the direction of Barrie Rutter. Northern Broadsides is reputed to use northern or natural voices in their productions and they believe this gives the audience a fresh and liberal approach to works that are recited and performed on stage. This production of When We Are Married is no exception particularly with its northern setting.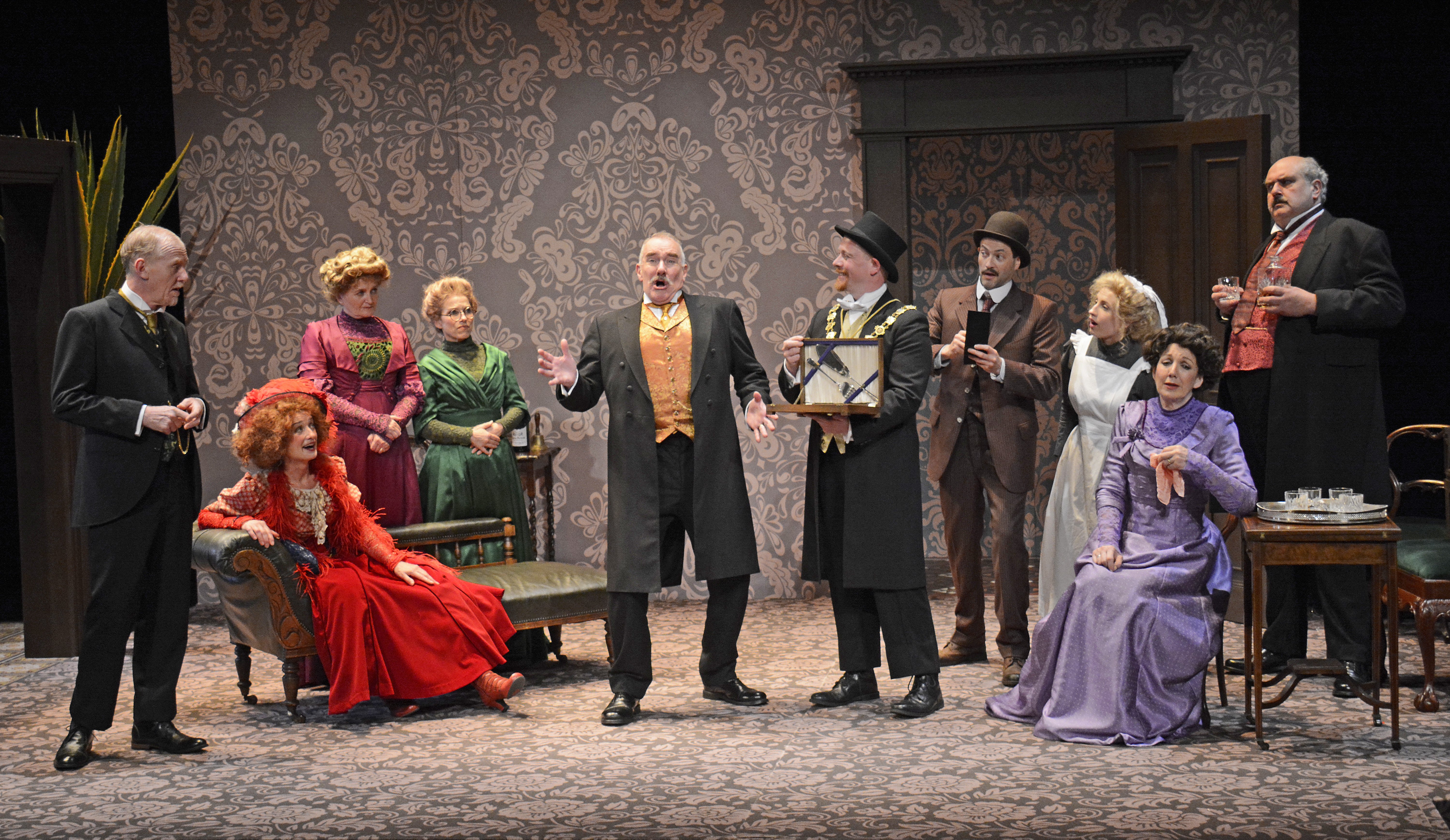 The plot is about three couples, the Helliwells (Mark Stratton and Geraldine Fitzgerald), the Parkers (Adrian Hood and Sue Devaney) and the Soppitts (Steve Huison and Kate Anthony) who were married on the same day and in the same chapel. They get together and celebrate 25 years of marriage with a do; only to learn that they aren't married because the vicar at the time wasn't authorised to conduct weddings. Unmarried couples living together, during the Edwardian times, weren't favoured socially at all and the culture at that time was centred on class, statuses and reputations.
The news unravels with the characters realising what actually happened; beginning with social embarrassment and to eventually realising the liberty of it all. Show downs and home truths between each couple happen farcically and the characters are tested. The couples try and find a way forward; only for gossip ridden Mrs Northorp (Lisa Howard), the housekeeper, to reveal all from eavesdropping in the initial news of their fate. The drunken and entertaining Henry Ormonroyd (Barrie Rutter), Yorkshire Argus' photographer who seemingly knows and he is keen to capture the so-called celebrations or commiserations.
When We Are Married is down to earth and is enriched with its northern language, wit and charisma. The audience is entertained with its humour ensuring guarantees of shock and laughter. The cast excels and gives the audience a performance to remember and the comedy is set to Jessica Worrall's traditional staging and its colourful costumes. It ends all well with a happy and optimistic musical recital of John A Glover-Kind's I Do Like to Be Beside the Seaside which is played and sang by the company.
Reviewer: Dawn Smallwood
Reviewed: 18th October 2016
North West End Rating: ★★★★