"Battling" Barbara Buttrick, all 7st, 4ft 11ins of her, threw a 100lb punch and challenged "any lass up to 9st in weight" to take her on in the boxing ring (that's me out of contention then).
The Hull lass (well, Cottingham more accurately) was the first women's world champion boxer - no ordinary feat in the less enlightened 1950s.
Known as Hull's Mighty Atom, the play was not only inspired by Barbara's fascinating career, but was the third in a trilogy, following Dancing Through The Shadows and The Gaul, celebrating the strong women of the city.
As theatregoers took their seats at Hull Truck Theatre on Tuesday night, the atmosphere was already building as smoke filled the stage and the lights dimmed.
Although set in the here and now, Barbara (Kat Rose-Martin) graced the stage throughout as a far from ghostly presence. Although attired drably in a black 1950s boxing kit, she still held her own among the modern, colourful, flesh-baring gear worn by our other contenders – pub cleaner Aneta (Maya Barcot); local bad girl Grace (Anna Doolan); single mother-of-four, Lauren (Danielle Henry); troubled young Jazz (Olivia Sweeney) and Taylor, a local boxer who has fallen from grace.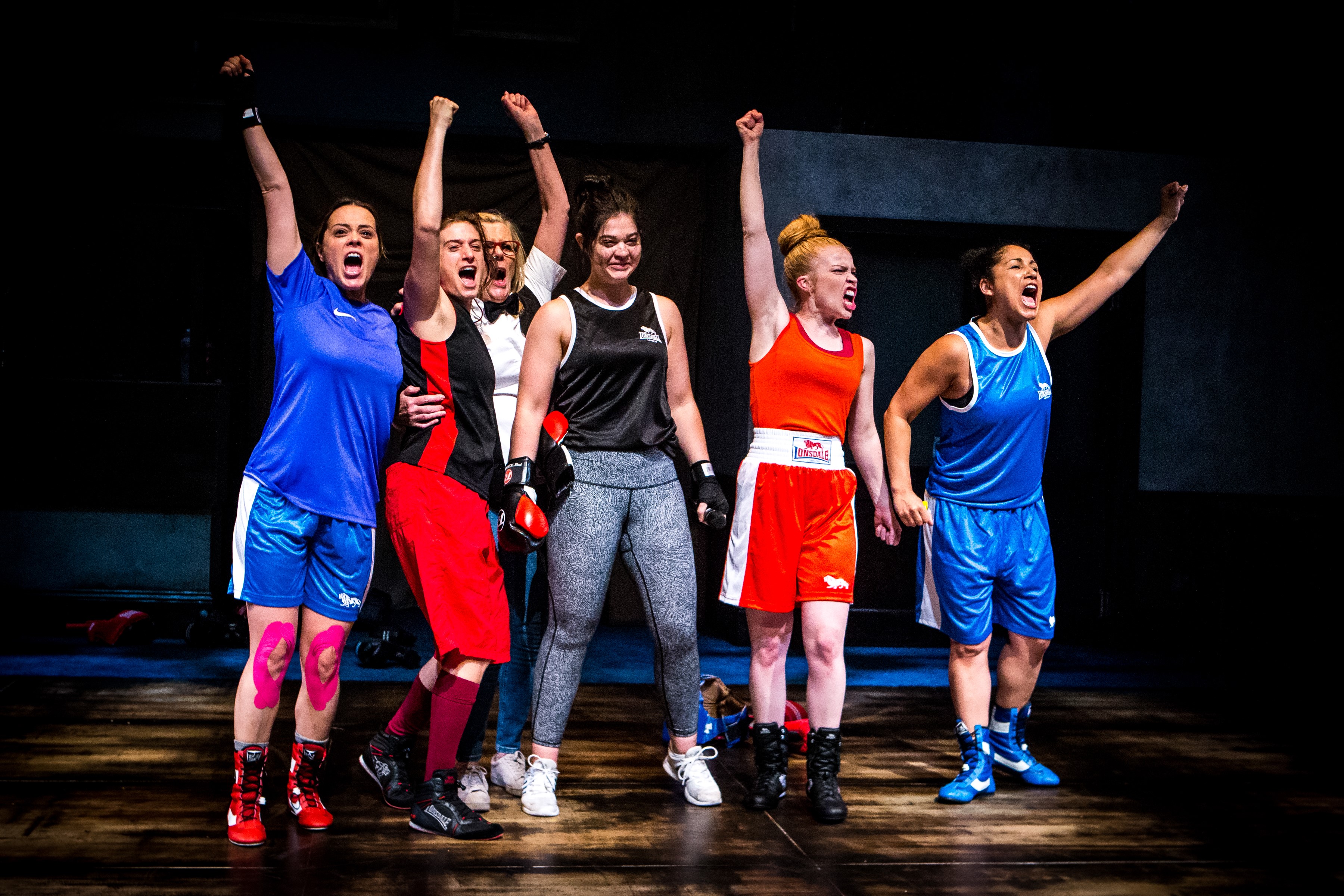 The action takes place in The Six Bells pub, a dive in Hull run by landlady, Nora (Judi Earl), who, for me, provided most of the laughs on the night.
Nora, needing to raise £2,000 for a new boiler at the pub, comes up with the idea of getting failed 2012 Olympic boxer Taylor to hold boxercise classes for women, in the pub lounge, with a view to selling tickets for an eventual unlicensed fight night at the pub.
A very reluctant Taylor – ex-con who now prefers yoga – eventually agrees after Nora's posters bring in the motley punters, who all have their own reasons for putting on boxing gloves.
Cleaner, Aneta, wants to release all her anger at her daughter being bullied at school; Lauren is looking for a man, so wants to tone up her body for when she posts rude images online to any possible suitors; former school bully Grace is now a victim and wants to build herself up to fight off her tormentor and Jazz, a girl who wants to become a boy, is fighting her own demons.
Amanda Whittington's entertaining script, laugh-out-loud in parts, with the Hull accent very strong in places, sees all six women facing their fears – fears they are at first reluctant to admit to.
As the weeks go by and the classes intensify, we see new, stronger, more confident characters emerging. And in between their very energetic skipping, right hooks, upper cuts, star jumps, ducking and diving - and telephone calls from Theresa May (no, not that one) - weaves little Barbara, the Mighty Atom, chivvying them on, especially Taylor whose reawakened thirst for boxing kicks her love of yoga right out of the ring.
And as the final bell sounded on this entertaining spectacle, we never did find out if Nora got her new boiler. But a lovely surprise awaited us as the spotlight fell on Hull's Mighty Atom herself, Barbara Buttrick, gracing a ringside seat in the audience.
Respect all round.
Hull Truck Theatre, Kingston upon Hull. Tel: 01482 323638; www.hulltruck.co.uk
Dates: Running until Saturday, July 1st at 7.30pm nightly; 2pm matinees on June 17, 21, 24, 28 and July 1st.
Presented by: Hull Truck Theatre and Hull UK City of Culture 2017
Director: Mark Babych, Producer: Rowan Rutter
Reviewer: Jacqueline Foottit
Reviewed: 13th June 2017
North West End Rating: ★★★★
Photo: Karl Andre Photography