"I just don't know what to do with myself," sang Dusty Springfield, in her own inimitable style, way back in 1964.
Well, last night, as I sat through Son Of A Preacher Man at the Hull New Theatre, I could sort of empathise with her.
From the off, the stage setting was amazing – it reminded me of the window of a giant jukebox; then a crystal ball sprang to mind. Whatever, it was fantastic all the way through, seamlessly changing from the outside of a small music venue on a London street, to the inside of a café bar, with little effort. Top marks to set designer, Morgan Large, who was also responsible for the cute costumes of the Cappuccino Sisters (more of them later).
The story centres around three confused souls – Paul (Michael Howe), Alison (Debra Stephenson) and Kat (Diana Vickers) – and their search for love.
For some strange reason all are drawn to the capital, to a once-swinging joint in Soho, called Son Of A Preacher Man, run by a man known as, funnily enough, the Preacher Man, way back in the 1960s.
This legendary owner was known to dispense advice to the loneliest of young hearts, usually with Dusty Springfield records blaring out in the background.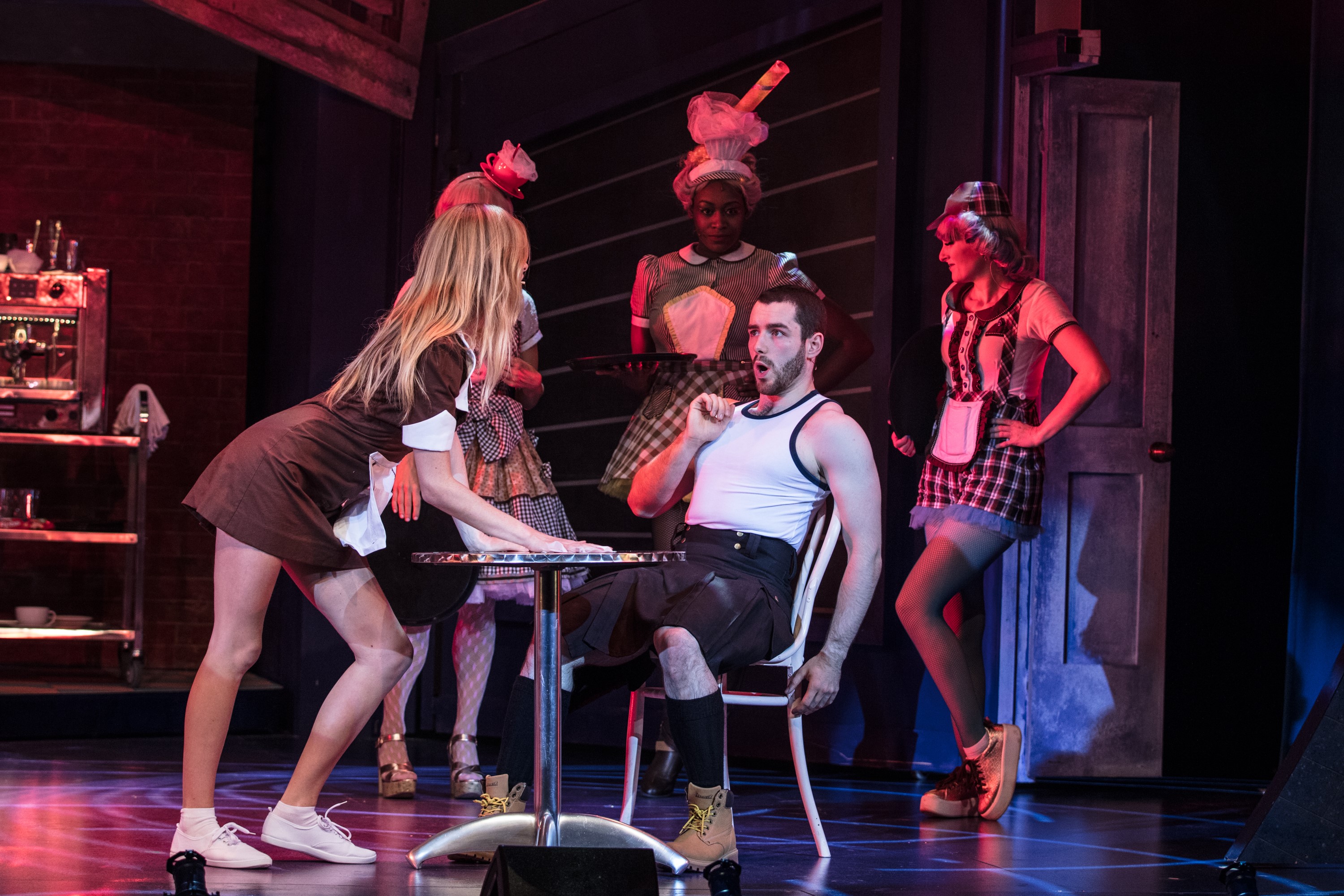 Fast-forward a few decades and the venue is now known as the Double Shot, where customers are served by three of the cutest singing waitresses (the aforementioned Cappuccino Sisters – Michelle Long, Kate Hardisty, Cassiopeia Berkeley-Agyepong).
As our three lovelorn, but insistent, visitors soon discover, the Double Shot is run by the long-dead Preacher Man's son, Simon (Ian Reddington) – hence the musical's title.
The trio implores a very reluctant and reclusive Simon to channel the spirit of his dead dad, to, hopefully, bestow the look of love on them.
He tries his best, but things don't turn out exactly as the three planned – although, happily, they all get love of a sort.
The theme of love runs right through this musical, like letters in a stick of rock. And Dusty's hits come thick and fast, though I must warn any hardcore Dusty fans not to expect her songs to be sung in her style, or they'll be disappointed. I know I was.
A change of singing style was evident from the beginning, when our intrepid trio sang Goin' Back. Then the hits came thick and fast – I Close My Eyes And Count To Ten, I Only Want To Be With You, The Look Of Love, Nowhere To Run, In The Middle Of Nowhere, You Don't Have To Say You Love Me, to name but a few.
But this wasn't Dusty's life story, so despite me preferring her hits to be sung as I remember them, I did warm to the characters on stage, and by the second half, the way they sang the songs didn't grate on me too much. And I couldn't fault the talented on-stage musicians.
As well as the singing, there was plenty of comedy – my favourite being the scene where Kat pretends to be a waitress to capture the heart of a kilt-wearing plumber she met online.
And in the finale, as she and the cast belted out Son Of A Preacher Man, the audience finally became animated enough to join in and clap along. Playing until 11th November http://bit.ly/2lHFGrx
Reviewer: Jackie Foottit
Reviewed: 7th November 2017
North West End Rating: ★★★