It was only the absolute certainty of me spending a month in traction – after extensive surgery – that prevented me from running out of Hull Truck Theatre on Tuesday night, leaping into the air and clicking my heels in joy.
Who'd have thought that an 1843 tale about a miserable old skinflint would still be wowing audiences in the 21st century?
Deborah McAndrew's adaptation of this Dickens favourite – set in Hull – had everything to keep a packed house fully entertained.
Laugh-out-loud comedy ran through the production like words in a stick of rock; there was music, singing, dancing, cartwheels (well, one) and merry japes of all sorts – by "dead" and alive pranksters.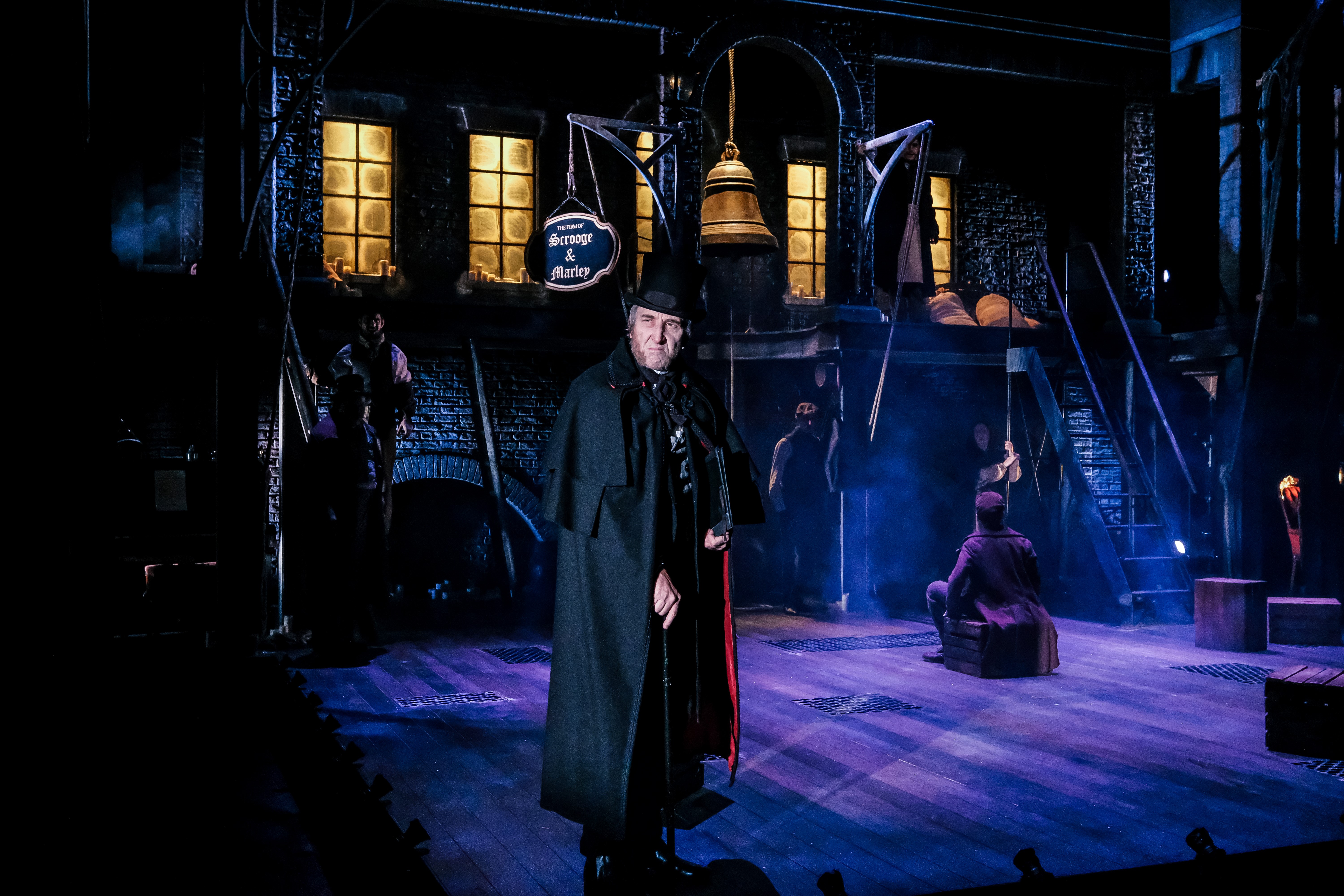 All this performed in the most authentic costumes, in a very atmospheric setting, by a cast who, to a man, woman and child, were each perfectly suited to their roles.
Add candlelight, mist, chains clanking, echoing eerie voices – and the stage was set for Ebeneezer Scrooge (Christopher Wright) to be taught a very valuable lesson.
Greedy guts Ebeneezer had turned from a personable young man in love with Belle (Rosa Hesmondhalgh) into a grasping old miser whose only pleasure was making money, usually out of the misery of others less fortunate than himself.
It was a ghostly warning by Scrooge's long-dead partner, Jacob Marley (Andrew Whitehead) one Christmas Eve, that set Scrooge on the path to redemption – he was to be visited by three spirits: the ghosts of Christmas Past, Present and Future.
Christmas Past (a role shared by Ellie Hague and Olivia Dalee) was an angelic young girl in a luminous white dress, who took Scrooge back to sad times at school, happier times with his sister, and his happiest times with his job at Fezziwigs and his engagement to Belle.
But Scrooge's love for the filthy lucre lost him his fiancee, much to his despair, as he helplessly looked on at his past mistakes.
The Ghost of Christmas Present (Polly Lister), emerging from a huge Christmas box, was a vision of fun in red, wearing a lit Christmas tree as a skirt.
She was loud, brash and brought a touch of panto to the age-old tale, inviting the audience to tell her where Scrooge was. "He's behind you," we all shouted (we daren't do any other, this woman meant business and wouldn't have tolerated any Grinchy behavior).
This spirit showed Scrooge that life was for living, and essentially, what he was missing. But it also brought home to him how mean he had been, especially to his clerk, Bob Cratchit (Mitesh Soni). The loyal Bob endured working in freezing cold conditions, earning barely enough to feed his starving family, including sickly youngster, Tiny Tim (a shared role by Marshall Mott and Daniel Todd), who was destined not to reach adulthood.
Scrooge's nephew, Fred (Joseph Tweedale) had never lost faith in his uncle, but even he was heard to make nasty comments about his miserly relative – much to Scrooge's dismay.
The Ghost of Christmas Future was the scariest, revealing that, on Scrooge's deathbed, his housekeeper had taken the very shirt off his back, plus the bed-sheets his dead body was laid upon.
The spirits gone, Christmas Day dawned bright as Scrooge began his new, generous, life with gusto.
And the end scene of him and a fit and well Tiny Tim, playing rock, paper, scissors, as the snow fell, was priceless. Dickens would have loved it; I know I did.
Reviewer: Jackie Foottit
Reviewed: 5th December 2017
North West End Rating: ★★★★★