The absence of Barry Rutter offering his traditional handshake to the Northern Broadsides faithful as they troop into their unique Viaduct space is a mark of how the company he founded is entering a new era without him.
Hard Times is this quintessentially Northern Company's first crack at Dickens but not surprising as this the master storyteller's only work set in the post-industrial North. His scathing attack on the utilitarian movement of his age becomes in Deborah McAndrew's smart adaption something relevant to our own education system obsessed with arbitrary tests and facts.
The circus has come to Coketown as the cast sing, play and strut in the big top, but for the Louisa and Tom Gradgrind peeking under the canvas it is a forbidden world as they attend a school founded by their father Thomas focusing entirely on fact and figures at the expense of any of the humanities or basic human emotions.
Into their joyless world explodes Sissy Jupe, who is abandoned by her circus clown father, and this cuckoo in the Gradgrind nest sows the seeds for the eventual failure of the school's ideological madness.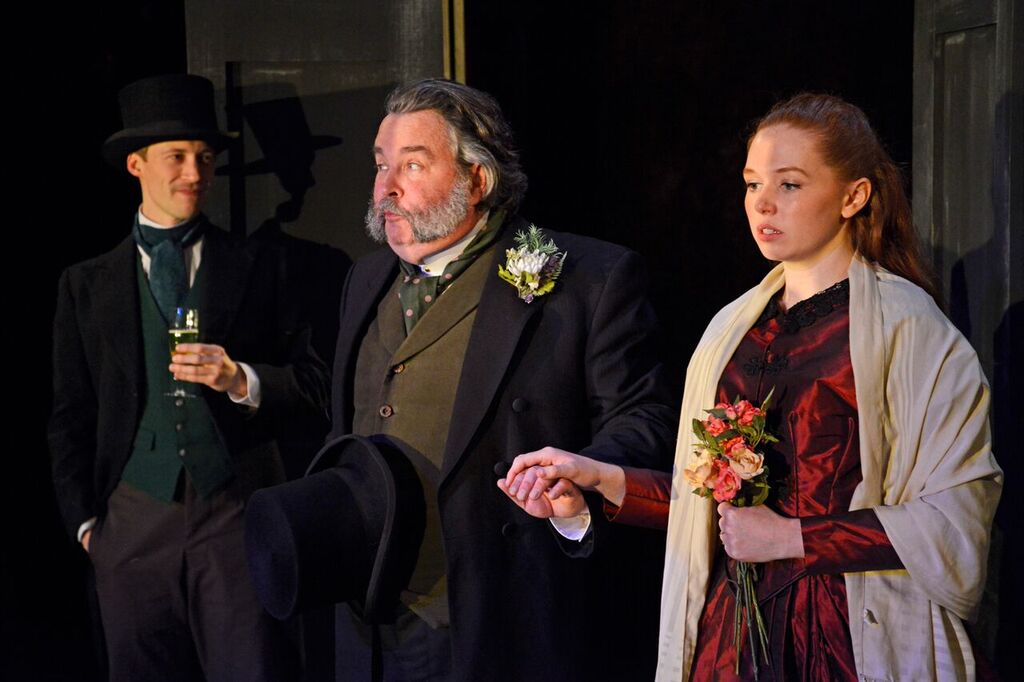 Andrew Price gets to the heart of Gradgrind senior's zealotry, but subtly shows him as an otherworldly creature blissfully unaware of the impact his ideological dogma has on his children. That impact is felt hardest through his poisonous friendship with pompous mill owner Josiah Bounderby, who is loudly played as a figure of fun by Howard Chadwick, but is in reality a cunning predator grooming the naïve schoolgirl Louisa for marriage.
The most damning indictment of the Gradgrind method is Louisa's harsh schooling has left her totally unable to navigate affairs of the heart leaving her thinking it is her duty to marry the much older Bounderby. The heavy cost of that is only revealed when Vanessa Schofield unearths those repressed emotions powerfully letting rip at her father when Louisa finally realised he has left her totally unprepared for the real world.
Meanwhile, her less intelligent brother Tom descends into a life of vice the second he's free of the shackles of the school involving scab factory worker Steven Blackpool in a botched bank raid that ends is tragedy for one and exile for the other.
McAndrew once again shows she is an able and sympathetic adapter of classic works and her witty words and careful plotting never overcooks the source material's disdain for the utilitarian at the expense of free thought. In contrast, through no fault of McAndrew, the Blackpool subplot feels a little undercooked and wooden, which may well be a result of Dickens having very little real understanding of the Northern working class.
This is Conrad Nelson's thirteenth turn as a director for Broadsides, so he knows what make this company work, making the most of the recurring circus theme to introduce some much needed colour and life into this bleak mill town as a strong cast deliver his original songs with great gusto.
It might have been easier for Broadsides as a company in the midst of change to tackle an easier text, but they are nothing if not contrary. Hard Times makes you reflect that is our children, like the Gradgrinds, who are the victims if denied the chance to have an education that puts as much emphasis on fun as facts.
Hard Times is at The Viaduct Halifax until Saturday February 24th and touring nationally until May 26th. For more details and to book www.northern-broadsides.co.uk
Reviewer: Paul Clarke
Reviewed: 20th February 2018
North West End Rating: ★★★★