When David Greig wrote Europe at the height of the bitter Balkans conflict in the heart of our continent he probably thought by 2018 it would be a museum piece, but sadly this brutal examination of the darker side of our collective history could have been written yesterday.
Two migrants Katia and Sava turn up at a remote station in a small border town, which could be anywhere in Europe, but unfortunately for the duo the local factory has just gone bust. The brilliance of Greig's percipient text is that he brings refugees and economic decline together in a volatile human petri dish before stepping back to see what happens.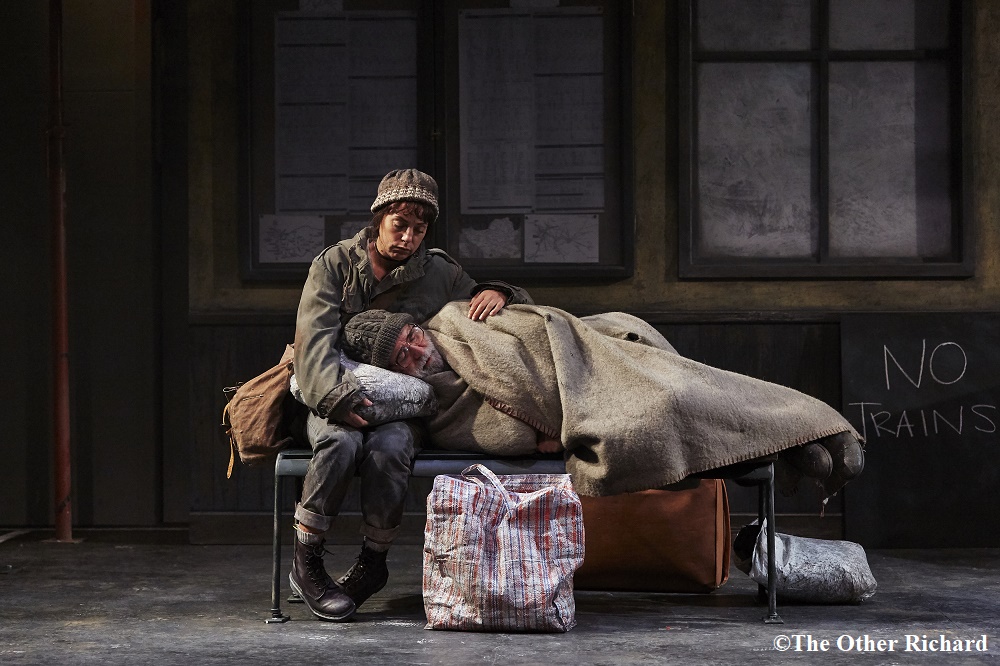 Since fleeing an unnamed war Katia is keen to present a moving target while in contrast her dad still believes in human decency personified by the initially hostile stationmaster, Fret, and his sole employee Adele, who is determined to see a world she dreams about. Lurking in the background is Adele's angry husband Berlin becoming increasingly radicalised after losing his job and his safe world falls apart.
In many ways while Greig is interrogating the idea of where do people really belong in an uncertain world, which is hardly a new concept, he is also looking at what Hannah Arendt dubbed 'the banality of evil'. What is it that drives impressionable young men like Berlin to violently lash out at former friends and neighbours fuelled by hatred of hidden forces they don't really understand.
As the Playhouse undergoes a major refurbishment they have created an ensemble of ten actors, who will spend a year growing together, and eight of their number take on this tricky text that lurches wildly from farce to tragedy.
Joseph Alessi deftly creates a railway Captain Mainwaring strutting around his little station, but digs under the bluster to find a decent man who retains his humanity despite losing everything. His touching double act with Robert Pickavance's Sava is full of patho, especially when the refugee muses on the high cost of keeping your dignity as chaos reigns.
The always impressive Tessa Parr and the equally formidable Jo Mousley essay the tentative love affair between the hardened Katia and the naïve Adele who still believes travel is a way of expanding the mind not just avoiding a bullet in the head. Dan Parr is another of the ensemble on a run of outstanding performances bringing a bewildered menace to Berlin's pathetic fascist.
Amanda Stoodley's sparse set with its echoes of the Dogme movement adds to some typically understated direction by the Playhouse's artistic director James Brining who smartly gives a strong cast their head to explore.
Leeds has a long and proud history of taking in people from across the globe, but we would do well to heed Greig's warning that it can all turn nasty very quickly unless we are alert to festering hatred and stand together to oppose it
Europe runs until Saturday November 3rd. To book www.leedsplayhouse.org.uk or 0113 213 7700.
Reviewer: Paul Clarke
Reviewed: 16th October 2018
North West End Rating: ★★★★