I knew it would happen. The minute I stepped out of Hull New Theatre, on Tuesday night (actually, it was the minute I stood up from my seat), I was singing Don't Cry For Me Argentina in my head. And I can't stop.
But that's a small price to pay for experiencing the musical Evita, in Hull as part of a UK and international tour. And what an experience it was!
The well-documented story of Eva Perón, wife of the former Argentine dictator, Juan Perón, is packed full of the most wonderful lyrics and music – courtesy of Tim Rice and Andrew Lloyd Webber, respectively, that it can't fail to wow audiences.
Add to that the most atmospheric stage setting and lighting, plus live music played by a very talented orchestra, well, they had me at "Don't".
For the first time in my longish reviewing life, I actually got goosebumps at an opening sequence. So moving was the scene of Eva's funeral (this isn't a spoiler; I guess every theatregoer knows the story), that it really affected me.
And when the chorus sang Requiem in the background, the atmosphere was electric.
The story then starts to lighten as we trace Eva's eventful life leading up to her early death at the age of 33 from cancer.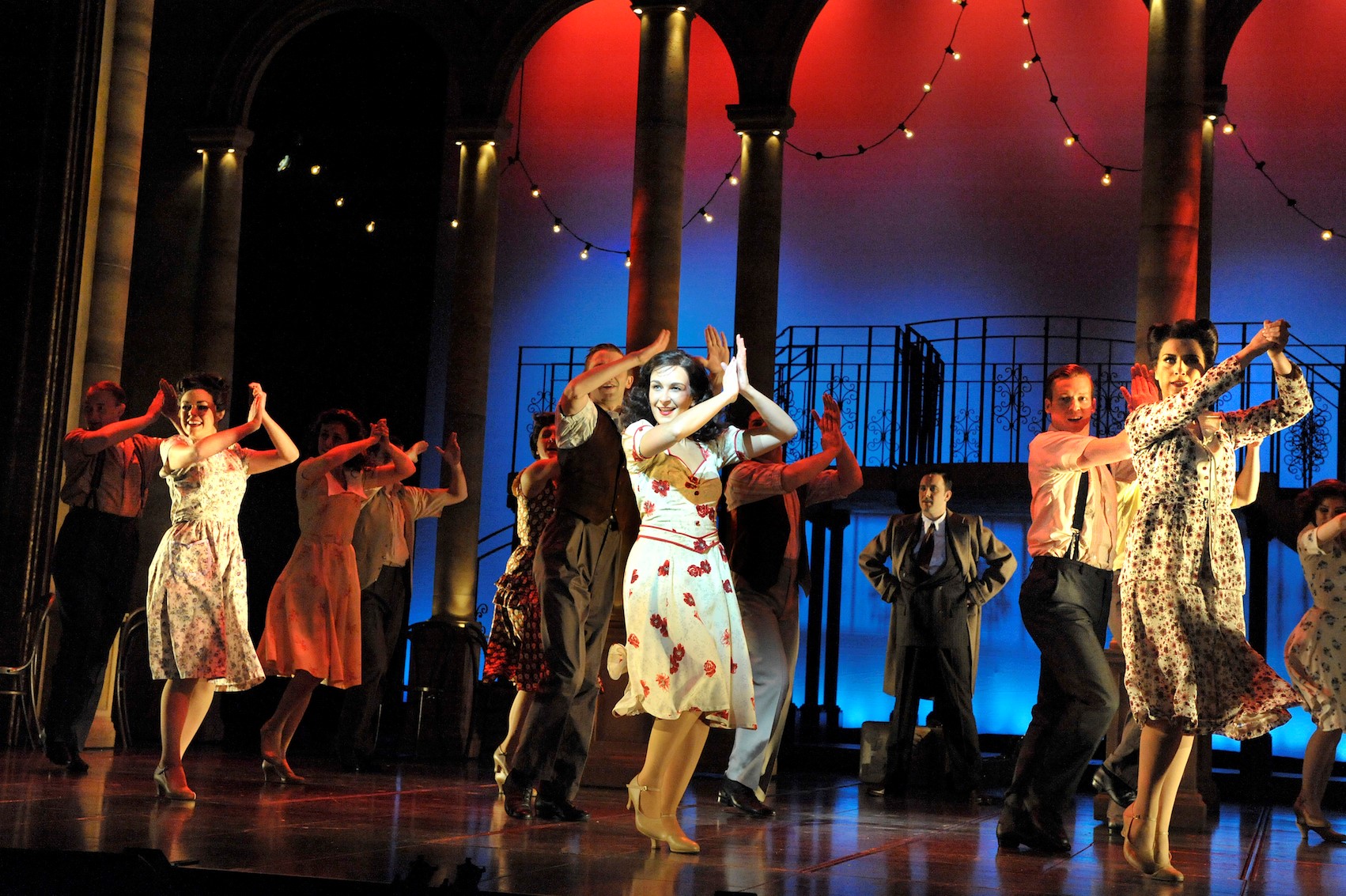 Born Maria Eva Duarte, in 1919, she heads to Argentina's capital, Buenos Aires, to try her luck as an actress.
In 1944, she begins a relationship with Colonel Juan Perón, who is to become one of the most important men in the country.
By 1946, Eva is Perón's wife, he is President and she is First Lady, and together they set about changing Argentina – but for better or worse depended upon whom you were.
Lucy O'Byrne did an absolutely magnificent job of bringing Eva (Evita) to life on stage. Her transition from brown-haired village girl to platinum blonde First Lady was amazing – and she didn't half have fun in between!
As she hit the high life as First Lady, I, along with most in the packed theatre, laughed out loud as she sang to her dressers: "People need to adore me, so Christian Dior me." A gal after my own heart.
Her singing voice was so loud and crystal clear I wouldn't have been surprised to hear glasses shattering in the bar. But I preferred her voice during "softer" renditions, such as Don't Cry For Me Argentina and You Must Love Me.
As appearances go, she WAS Eva Perón. And seeing her go from vivacious to sickly, was genuinely moving, she did it so convincingly.
Mike Sterling as Perón provided the perfect partnership to O'Byrne's Eva. His character, for me, was quite imposing and more serious, and when he fell for Eva, he managed to flirt in a similar way, if that makes sense. His singing voice was also tuneful, loud and clear.
As the Peróns, they were so perfect together and I particularly enjoyed their duet, I'll Be Surprisingly Good For You.
As Eva's illness worsened, her husband grew more concerned and the scenes leading up to her untimely demise were brilliantly acted out by the two lead actors.
Of course, Tim Rice and Andrew Lloyd Webber's influences run through the musical like words in a stick of rock – without them there would be no Evita. So every song was meaningful, every tune memorable - for instance, you could hear a pin drop during a heart-rending version of Another Suitcase In Another Hall, sung beautifully by Cristina Hoey as Perón's ousted mistress.
And I must mention a young girl (name unknown) whose lovely voice rang out loud and clear, in Santa Evita. You're a star, young lady.
Among all the glitter and uniforms, one more character often took centre stage. Che (Glenn Carter), a revolutionary figure, from Argentina, didn't have a good word for the Peróns. He believed they were pulling the wool over the eyes of his country's downtrodden poor, who had become obsessed with Eva, some even viewing her as a saint.
Carter's magnificent singing voice and energetic acting brought the story to life throughout, and more than once he was "beaten up" by scary-looking guards for his pains.
Place all the above on an amazing stage setting – Eva's now-famous balcony appearance being a particular highlight – and all I can say is (you've guessed it): "Oh, what a show!'.
Running until Saturday, November 10th, 2018. 7.30pm nightly, with 2.30pm matinees on Thursday, 8th and Saturday, 10th. Tickets from £15. Call (01482 300306; visit www.hulltheatres.co.uk
Reviewer: Jackie Foottit
Reviewed: 6th November 2018
North West End Rating: ★★★★