In recent years the Playhouse has put on some spectacular all singing, all dancing high-tech festive productions but their year-long refurbishment has forced them to stage this intimate version of Dickens' classic text in a pop up space.
Minus many of the theatrical bells and whistles it means, very simply, that actors have to act. The audience are invited to use their imaginations and the result is a production that works on every level.
Unless you have been living in a cave there is no need to retell the tale of a miserable old tycoon who finds redemption after the three ghosts of Christmas Past, Present and Future visit him on the eve of the festivities to show him what might happen to him if he doesn't change his ways.
Originally staged at Hull Truck theatre this production is transported from Victorian London to a dank warehouse on a Leeds canal thanks to Hayley Grindle's simple but evocative set.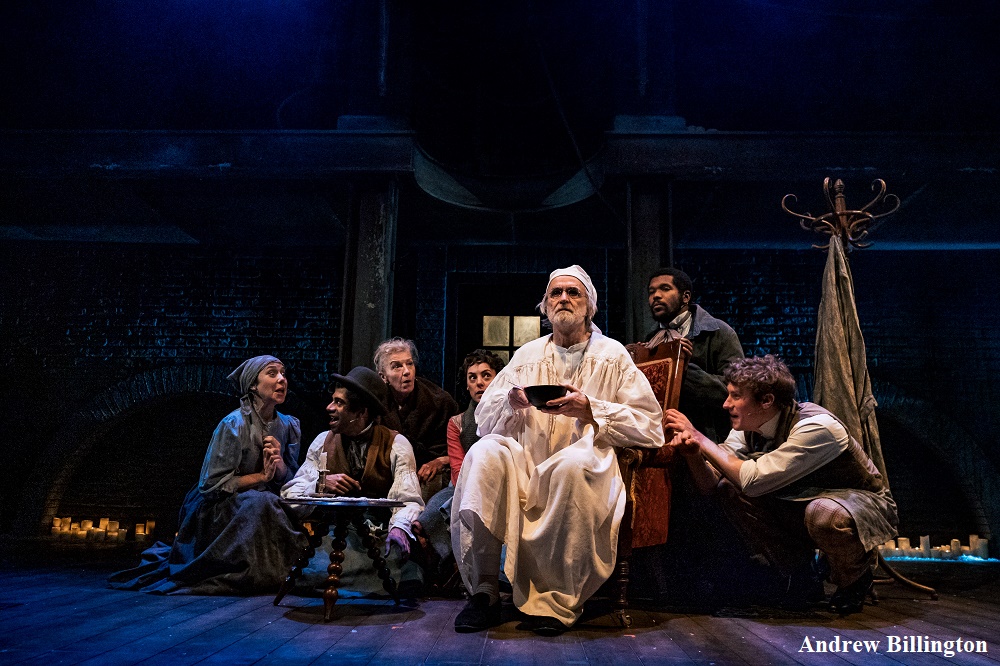 There is no better adaptor of the classics anywhere in the UK than Deborah McAndrew, and whilst staying true to the text she doesn't shy away from the darker elements like the grinding poverty of the Cratchit family. When the spectres of want and ignorance are introduced you can't help thinking of today's foodbank Britain, but without overegging the thought, it raises the pertinent question of whether benevolent capitalism is the answer.
That darkness, and the scary ghouls, means this is not a particularly family friendly night out, and although it is all the better for that, parents of younger kids would perhaps be better looking elsewhere for some festive fun.
The Playhouse's Associate Director Amy Leach leads the theatre's resident ensemble company allowing them plenty of latitude in creating their characters, as well as smartly working within the limitations of the set. The idea of creating a gaggle of naughty ghosts to torment Scrooge before the really scary ghouls appear was a masterstroke, and reminiscent of cult movie Truly, Madly, Deeply.
Some actors never find a role that defines their career but old hand Robert Pickavance has in Scrooge. He brings all experience to bear as he is dragged through the emotional wringer deploying touches of dry wit as the old miser lurches from humour to horror often in the same scene.
Ensemble newcomer Elexi Walker totally lights up the stage as the over the top Ghost of Christmas Present bringing an element of – whisper it – panto into proceedings just when it is needed.
Darren Kuppan is an ensemble member who is growing in stature with each play, and he radiated decency as Bob Cratchit, as does Jo Mousley as his wife desperate to keep her ill son alive. A special mention for confident newcomer Lipalo Mokete who more than held his own as Tiny Tim.
It's not all doom and gloom as Joe Alessi is a spry Mr Fezziwig flouncing across the stage – as camp as Christmas itself - during one of the regular, if at times uneven, song and dance routines. Tess Parr is a wonderfully nonchalant Ghost of Christmas Past revealing why Scrooge is such a misanthrope.
The constraints of the space means lighting designer Josh Carr and sound wizard Ed Clarke have been forced to think through their choices that add some subtle touches of mood and tone.
The result of an acting ensemble who have developed real chemistry working with some top flight creatives is a dark, but deliciously entertaining, production that is by some distance the best festive show I have seen at the Playhouse.
A Christmas Carol is on until Saturday 19th January. To book 0113 2137700 or www.leedsplayhouse.org.uk
Reviewer: Paul Clarke
Reviewed: 23rd November
North West End Rating: ★★★★★