The solemn tolling of bells instantly silenced the excited chatter in Hull Truck's packed Heron theatre on Tuesday night, as it signalled the start of, what turned out to be, a very special version of Oliver Twist.
Usually, I leave my score until the end of my review, but I am stating right here, right now, this is definitely worthy of five out of five stars. If I could give it 10 stars, I would.
I can't imagine there is a person in the country, possibly the world (well, apart from some undiscovered tribe somewhere) who isn't familiar with the story of the orphan born into a workhouse, sold into an apprenticeship, recruited into a band of liars and thieves, until, eventually, finding his rightful place in the well-off family he should have been born into.
Playwright, Deborah McAndrew has done a wonderful job in her unique adaptation of the Dickens' classic – Fagin and the Artful Dodger are both female, for instance – incorporating traditional Christmas carols, folk songs and an original score by John Biddle.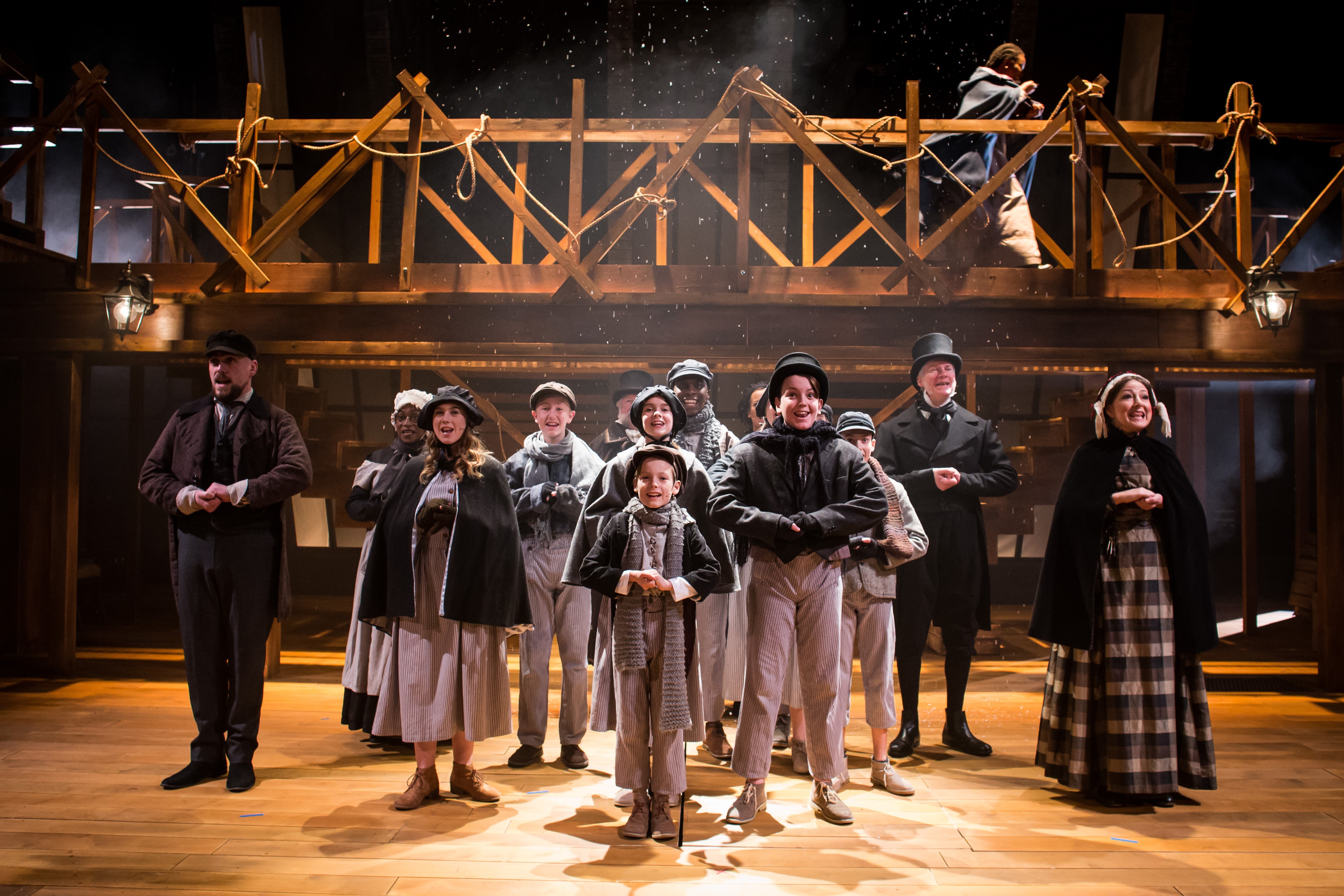 But her take on the story never leads us far from the original. Though fast-paced, nothing is left out – well, maybe Bullseye the dog; but the menacing presence of the dog's owner, Bill Sikes (Samuel Edward-Cook), more than compensates for his pooch's absence. He was genuinely scary.
Many members of this talented cast played more than one role. Space prevents me from naming them all, but a look at my programme tells me that, on Tuesday night, young Henry Armstrong took the part of Oliver.
All hearts, I'm sure, went out to him (I know mine did) as he appeared in his raggedy, too short trousers. He looked pale, hungry, bewildered and frightened in all the right places.
But in his darkest, scariest moments, a little spark always ignited in him. I know it was only acting, but I genuinely feared the worst when, egged on by other children in the workhouse, Oliver boldly faced the fearsome Mr Bumble (Ian Jervis), who ran the establishment, and asked for more gruel.
Even knowing what the answer would be, I still held my breath waiting for it. You could have heard a pin drop in the theatre at this point.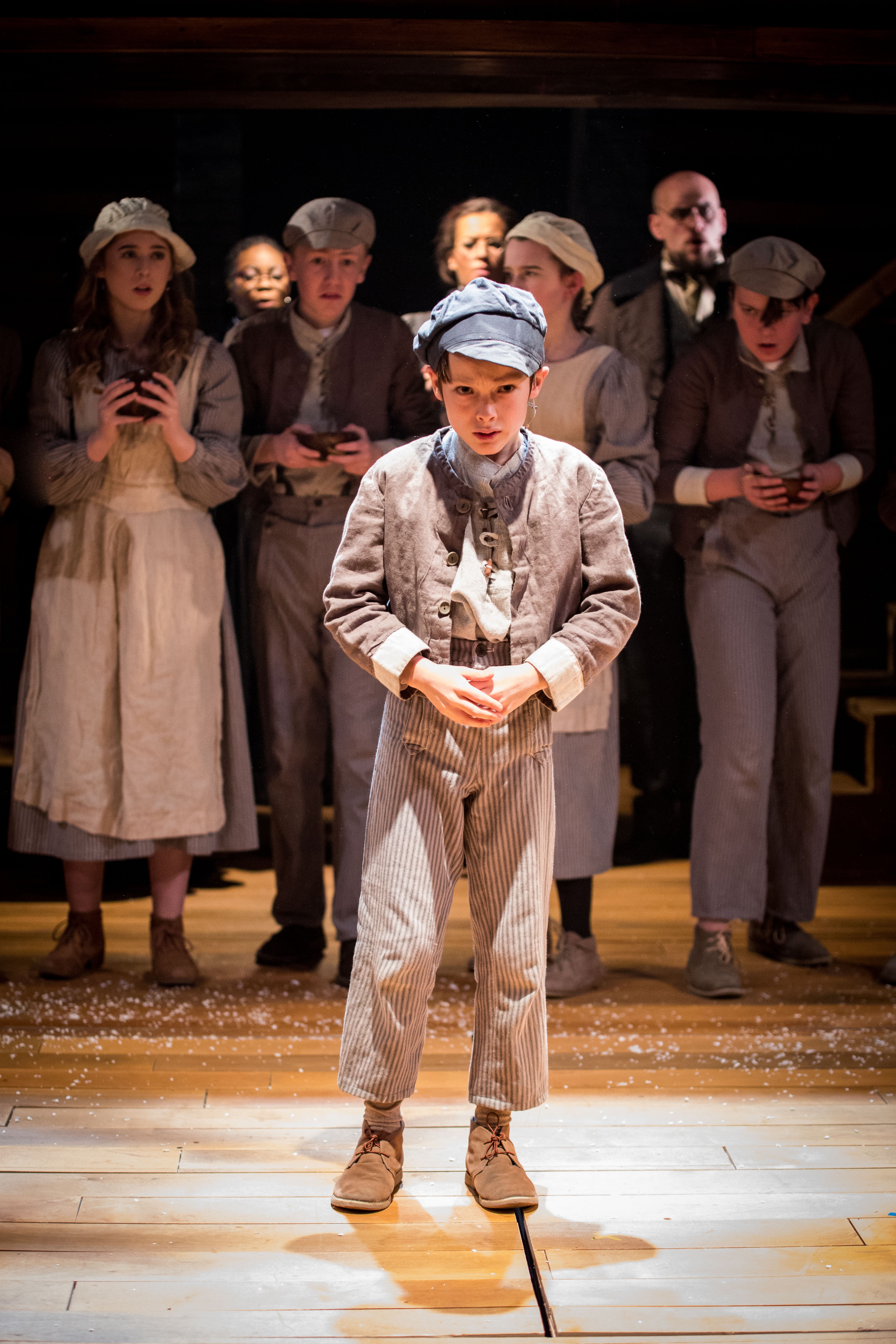 Young Henry, you were pivotal in creating this tense moment. Mr Bumble you should be ashamed of yourself!
The very interesting stage setting perfectly portrayed the bustling streets of London, where the action takes place. A gantry ran to two upper levels of walkways – characters appeared and disappeared along them, as the story unfolded.
Characters popped up out of the stage floor, or disappeared down it (poor Oliver) so slickly, it just added to the professionalism - and fun - of the production. And twice it "snowed' on stage, eliciting collective "ahs" from the enraptured audience.
Atmospheric lighting and sounds enhanced the dramatic, and sometimes sad, scenes; but joy and happiness also surfaced periodically, especially with the wonderful singing voices, music and dancing of this very versatile group of players.
Every voice was loud and clear; every singing voice tuneful; every mannerism perfectly understood.
Humour, fear, compassion, lust (you naughty Mr Bumble) and anger were just a few of the emotions all clearly projected by the characters concerned.
The cast of "old hands" and youngsters - chosen from Hull Truck's Youth Theatre and the Northern Academy of Performing Arts - gelled so well, it looked as if they'd been staging shows together for ever.
Perfect period costumes and impeccable Cockney accents added to our enjoyment.
I'm trying my hardest, but failing miserably, to find fault with anything to do with this magnificent spectacle. So I'm going to be as brave as young Oliver, and ask "please, Hull Truck, can we have some more?"
Running until Saturday, January 5th, 2019. Tickets £10-£26. Runs at various times on each day. To book and for more information, call (01482) 323638; visit www.hulltruck.co.uk
Reviewer: Jackie Foottit
Reviewed: 4th December 2018
North West End Rating: ★★★★★