Not being a fan of anything William Shakespeare wrote (I know, I know), I was secretly dreading having to "endure" a night of anything remotely akin to his work.
But a very talented cast of five kept me, and a packed Hull Truck Theatre, thoroughly entertained, nay, rapt, on Tuesday night, as they performed a reworking of the Bard classic, King Lear.
Jack Lear is the creation of writer Ben Benison whose script centres more on comedy than tragedy.
As a Hull girl, born and bred, this take on Shakespeare's King Lear in which the King is substituted for a west Hull trawler man-turned-boat owner, meant I felt at home with every dropped aitch of the Hull accent uttered on stage.
Of course, though east Hull born and bred, rarely setting foot over the River Hull into the west of the city as a child, I knew all about the trawler men of Hessle Road. Their on-shore antics were legendary, and yes, sounded very scary to us as children. They still do today!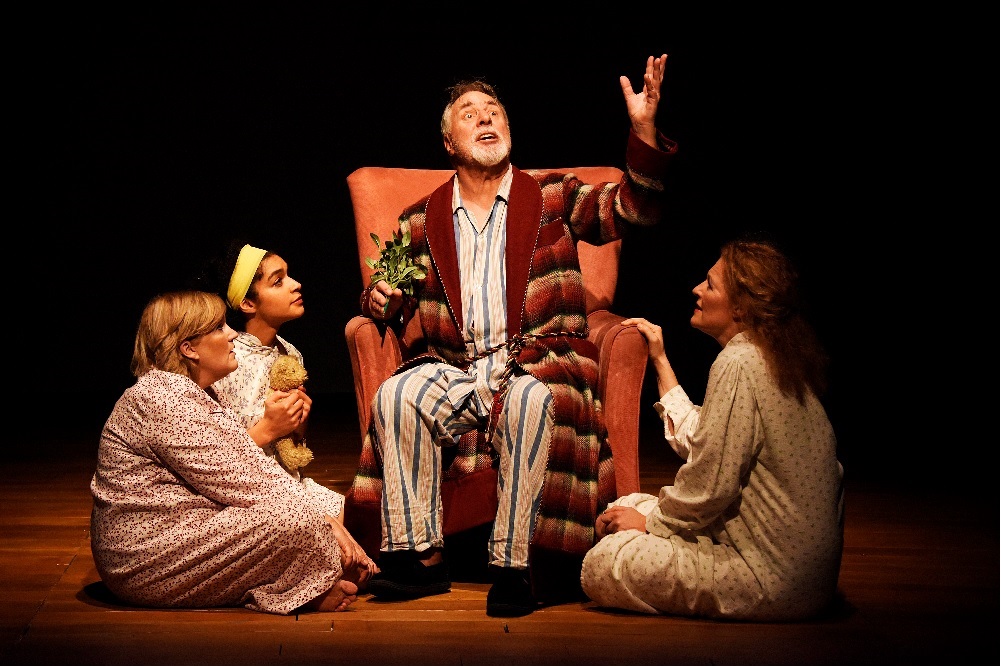 At "curtain up" the five actors strolled into the spotlight, singing Kings Of The Deep - "all hail to the fishermen braving the storm" - their seagoing apparel setting the scene.
Before the production, a quick check on Google gave me an idea of what King Lear was all about and this reworking's outline was so similar, it was very easy for me to follow the tale.
King Lear had three daughters, and so does our Jack. Barrie Rutter brilliantly plays the title role, mainly with humour and a sprinkling of pathos, anger, nastiness and swagger (drunken and otherwise) to name just a few emotions.
Two of his daughters – Morgana (Nicola Sanderson) and Freda (Sarah Naughton) had us in stitches with their portrayal of evil siblings, out to make their skinflint of a father pay for working them hard on his trawlers, as children.
The third daughter, Victoria (Olivia Onyehara) is a more thoughtful, less materialistic type. When Jack shares out his wealth between the three, he instructs his girls to tell him how much they love him, and asks them to promise they will look after him in his twilight years.
Morgana, known as Morgan, and Freda flatter the old man, but his favourite daughter, Victoria, cannot bring herself to lie. She is planning to marry a lawyer from York and cannot guarantee that her future husband would welcome having Jack stagger drunk into their home every night, with his rowdy mates in tow.
Enraged, Jack cuts Victoria off without a penny – and that's when the fun starts in earnest for us in the audience.
Freda and Morgan's joy at becoming rich had us all laughing out loud. The pair of them were an absolute scream.
With wellies and dungarees discarded, they flounced around in flowing gowns, not believing their luck. And when their drunken father turned up on their respective doorsteps, he was given short shrift by both.
Meanwhile, as news of their newfound wealth spread, enter crooked lawyer Edmund (Andy Cryer), who fancied himself as a ladies man and was intent to marry one rich sister while having his wicked way with the other – which he eventually did (I won't give the game away by telling you which one he chose as his bride).
What I will tell you is the scene in which he realises he has struck it lucky is one of the funniest of the night. His disco dancing, complete with glitter ball, had us howling with laughter.
Meanwhile, poor Jack was in the very place he had always dreaded, a care home.
As the spotlight shone down on him, sitting in his chair centre stage, it was hard not to feel sorry for the miserable, forgetful, old man he had become.
When Victoria turns up to take him to live with her, he doesn't recall who she is. But it does bring him back to life. In a very funny scene, and with a proud and loud "ta da", he shrugs off his plaid dressing gown and struts around the stage, resplendent in his checked blue trawlerman suit – pleated back, 22ins trouser bottoms, plain "laps", cummerbund around his waist, bootlace tie at his neck and brothel creepers on his feet.
He was Jack the lad once more. I felt like cheering.
This unbelievably talented cast, on a very simple, but atmospheric, stage setting with music from a lone drummer, made what could have been a heavy Shakespearean tragedy, amusing, entertaining and watchable. And as befits actors of their calibre, every word uttered was loud and clear.
King Lear aficionados will know that happy ending it ain't. But this small group made sure we left the theatre with smiles on our faces, as they joyfully sang us out to Three Day Millionaire. What a treat!
Running until Saturday, February 2nd, 2019. Tickets from £10. Call the Box Office on (01482) 323638; visit www.hulltruck.co.uk Age guidance: 14+
Reviewer: Jackie Foottit
Reviewed: 22nd January 2019
North West End Rating: ★★★★