The award winning musical by Gary Barlow and Tim Firth is a warm, celebratory yet poignant tale heavily based on the inspiring story of the 12 members of the Rylstone and District Women's Institute in Yorkshire, who took off their clothes to produce an alternative calendar in memory of a friend and to raise money for Bloodwise, the blood cancer research charity. Originally made into a film and then a play both written by Tim Firth, Gary Barlow's childhood friend, the now musical version adds Barlow's skilled song writing to allow the characters to inhabit a space of inner thought and honesty not seen in the earlier versions.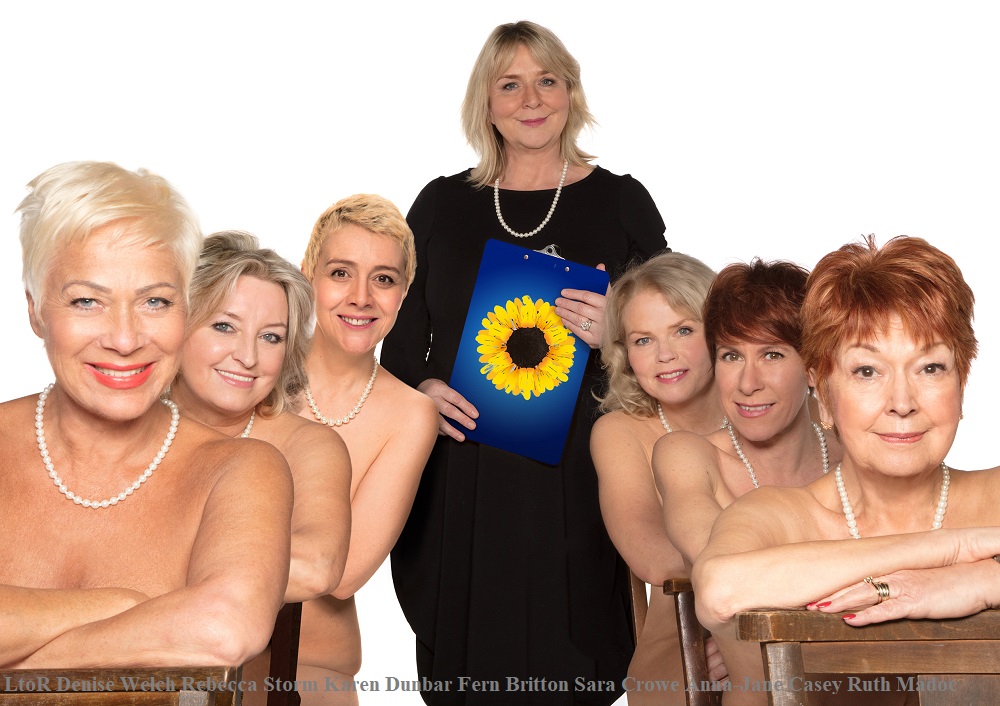 The primary set of fields, dry stone wall and a gate is effective and unobtrusive and tokenistic lights and tree branches are used to represent the various other locations. Calendar Girls boasts a list of household names from mainstream TV and Musical Theatre. Favourites such as Fern Britton as Marie and Denise Welsh as Celia, the ex-flight attendant, share the stage triumphantly with Anna-Jane Casey as Annie, Rebecca Storm as Celia, Sara Crowe as Ruth, Karen Dunbar as Cora and Pauline Daniels as Jessie. This very talented female cast, in a character driven plot, are empowering but always in a firmly tongue in cheek Yorkshire way, with real strength and humour. The book is very well written with real character depth.
This musical is beautiful in so many ways from the soaring vocals, emotive dialogue and the unwavering connection we feel to each character. The script goes from absolute laugh out loud comedic genius to deep gut wrenching sorrow, but all the issues are relatable and recognisable from cancer, marriage, children and grief. It is this realism that gives the musical its strength as we see ourselves within each and every character. I do feel the songs lack a 'catchiness' that will give them longevity and although the lyrics are poignant and heartfelt, they are a little clunky at times and jar. The live band under the direction of Nick Pinchbeck sound good and have the notable Yorkshire brass sound.
The generation gap between parent and child really adds to the comedy and Isabel Caswell as Jenny, Danny Howker as Danny and Tyler Dobbs as Tommo are brilliant in their roles as the children coping with their own and their parent's misdemeanours.
The three Standout performances must to Anna-Jane Casey as Annie, her grief is almost palpable and her vocal is exquisite particularly in Kilimanjaro and Scarborough. Rebecca Storm, she has a singing voice I could listen to forever and her character has some beautiful moments in the show, such as her husband explaining to her he didn't marry her for a smooth path but for the crazy paving. And Karen Dunbar as Cora, her 'you can't get pregnant after curry' line was just one, of a barrage of superbly delivered one liners and innuendos. Her rocky voice was great in the alternative Christmas section particularly and her bottom flash was hilarious.
The expected nudity was done with great taste and the placing of the props and misplacing was done soon very wittingly. As the ladies individually unrobed to pose for each calendar shot the audience cheered in support of the bravery of the woman both as character and actress. The cast embrace their bodies, dismiss their self-consciousness and reject their fears of social backlash. It was quite joyous to see the sunflower/female is just as beautiful in its latter days!
This is a wonderful show that has you laughing and crying in equal measures and very fails to develop each and every character's story.
Reviewer: Tracey Bell
Reviewed: 2nd April 2019
North West End Rating: ★★★★