Theatre requires constant suspension of disbelief but this uber meta adaptation of the Jules Verne classic requires you to believe four actors on a pretty bare stage can take us on a race round the world in 80 days.
On the whole they pull it off by simply inviting the bemused French author to become of the main characters as he manfully tries to keep this wayward group somewhere near the original text with little success. Toby Hulse's twisty adaptation doesn't help Verne's case being stuffed full of meta asides, daft tangents and oodles of physical comedy as Victorian gentleman Phileas Fogg bids to win his bid he can circumnavigate the globe in just 80 days.
This lot don't could just ignore the fourth wall, but smash it down with sledgehammers, and grind it into dust in a way that even Fleabag would think a tad shameless. Director Alex Ferris was right to make this call as the whole thing requires the audience to be complicit with the madcap physical madness onstage in a meta version of panto. And oh yes, we are.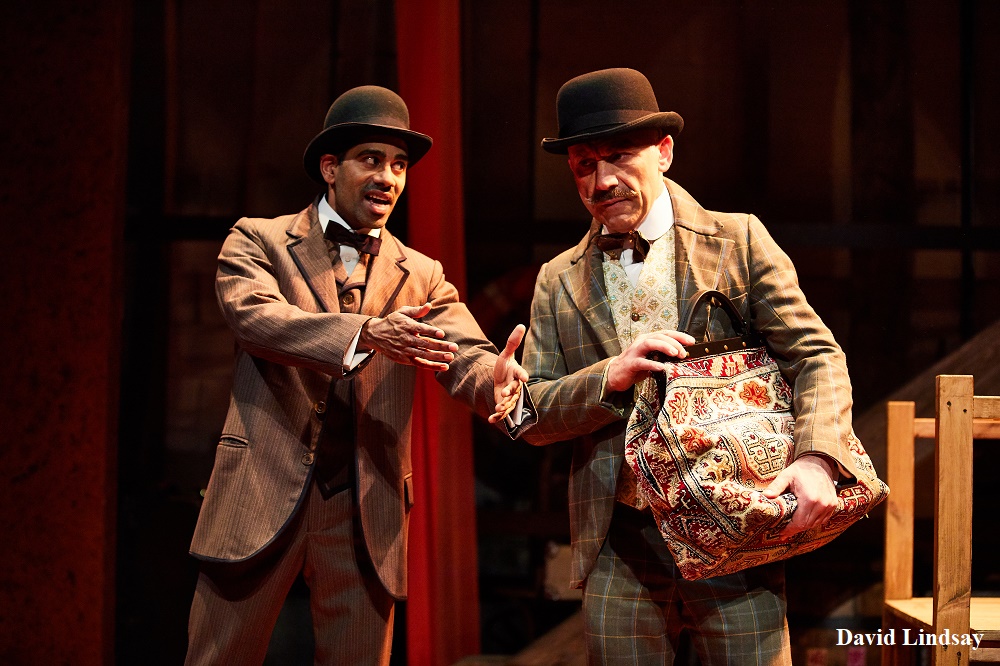 Over the last year this pop up space has been home to an ensemble of actors who have worked and grown together as the theatre's main spaces are being done up. Tonight, is the turn of the male members of that ensemble to show off what they can do and all four certainly go at a myriad of roles played with great gusto and skill.
Robert Pickavance's Phileas Fogg doesn't quite dispel the the suave genius of David Niven in the Oscar winning movie, but he brings his own quiet charm and subtle comic timing as he gamely keeps pace with his younger playmates racing round the stage.
Another old hand Joe Alessi is great comic value anchoring this play within a movie within a novel within a play with a twinkle in his eye, and shamelessly plays to the audience to great effect.
Darren Kuppan has really grown as an artist over this year and this former marital artist showed off a genuine gift for physical comedy as the thick Fix of the Yard determined to lock up Fogg. He was particularly strong in a cleverly choreographed, and beautifully timed, fight scene on a train chugging through the Wild West as the quartet near home.
Dan Parr is another who has really come on in the ensemble having great fun with a running gag as Verne tries to stop the cast introducing the movie's famous hot air balloon, and his scenes as a hirsute Princess Aouda who falls in love with Fogg are laugh out loud funny.
Amanda Stoodley once again works her design magic on the stark set throwing a seemingly endless stream of props on and demanding quick costumes changes that often go pear shaped, but no-one really cares least of all the cast who just want to get somewhere near their mark. And sometimes they actually make it.
Dom Coyote's smart cello driven score does help place the audience in different parts of the globe from Suez to Bombay as does Stoodley who cunningly introduces the days to go on the quest with updates delivered via a series of props.
The problem with this warm hearted production is it sometimes lacks the focused absurdity of Fo or the unabashed silliness of panto falling between the two at times, but what do I know as plenty of people were laughing as the cast rampage through the text.
Around The World in 80 Days is in the Pop up Theatre until Saturday 28th April. To book www.leedsplayhouse.org.uk or 0113 213 7700.
Reviewer: Paul Clarke
Reviewed: 11th April 2019
North West End Rating: ★★★★