Anyone unlucky enough to have lived through the dayglo eighties still remember it as the decade that taste forget and this gloriously over the top show is a tongue firmly in cheek hymn to big hair, even bigger guitar riffs and skimpy lycra outfits.
Like the gormless consumerist era it is set in Rock of Ages manages to simultaneously celebrate and mock the golden age of cheesy MTV videos, Jon Bon Jovi's stonewashed double denim, leg warmers and brick mobile phones. Armed with Chris D'Arienzo's knowing and amusing book a strong cast go over the top early doors and just keeping going in the way the eighties did.
D''Arienzo keeps up the jukebox musical tradition of not bothering with much of a story, and any subtext is smashed under the weight of massive guitar chords supplied by the tight onstage band. For those interested in the 'story' acid casualty LA club owner Dennis is trying to save his Sunset Strip bar, The Bourbon Lounge, from cardboard cut out Teutonic developers as an unlikely crew of eco rockers rally round to help him. There is a love interest as wannabe rocker Drew pursues naïve wannabe actress Sherrie, who comes from the sticks to find fame in the bright lights of LA, in a rerun of much any eighties teen movie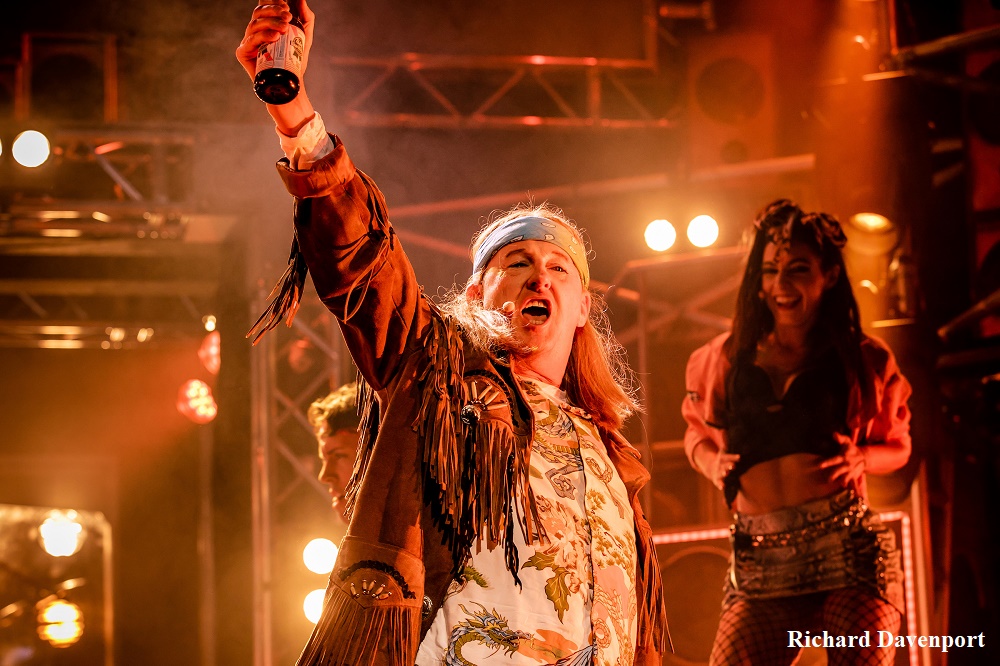 The real rockers of the strip were pretty dumb misogynists, who frankly could have done with a good wash, and there's a nod to that underbelly of rock as pathetic rock star Stacee Jaxx struts the stage threatening the teen romance. It is bit odd that Stacee, played by Blue's Antony Costa as a poor man's Axel Rose, is big in the publicity, but he's actually just a small plot device.
The other big star of the show is a relentless barrage of the greatest power pop ballads ever written, so if you an eighties music fan it's a racing certainly you will hear at least one song you love, or maybe conceived your firstborn to. But for every Dead or Alive by Bon Jovi there is Sister Christian by the long-forgotten Night Ranger proving that there was plenty of musical dross three decades ago
Right from the off Adam Strong as camp rocker Lonny shamelessly steals scene after scene gleefully smashing the fourth wall as he cattily 'narrates' the action. Corrie legend Kevin Kennedy brings all his experience as a gigging musician to Dennis getting some decent laughs along the way.
Jodie Steele can certainly belt out the big numbers with a hint of Kristen Wiig in the comedy moments as lovelorn naïf Sherrie. Her duets with Luke Walsh's Drew are huge especially on Damn Yankees' High Enough. Former Pop Idol winner Zoe Birkett leads the full cast gathered on Morgan Large's suitably garish set through a surprisingly tender version of Poison's Every Rose Has Its Thorns.
Two hours of relentless exhortations to follow your dreams inevitably concludes with a rousing rendition of Journey's anthemic Don't Stop Believing, which is absolutely the right way to end the madness. If you fancy being part of a live MTV video for a couple of hours then Rock of Ages is most definitely the perfect excuse to dig out your leg warmers and tease up the big hair for a warm hearted rock and roll party.
Rock of Ages is at Leeds Grand Theatre until Saturday 3rd August. To book 0844 8482700 or www.leedsgrandtehatre.com
Reviewer: Paul Clarke
Reviewed: 30th July 2019
North West End Rating: ★★★★