5 out of 5 stars - and this is just for the stage setting (take a bow, designer Ian MacNeil).
I know a theatre reviewer's score usually comes at the end of a review, but I just had to make it clear from the start, just how good this production of An Inspector Calls is, as it hit the Hull New Theatre's stage this week.
The theatre was packed to the gills on Tuesday night and atmospherics were the order of the day from the get go, with a loud siren stunning us all into silence.
The year is 1912, and on a dank, foggy night in the northern manufacturing town of Brumley, the wealthy Birling family – mother Sybil (Christine Kavanagh), father Arthur (Jeffrey Harmer) and son Eric (Ryan Saunders) - are celebrating the engagement of their daughter Sheila (Chloe Orrock) to Gerald Croft (Alasdair Buchan).
Initially, all the action takes place inside the Birling's large house, mostly behind closed doors, with the actors occasionally popping out of a window on to a balcony to chat.
This could have irked, as some of their conversations were only just audible (to me, anyway). But I, for one, was for too taken with the spectacular stage setting to even think of being irritated.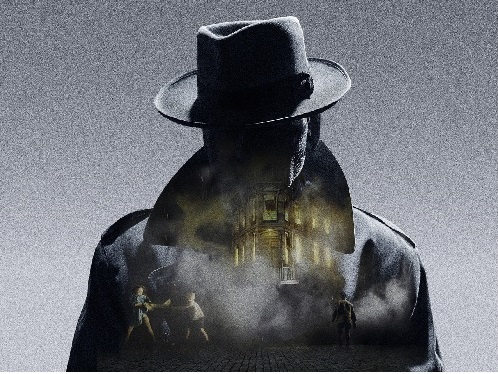 Anyway, it wasn't long before the walls of the magnificent house opened wide to reveal the actors in all their costumed splendour.
The wealth inside the house contrasted strongly with the poverty outside. While the Birling's housekeeper, Edna (Linda Beckett) busied herself outside in the cold, little street urchins (Ram Pisharody, Hetty Whitehead and Owen Dulson) were much in evidence.
The arrival of a shadowy figure dressed in a mackintosh and wearing a trilby hat, peaks everyone's interest. Introducing himself to Edna as a policeman, Inspector Goole (Liam Brennan), he demands to speak to Arthur Birling.
Goole quizzes Birling, asking him if he remembers a girl called Eva Smith, who once worked for him. Birling denies any knowledge of the girl, until he is shown a photograph of her.
Only then does he admit Eva Smith once worked for him, but that he fired her after she staged a strike to demand pay rises for her and her co-workers.
Daughter, Sheila enters the fray. In frivolous mood, she doesn't take any of what is being said, seriously - until the Inspector reveals that Eva Smith had committed suicide that afternoon, by drinking disinfectant.
Sheila cannot see what her death has to do with them, until it is pointed out to her that she was responsible for Eva's dismissal from a local store, causing the poor girl to lose her livelihood once again.
The Inspector shows Sheila a photograph of Eva and she confirms that was the girl she had had fired.
Sheila's new fiancé is now "interrogated" and it turns out he knew the girl as Daisy Renton, who had, secretly, become his mistress the year before. He also denies everything until the Inspector shows him a photograph of Daisy/Eva and he confesses.
Next up is brother, Eric, who is confronted with yet another photograph of a girl (Eva, Daisy?), whom he, too, had wronged, getting the poor girl pregnant.
Last up is the matriarch, Sybil. The Inspector reminds her that when pregnant Eva/Daisy came to her charity for help, Sybil turned her away. She, too, is shown the girl's photograph to jog her memory.
What starts out as a very merry engagement dinner, turns into a family bitterly torn apart by their own guilty consciences. Son and daughter turn against mother and father; father turns against son; son turns against mother; daughter turns against fiancé and all turn against the Inspector who has wrought destruction on their privileged lives.
Talking of destruction, in one dramatic scene, the Birling's lovely house, literally falls apart on stage in a breathtaking scene I will remember for a very long time.
Smoke, rain, flash, bang, wallops, and clever lighting, helped along by Stephen Warbeck's rousing music, all added to the intense atmosphere. And the clever twist at the end, with the realisation that the Inspector is not all he seems, stuns those of us not familiar with this timeless story.
The icing on the cake was the superb acting from an incredible cast that kept the packed theatre enthralled throughout. I couldn't fault a thing.
Running until Saturday, September 28th, 2019; nightly at 7.30pm with 2.30pm matinees on Wednesday, 25th, Thursday, 26th and Saturday, 28th. Tickets from £15. Call (01482) 300306; visit www.hulltheatres.co.uk
Reviewer: Jackie Foottit
Reviewed: 24th September 2019
North West End Rating: ★★★★★