My heart melted at the sight of sad little children sitting among us at the Hull Truck Theatre, on Tuesday night, prior to the start of its Christmas production of Peter Pan.
Dressed as Second World War evacuees, with their name tags and gas mask holders slung across their bodies, these cuties were cast members, planted among us to give us a hint of what era the forthcoming action would take place in.
This age-old story, written by J.M. Barrie, was given a definite and very amusing flavour of Hull, courtesy of writer Deborah McAndrew.
The opening scenes of the Darling family's life reminded me of a mix of Bedknobs and Broomstick and Mary Poppins – especially when they sang and danced.
Getting ready for his office party dinner, and worried he and his wife might be late, Mr Darling (Ryan O'Donnell), was getting impatient, not only with his wife (Melissa Dean), but also with their sons Michael (Jacob Butler) and John (Aron Dochard), and daughter Wendy (Vanessa Schofield).
Even the family's kindly Nana (Joanna Holden) feels his wrath.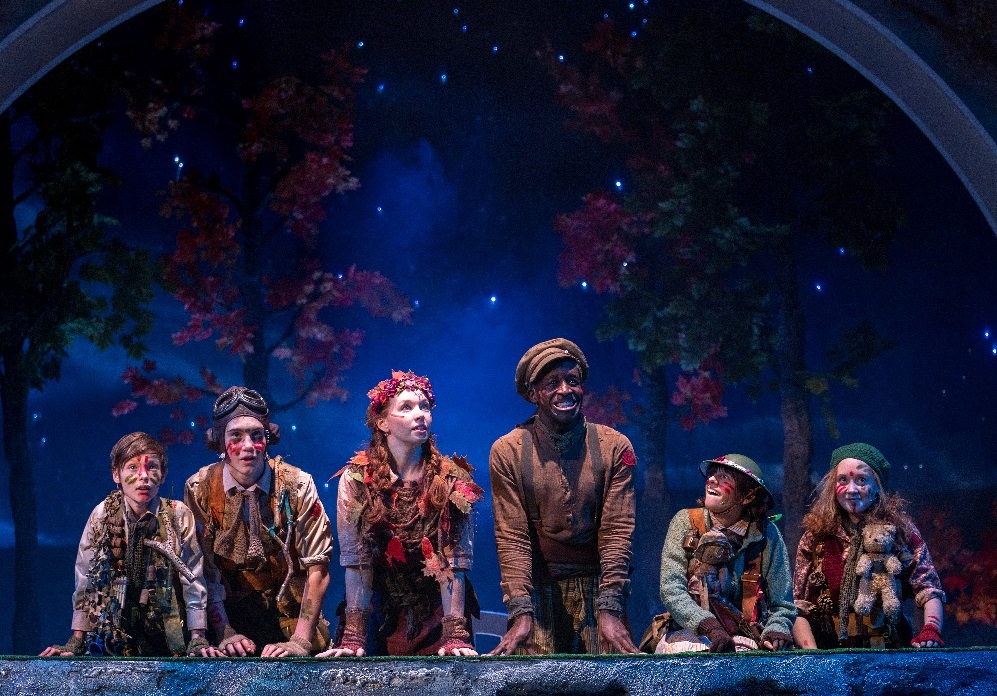 However, when the couple finally make their exit, that's when the story starts in earnest.
Young Wendy has a vivid imagination and her brothers and mother often indulge her by "acting" out her storylines – a favourite being where the boys are pirates who have kidnapped an Indian princess.
Wendy believes a young boy called Peter Pan visits her room each night – flying in through the window. But it annoys her that she never wakes up while he is there.
However, one special night, she catches sight of Peter (Baker Mukasa) in her room, as he looks for his fairy friend, Tinker Bell (a dual role for Joanna Holden), who is hiding in the top drawer of a chest of drawers.
When Peter persuades Wendy to fly with him to his home in Neverland is where the amazing stage setting takes a starring role. Shimmying up material dropped from above, the two, with the skills of circus performers, "fly" through the air, high above the stage. Amazing stuff.
Once in Neverland, Wendy's story is played out with her dad as Peter Pan's enemy, Captain Hook (Ryan O'Donnell); her mother is Tiger Lily (Melissa Dean) and her two brothers are pirates, Smee (Jacob Butler) and Starkey (Aron Dochard).
Peter's friends are all Lost Boys – babies who, unnoticed by their mothers, have fallen out of their cots, only to disappear.
Captain Hook, meanwhile, rules his band of pirates with an iron fist – literally. He blames Peter Pan for the fact he has a hook instead of a hand.
The evil captain will do anything to get his revenge on Peter. But he is not without enemies – namely a huge clockodile, sorry, crocodile, who, having swallowed a clock, can be heard "tick-tocking" every time it approaches.
It's here I have to confess that I, who detests any kind of audience participation at any kind of show, loudly "tick-tocked" with the rest of the audience when instructed! Well, when pirates tell you to do something, you say "aye aye, me hearty" and jump to it.
Back to the story. In some very entertaining shenanigans, the pirates capture Tiger Lily, who escapes only to be captured again. Peter Pan's best friend, Tinker Bell, deceives him, revealing his secret hideaway to Captain Hook who promptly tries to poison Peter.
In the ensuing fights between the pesky pirates, the Lost Boys, Peter Pan, Wendy and Capn Hook, gleaming cutlasses flashed, keeping us in the packed theatre absolutely enthralled.
Happily, good always overcomes evil in a Christmas panto – oh, yes it does - and Hooky gets his just desserts in a brilliant scene when the giant croc literally drags him off the stage.
There wasn't a dull moment in this fantastic production. Admittedly, it took me a while to get used to an adult playing the lead role, seeing that the programme cover showed a young boy in the role. But I soon realised the part of Peter Pan would have been far too strenuous for a youngster.
Ryan O'Donnell was brilliant as a grumpy Mr Darling, and his camp Captain Hook was hilarious at times. I loved him.
Melissa Dean, perfect as loving mum, Mrs Darling, was very amusing as Tiger Lily (her karate move made me laugh out loud).
Vanessa Schofield as Wendy had a beautiful singing voice and her sky-high athleticism took my breath away.
Similarly, Baker Mukasa as Peter Pan, ran and ran like a Duracell bunny – leaping, climbing high, acting and singing.
Jacob Butler and Aron Dochard, as Wendy's brothers and pirates, were the ones guilty of getting me to take part in the dreaded audience participation. They were very entertaining though.
Last but not least, and the one who made us laugh the most, was Joanna Holden as Nana and Tinker Bell. She was an absolute scream and her energy knew no bounds.
All this talent (not forgetting the Lost Boys and Pirates, too numerous to name), aided and abetted by a fabulous stage setting, music and lighting, meant this version of Peter Pan was a blast from start to finish.
Running until Saturday, January 4th, 2020. Tickets £10-£26. Times vary. Call (01482) 323638 or visit www.hulltruck.co.uk
Reviewer: Jackie Foottit
Reviewed: 3rd December 2019
North West End UK Rating: ★★★★