'This story happened. It did happen.'
Those are the words of world-renowned teacher Dr Janusz Korchaz introducing his life in the hellish Warsaw Ghetto in 1942 where he runs an orphanage for 200 starving Jewish children herded in there by the Nazis.
This towering real-life figure in European liberal intellectualism is reduced to begging scraps to feed the orphans where he's aided by the unassuming Stephanie, who is a composite of all the orphanage workers. Along the way he saves another composite character, street urchin Adzio, from being executed in the street for stealing food, and that is where David Greig creates the tension in this work written to be performed in Scottish schools two decades ago.
Korczak refused offers to save his own life to stay with his children to the bitter end believing that despite his circumstances that by showing humanity you can humanise even a world as bleak as this. In contrast Adzio, his childhood destroyed by the murder of his brother and starvation, wants to fight back challenging Korczak's worldview as naive saying cheating and stealing has kept him alive. Korchaz counters that may be true, but what is point of living in a world like that?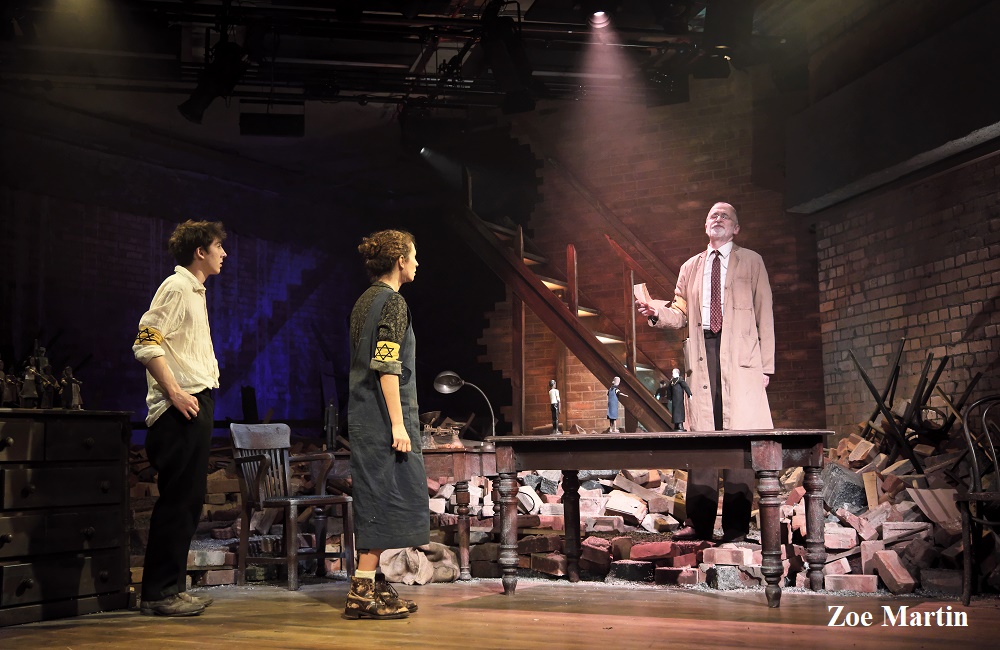 The strength of Greig's taut text is that it doesn't suggest which worldview is right, and you are left thinking what right have anyone of us to judge impossible choices being made by half-starved people still unable to believe the Nazis were murdering millions of children.
This is the Playhouse's Artistic Director James Brining's fifth go at this powerful work and it shows as he draws out beautifully judged performances from all three actors resisting any histrionics, but full of humanity, quiet dignity and pathos. They make full use of Rose Revitt's rubble strewn set, which rightly won her the Prestigious Linbury Prize for design, roaming round the full depth and exposed red brick walls of this versatile new studio space.
Robert Pickavance points out he is the same age as Korchaz bringing all his experience to bear as he shows a decent man wresting with the merits of his own worldview in the face of evil, and the moments when he vents at an unseen German soldier are a punch to the gut as his mask to the children slips revealing his own torment.
You'd have no idea that Danny Sykes is making his debut in this challenging play giving full rein to Anzio's anger. He also skilfully essays a child forces to be a man all too soon, and his debates with the good doctor are charged with the sort of energy and subtly you might expect from a much more experienced performer.
Gemma Barnett takes the loyal Stephanie on a tricky journey from initially hating the rough Adzio to falling for the street kid, and deciding she wants to fight too despite idolising the orphanage director.
Greig's other masterstroke is introducing a series of dolls to represent the children, Ghetto figures who impact on the orphanage and the SS officer who condemns them all to a final journey to Treblinka.
You will not see a more poignant piece of theatre this year then when Pickavance arranges the dolls representing the children to recreate their defiant last march to the train yards with their orphanage's green flag flying proudly.
At a time when a staggering 5% of Britons believe the Holocaust never happened, and another 8% think it was exaggerated, then this intelligent revival couldn't be any timelier as Fascism once again rears its ugly head across Europe.
Dr Korczak's Example is in the Bramall Rock Void until Saturday 15th Feb 2020. To book 0113 213 7700; or www.leedsplayhouse.org.uk
Reviewer: Paul Clarke
Reviewed: 31st January 2020
North West End UK Rating: ★★★★