It was in February 2019 that I first reviewed Jack Lear, at the Hull Truck Theatre, and I remember really enjoying the experience.
But would I feel the same bon homie towards it when watching it on YouTube more than a year later?
I am not a fan of anything William Shakespeare wrote (it's the lingo), and this production is a reworking of the Bard's classic, King Lear.
Oh well, it's almost 7pm - I'm going in …
For those unfamiliar with Shakespeare's King Lear, the king issues a challenge to his three daughters, for them to prove how much they love him - only then will he divide his kingdom between the three of them.
Hull's Jack Lear (Barrie Rutter) is a trawlerman who, through graft and grit, has become quite wealthy. Jack has been "cursed" with three daughters, who he brought up as "men-daughters".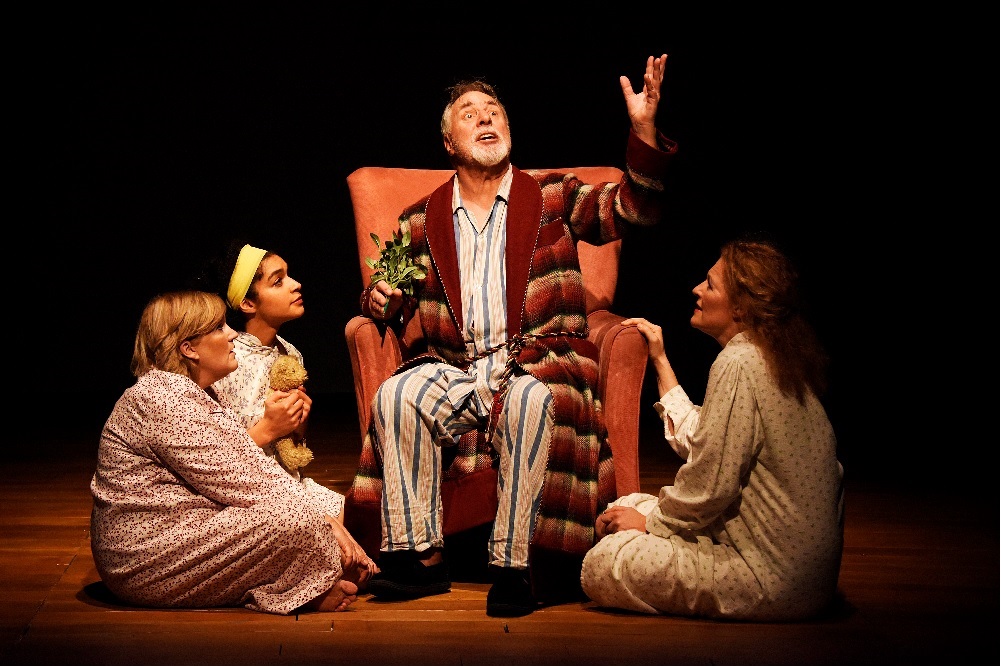 Dressed in oilskins, fish gutting knives at their hips, the girls - Morgana (Nicola Sanderson), Freda (Sarah Naughton) and Victoria (Olivia Onyehara) - have lived and worked on the trawlers since childhood.
Raised as men, Morgana and Freda often fight each other with swords - but they don't draw blood … yet.
When Jack gathers them together around the kitchen table to explain how he is sharing out his wealth - and what they will have to promise him to get their share - the atmosphere distinctly cools when he bluntly asks "Who'll let me in, maybe until death?"
Morgana and Freda quickly reassure him of their loyalty. The youngest, Victoria honestly explains she has been recently "walking out" with a young man, and if they marry can't guarantee he would welcome the presence of her, often drunken, father and his friends.
Theatrically flourishing beribboned scrolls, Jack hands over ownership of his boats and properties, but with Victoria unbending, he tears up her scroll, ordering her to leave his house for ever.
Of course, Morgana and Freda have no intention of looking after Jack in his old age and next thing we know, the two are living the high life, soon showing their dad the door when he comes, drunkenly, a-knocking.
In their giddiness, the two are ripe for a certain crooked lawyer named Edmund (Andy Cryer) to wheedle his way into their lives, their beds and their bank accounts.
Edmund's evil plan works - he marries one sister while having his wicked way with the other (I won't give the game away by revealing which sister wore the veil).
Next thing you know, the atmosphere has changed again and we see poor Jack in the very place he always dreaded - a care home.
Meanwhile, Freda, finding out about Edmund and Morgana's affair, wields her trusty gutting knife and, well, happy ending it ain't for her errant hubby.
Morgana discovers her lover's dead body and, furious with rage, challenges Freda to a sword fight - no one comes out of it the victor.
Meanwhile, Victoria, is trying to persuade Jack to live with her and her new husband.
Poor Jack hardly recognises his daughter. But he doesn't forget his days as a "three-day millionaire", the term used for trawler men during their brief time ashore.
In one last burst of energy, and with a loud "ta da", he jumps out of his armchair, dressed in brothel creepers, plaid suit with pleats up the back of the jacket, bootlace tie and a cummerbund - a trawlerman's onshore "uniform".
Then, declining his daughter's offer, he sits back into his armchair and, well, another Lear bites the dust.
Happily for me, Jack Lear, with its dark and simple stage setting, moody lighting and atmospheric drumming as the only musical accompaniment, simplified the Bard's classic.
Ben Benison's clever script made sure we in the packed theatre were never bored, and the loud, clear diction of the five talents on stage made sure we never missed a word.
And I really enjoyed the way the camera zoomed in and out on an individual - something you don't see while sitting in a theatre. However, there is no substitute for actually being in that cosy venue.
All in all, watching Jack Lear again was just as enjoyable as the first time - minus the ice cream at the interval.
Reviewer: Jackie Foottit
Reviewed: 6th May 2020
North West End UK Rating: ★★★★★