Stand up each and every one of Rainhill Musical Theatre Company and take a well-deserved bow, I can think of no better way to kick off the summer than with this sizzling story stuffed full of seventies sounds, and there was no better way to start the show than with our two bouncers, Baz (Paul Robinson) and Goz (Liam Grindley-Fitzgerald), getting us, and themselves, in a lather to Rose Royce's Car Wash.
This isn't a show you come to watch, it's a show you come to dance to and a Celebration with the whole company including a live on-stage band got everyone going before Roddy (Christopher Fox) recounted the story of August 1977: he's been with girlfriend Debs (Bláthíne Maguire) for five years, as has their best friends Terry (Paul-James Green) and Trish (Dawn Louise Wright), but he still has an eye for old flame Mandy (Sally Adamson) amongst others. Whilst he dreams of becoming a rock star, Debs confides to Trish that she is pregnant with his baby. Roddy's father, Eamon (Alan Harbottle), a big Elvis fan, wants to see Roddy settle down, but club DJ Dean (Dru Grindley-Fitzgerald) has different ideas.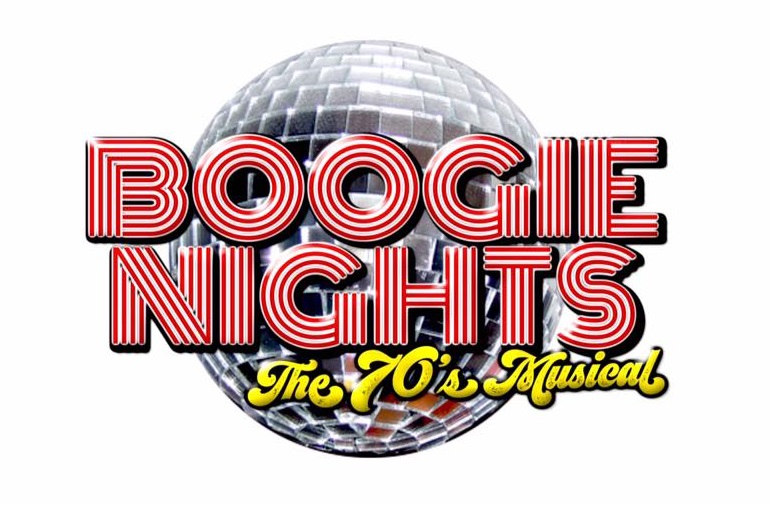 Roddy meets with Lorraine (Sarah Johnson), singer in the disco band, and her boyfriend, bandleader Spencer (K. Lopez), who are having a row. One thing leads to another and, well, you can guess the rest. Or can you? There's a few twists and turns on the way, no surprise given the array of wonderful music on offer from Musical Director Wayne Oakes and his band (Mike Ciaputa; Kev Bates; Jonny Gleave), backing singers (Samantha Moores; Julie Molyneux; Michelle Williams), and accompanying dancers (Pamela Dick; Katie Molyneux; Jeanna Roberts) led by Dance Captain Grace Hodgson.
The lead cast perform superbly throughout, and with the support of a wonderful ensemble (Bet Davies; Marjorie Davies; Georgina Earle; Ruth Gibb; Claire Heaton; Marion Hitchen; Maureen Kinsey; Barbara Marsh; Charlotte Orme) we are treated to a good-humored show filled with great disco classics and period-perfect costumes. What really took my breath away was the wonderful choreography by Lucy Bradshaw who brought together all the different strands seamlessly to punch out top class performances, particularly on the full-cast medleys. With a talent that belies her young years, she is one to watch out for.
I'm thrilled for producer and director Pip Bradshaw who confided in me during the interval that she had gone through every anxiety and some in the lead up to this production, her directorial first. Based on tonight's performance, she has every reason to sit back and soak in all the well-deserved compliments coming her way.
Bradshaw and RMTC Chair Gibb had told me recently they were on the lookout for men and certainly newbies Fox and Lopez did them proud alongside stalwarts Green, Grindley-Fitzgerald, and Harbottle. Maguire stepped up comfortably to a lead role with Johnson at her sassy-best knocking out great tunes for fun whilst Wright's natural humour and obvious talent were evident throughout, as was Adamson's although I wish she'd been given a solo as she can certainly knock out a tune.
Let us not forget either the sterling work behind the scenes from Les Dagnall, Joe Massey, Keith Marsh, Tony Dagnall-Moss, Karen Woods, and Phil Kinsey amongst others, which guaranteed a wonderful evening's entertainment that had this eclectic audience on its dancing feet at the end.
Boogie Nights performs at Rainhill Village Hall on 16th June at 7.30pm and on 17th June at 2.30pm and 7.30pm. Tickets are available via www.rainhillmusicaltheatrecompany.co.uk or by telephone 0151 290 5401.
Reviewer: Mark Davoren
Reviewed: 15th June 2017