Carlton Players, under the co-direction of Phyllis Brighouse and Marc Smith, begin their latest season with this classic piece of detective fiction from Agatha Christie reflecting her travel experiences in the Middle East.
Not to be confused with the novel which featured Hercule Poirot, this is the stage adaptation by the author which saw the famous Belgian sleuth cut in a dramatic re-working including a different ending so even if you know your Ustinov and Suchet, you won't have seen this before.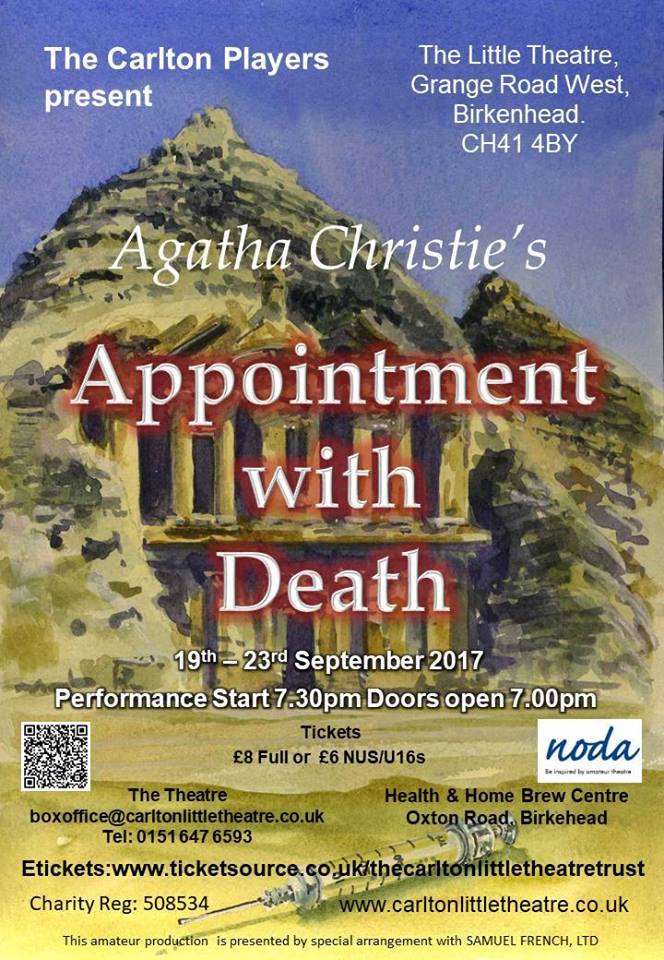 The story intertwines numerous characters, each with their own sub-plots, although its primary focus is on the tyrannical stepmother, Mrs Boynton (Rachel Razbully), head of a dysfunctional American family which includes oldest son Lennox (Callum Downes), a shell of a man, and his wife, Nadine (Jen Woods), who can see all that is wrong but is powerless to change it and is becoming more drawn to a doctor, Jefferson Cope (Steve Hopkins), who offers a way out; youngest son Raymond (Jay Giblin) is nervous and twitchy although on the verge of breaking free after meeting Dr Sarah King (Bliss Hunter), another strong woman, on the journey over; and making up the piece, daughter Ginevra (Laura Smith) who's plagued with disorders a plenty as she escapes the reality of the domineering matriarch with French Dr Gerard (David Tolcher) on hand to support her and who ironically offers the link to the British characters who include 'force to be reckoned with' Lady Westholme (Maureen McConnell), her prim and proper travelling companion Miss Pryce (Christine Smith), and the ever-confrontational Alderman Higgs (Gareth Crawshaw) who provides much comedic relief in his tussles with Her Ladyship.
As this motley crew set off to take in the delights of Petra, the guidance of The Dragoman (Archie Roberts), provides further comedy as he outsmarts the British with his ever pleasing demeanour, which offsets perfectly as we are inexorably drawn into the horrible web surrounding the dueling personality of Mrs Boynton and it is only a matter of time before said appointment has been duly met and Colonel Carbery (Barry Prescott) arrives on the scene to help unravel 'whodunnit'.
Strong performances from the cast helped take us through what is a slightly overlong and occasionally stilted script, reminiscent of the 1940's although refreshingly mocking the stereotypes of its time. Admirable support was provided to the main cast by Daniel Lynch, Liam Carr, Susana Lousada, and Chris Clinton. Roberts' natural stage presence wrought laughter every time he appeared and Crawshaw clearly reveled as the working man ready to take on the upper class. Razbully, through an understated performance, captured sinister perfectly.
The staging by Pam Buckle and Steve Jones was excellent and the clever transformation from hotel to camp was handled brilliantly by the cast, with the period detailing perfectly reflected through costume (wardrobe team led by Elizabeth Youster) and props by Lorraine Smith.
The Little Theatre in Birkenhead is a delightful venue complete with bar and seating almost 300 including full disabled access. There is free parking to the rear of the theatre from 6.30pm.
The Carlton Players are the resident company and produce several plays throughout the year including a pantomime. They are always looking for new members so why not get involved?
Appointment With Death runs through to Saturday 23rd September 2017, doors open at 7.00pm with performances commencing at 7.30pm. Tickets £8 (£6 concessions) and available at the Box Office on 0151 647 6593 (email: This email address is being protected from spambots. You need JavaScript enabled to view it.) or via www.ticketsource.co.uk/thecarltonlittletheatretrust
Further details of upcoming productions for the season can be found at www.carltonlittletheatre.co.uk/
Reviewer: Mark Davoren
Reviewed: 19th September 2017