This revival of Amanda Whittington's highly entertaining and humorous play by Rainhill Garrick Society, under the direction of Tracey Duffy, tells the story of four fish filleters from Hull whose lives may be about to change for ever as work becomes play to provide the perfect backdrop for a tale of fractured lives, thwarted ambitions, secrets, hidden heartache, and enduring friendships.
We meet our ladies suitably bedecked on the fish-packing line: Pearl (Lynn Aconley) is about to leave -not retiring mind - to spend more time with her husband; Jan (Linda Saavedra) is a single mother whose only child is about to leave for University; Shelley (Jo Webster) is a reality TV wannabee; and Linda (Jen Martindale), the youngest, is cowed from a domineering mother. Cornered into a send-off, and with the blessing of benign supervisor Joe (Gerald Walker in the first of his many cameos: he plays all the male roles), Pearl opts for Royal Ascot at York.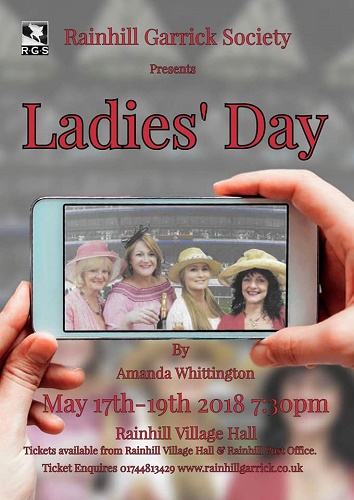 Arriving suitably attired our ladies navigate their way around a tout (Walker) before eventually finding an alternative way to entrance where they decide to bet on an accumulator: six horses bearing Tony Christie hits. Once in and all eyes are on TV pundit Jim McCormack (Walker) – well certainly Shelley's who revels under a different guise for the raffish turf expounder – whilst Linda finds solace in jockey Patrick (Walker).
But between the races things begin to unravel through some beautifully written and superbly performed touching scenes expounding fear and loneliness that I found particularly moving, much to the credit of the cast, before we twist with a drunk (Walker) and turn with bookie Barry (Walker), in a race to the final hurdle back at the factory.
All the cast excel and normally I would say that therefore no one gets singled out but on this occasion they all deserve a mention: Aconley perfectly captures the apparently prim and proper Pearl; Saavedra's Jan provides some great comic entertainment which is cleverly offset by moments of realism; Webster is superb as the larger than life Shelley who might appear all tart but deep down has a heart; Martindale impresses (again) as the naïve Linda who grows into herself to a chorus of Tony Christie. I'm a big fan of Walker and this play allows him to showcase his talent through a series of vignettes which he subtly delivers without taking over the play: skill indeed.
I must make special mention to the stage management team – Danni Gore; Richard Parker; Rosetta Parker; Edi Tinsley; Margaret Williams; Rob Williams – who delivered a series of neatly staged scenes transforming quickly and effectively between factory and racecourse and back again. Tech from John Duffy gave us perfect background accompaniments to both the factory and racecourse scenes. Much credit also to director Tracey Duffy who I knew was keen to explore the use of AV – often the folly of many a director – but who kept it simple and in doing so made it work in support of the play rather than instead of: I'm really pleased for her because the whole of this works brilliantly. Enjoy.
Ladies' Day plays at Rainhill Village Hall 17th – 20th May with performances starting at 7.30pm. Tickets are available from Rainhill Village Hall, Rainhill Post Office, or ticket hotline 01744 813 429.
Rainhill Village Hall is within walking distance of Rainhill Station and there is free car parking available – post code L35 4LU. There are also some lovely restaurants and bars in and around the village if you want to treat yourself before the show and make a night of it.
Reviewer: Mark Davoren
Date 15th May 2018
North West End Rating: ★★★★★