Each year Manor Operatic Society raise the bar in terms of their productions to the point where I think they can't surpass that level the following year. After walking out of City hall in Sheffield last year I'd convinced myself Singin' In The Rain wouldn't be beaten. Guess what, I was so very, very wrong!
When I heard Chitty Chitty Bang Bang was to be released to a small amount of amateur societies this year Manor was the first group I thought of. Their track record for pulling off the most spectacular shows is second to none. Not only were they awarded the rights, they were awarded the UK and Ireland amateur premiere! No pressure then.
Starting from scratch, quite literally as there were no sets or costumes available to hire at the time of the license being awarded, producer and director Richard Bradford and his team have worked miracles in the relatively small time they had. Teaming up with Scenic Projects, Molly Limpet's Theatrical Emporium and Rob Alderton from www.chittyhire.com Manor proved that "teamwork makes the dream work!"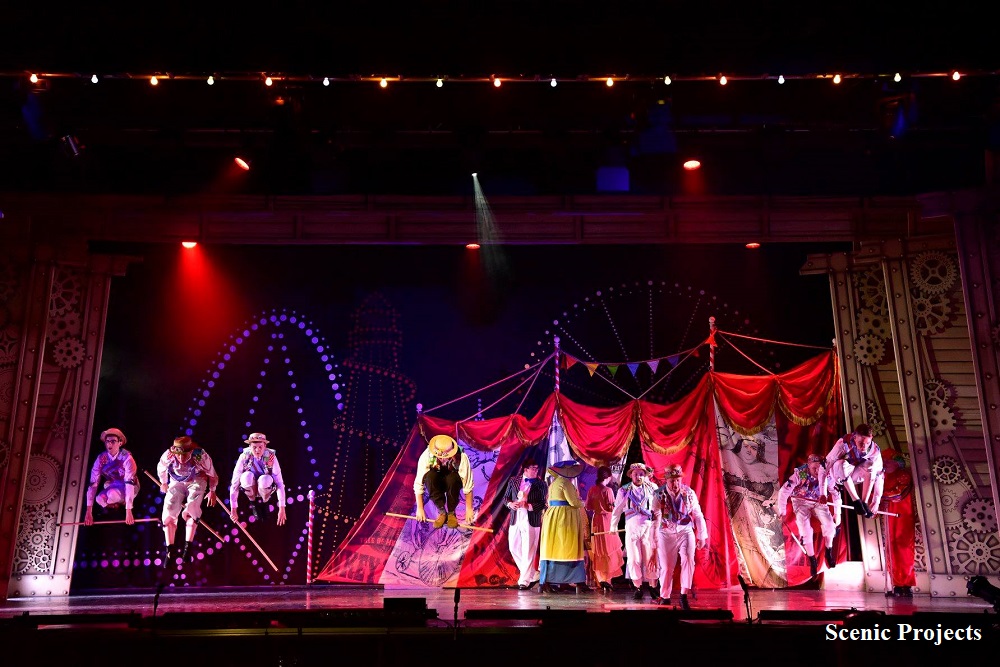 Both the sets and the costumes were visually stunning and seemingly never ending. Huge congratulations to everybody involved in producing them, some of which I am reliably informed were only finished just in time for opening night tonight.
I won't dwell on the story of the show, the original movie is celebrating its 50th anniversary this year other than to say that this stage version stays true to the original story.
James Smith returns to the City Hall stage after walking through doors, tightrope walking and singing in the rain over the past few years to take on the iconic role of inventor Caractacus Potts. Smith as ever puts in a polished and assured performance and I was particularly impressed with the relationship he had developed with his on stage children Jeremy (George Henderson) and Jemima (Evie May Bradford). Both these young performers acted and sang perfectly and are names to look out for in the future.
Potts' love interest is Truly Scrumptious played by Emma Flannagan Holmes. The highlight of Holmes' performance tonight for me was the "Doll On A Music Box" number. I am not sure how many hours of rehearsal it took but every movement was stunningly executed and truly (excuse the pun) believable. Add to this Holmes' stunning voice and you have a beautifully delivered performance.
Robert Spink as Grandpa Potts was as eccentric as you'd expect as he is flown away to Vulgaria by the hapless spies Boris (Chris Hanlon) and Goran (Digory Holmes). I have to admit the spies are my favourite roles in the show and they didn't disappoint tonight. Their version of "Act English" was comedic gold.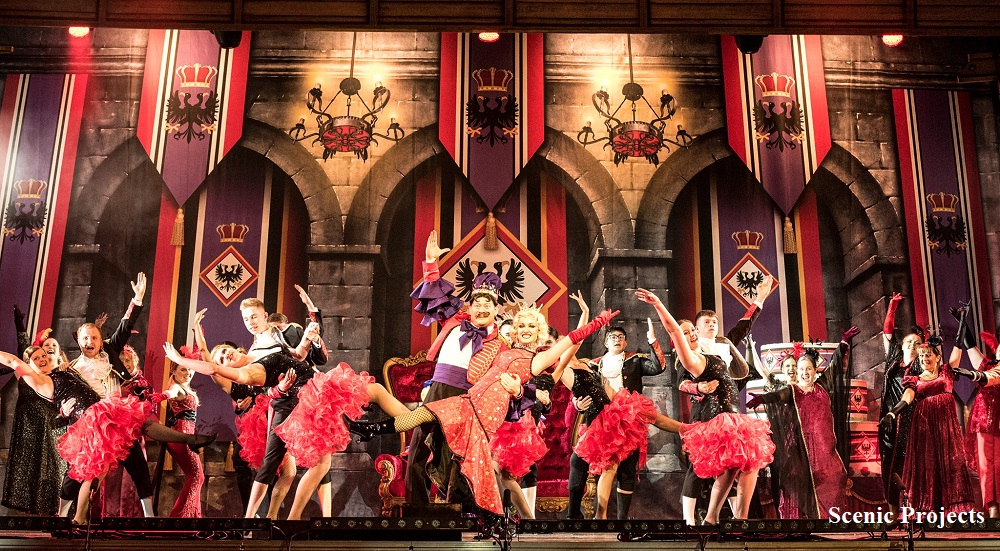 Liam Gordon played the evil Childcatcher striking fear into every child in the auditorium with his unnerving high pitched voice penetrating the fourth wall.
Highlight for me were "Me Ol Bamboo" in act 1, and "The Roses of Success" in act 2, both were a joy to watch with some superb choreography from director and choreographer Linda Kelly.
Stealing the show however tonight was Emily Mae Hoyland as Baroness Bomburst! I have seen productions of this show in London and on previous UK tours in its "professional" guise, however I have not seen a better portrayed Baroness in any of them. Hoyland's voice, mannerisms and comedic timing was nothing short of perfection and I would gladly go back to this show just for her performance. Simon Hance as her Baron provided a more than equal partner to his Baroness.
I must also congratulate Andrew Collis and his orchestra for this evening's performance. The overture brought me right back to my childhood and I couldn't help join the rest of the audience in clapping along to those well loved songs.
Whilst I wish I could mention everyone in this production, there simply isn't time, the young kids ensemble are worth a page alone, but I have left one notable cast member until last on purpose. Playing herself, Chitty received spontaneous applause from the packed City Hall audience as she first appeared on stage. The detail in her construction by Rob Alderton was clear to see. But you are all dying to know did she fly on stage? Well, you have to Saturday to get to City Hall and grab a ticket to find out!
Chitty Chitty Bang Bang was a stunning theatrical and technical triumph as well as visually delicious. The show continues at City Hall until Saturday with tickets officially limited. https://www.manoroperatic.com/
**The roles of Jeremy and Jemima will be played by Joe Davis and Amy Nugent on Thursday evening and Saturday matinee).
Reviewer: Paul Downham
Reviewed: 16th May 2018
North West End Rating: ★★★★★