Due to phenomenal demand for tickets Buddy – The Buddy Holly Story has extended its tour including dates in Manchester later this month.
The incredibly successful Buddy – The Buddy Holly Story, visits the Palace Theatre, Manchester, from Tuesday 30th May to Saturday 3rd June 2017. Tickets are on sale now.
Buddy - The Buddy Holly Story tells the enduring tale of the musical icon's meteoric rise to fame and his final legendary performance at the Surf Ballroom in Clear Lake, Iowa, before his tragic and untimely death at the age of 22. In 18 short months, the Texas-born boy revolutionised the face of contemporary music influencing everyone from The Beatles to Bruce Springsteen.
The production boasts a phenomenally multi-talented cast comprising of Glen Joseph and Alex Fobbester (who alternate the role of Buddy Holly), Miguel Angel, Joe Butcher, Celia Cruwys-Finnigan, Jordan Cunningham, Josh Haberfield, Kerry Low, Thomas Mitchells, Matthew Quinn, Tom Sowinski and Alex Tosh. Together they present two terrific hours of music with over 20 of his greatest hits, including the timeless classics That'll Be The Day, Peggy Sue, Oh Boy and Rave On.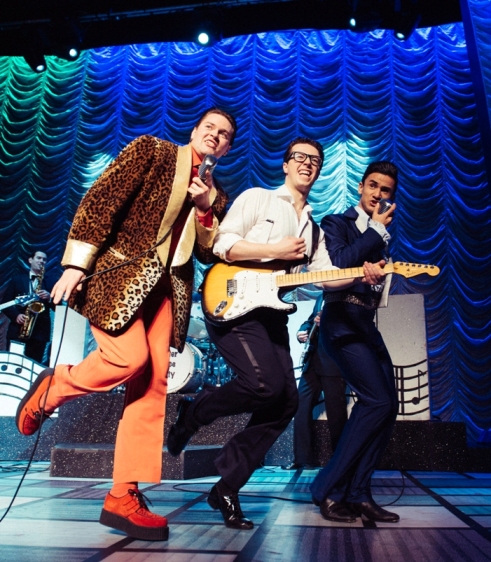 With the Big Bopper's Chantilly Lace and Ritchie Valens' La Bamba completing a stellar musical line-up, Buddy is a not to be missed evening of family entertainment.
Although there have been many imitations Buddy - The Buddy Holly Story has stood the test of time. The show has inspired a generation of multi-million selling juke-box musicals, including Mamma Mia and We Will Rock You, still remains a true original and a musical phenomenon.
Seen by over 22 million music fans since it opened in London's West End in 1989, Buddy speaks an international language and continues to have audiences from aged eight to 80 years old rockin' in the aisles across the globe!
Buddy's widow, Maria Elena Holly, says of the show: "When we opened the show we never imagined Buddy's music and story would still be rocking stages and entertaining audiences around the world week-in week-out over 25 years later. I believe this is testament to a great show – the first of its kind – and to the enduring appeal of Buddy Holly and what he represents; a youthful energy, huge talent and creativity, combined with a determination to make a lasting impression in this world."
Writer and Producer Alan Janes added: "Audiences aged eight to 80 dance in the aisles every night to our enactment of the story of a young man whose musical career spanned an all-too-brief period but whose music will be remembered forever."
BUDDY: THE BUDDY HOLLY STORY | IN NUMBERS
3,310 - Buddy Trousers – due to knee slides across the stage!
98,000 - Truck Mileage for UK Tours – nearly 4 times the circumference of the Earth
211,709 - Plectrums used, which when stacked on top of each other would be around 300ft taller than the BT Tower
217,740 - Batteries used, weighing 5,008KG or around the weight of 65 actors
6,893 - UK only performances
LISTING INFORMATION
Buddy
Palace Theatre, Manchester
97 Oxford Street
Manchester
M1 6FT
Tuesday 30th May – Saturday 3rd June 2017
Performances: Tues – Sat at 7.30pm, Thurs & Sat at 2.30pm
Tickets: From £16.50
Box Office: 0844 871 3019* www.atgtickets.com/manchester *
*Booking/transaction fee applies