English Touring Opera are working to produce a live season of lyric theatre this Autumn, touring in October and November. This programme is being designed to observe social distancing guidelines, in the interest of the safety of our artists and audience.
For this reason, English Touring Opera have had to put aside for the moment the ambitious season of three twentieth century British operas (The Turn of the Screw, The Knot Garden and Greek) which the company was scheduled to produce this Autumn. Instead it hopes to create a series of lyric monodramas, made of 20th century operas and song cycles composed for solo singer and accompanist by composers such as Dominick Argento, Benjamin Britten, Francis Poulenc, Dmitri Shostakovich, and Michael Tippett. The company hopes to be able to bring full news of the challenging and unusual repertoire soon. The programme will feature some of the wonderful artists who were due to perform in our planned Autumn 2020 tour.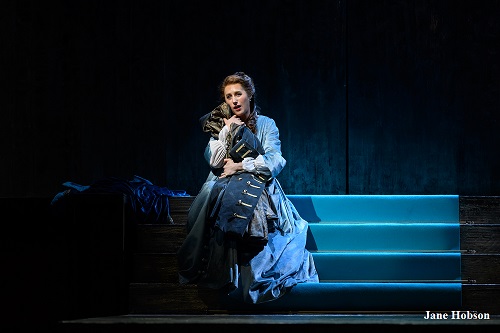 English Touring Opera is excited about exploring new ways to produce and tour opera and to overcome the sizeable challenges ahead. It expects to present work in venues well known to the company and its audiences, as well as in non-traditional performances spaces, to reach as many people as possible in communities that it has served across the country for decades. This new programme is designed for English Touring Opera's longstanding, enthusiastic supporters and new audiences, whose appetite for live music and theatre has never been greater.
In March, English Touring Opera was forced to cancel 52 performances of its scheduled Spring tour. The company made a commitment to its artists, paying all 67 freelancers their fees for the full tour. It has also been keeping music in people's lives this spring, through a programme of digital work, curated and delivered by freelance artists. These videos - 34 in total - include performances, insight talks, skills sharing and singing lessons and has reached over 56,600 views from across the globe. The overwhelming response to the programme has made us more committed than ever to bringing live music back to our towns and cities, as soon as it is safe and practical to do so.
English Touring Opera is grateful to all of its partners and funders with whom it will collaborate to make this season possible, not least Art Council England for their leadership and support of the sector in unprecedented times.
For live updates on English Touring Opera's return to the stage, subscribe to its newsletter at www.englishtouringopera.org.uk