Down Our Street takes you on a journey where for many of tonight's audience the memories came flooding back and there were tears and laughter at this wonderful musical play by Brian McCann. The show opens with a very simple scene of 6 six doorways and a back screen which is the set for the whole play, very simplistic. The screen is used to project images of the shipbuilding company Cammell Laird and takes us through the years of their growth in their Merseyside home of Birkenhead. William Laird started the Birkenhead iron works in 1824 and was later joined by his son John. Following great success with their development of iron and steel ships they joined forces with Sheffield Johnson Cammell and Co in 1903 and Cammell Laird was created.
The story tells of poverty and hardship, changing times and fortunes, sadness at the loss of friends and families during the war years with a poignant moment as a young boy searches desperately for his best friend after the family home is bombed out and the horror as reality hits home. The happiness as work is created for the area, but then taken away as cheaper labour is brought in. The communities that pulled together and stood for their rights, sadly not always with results they wanted.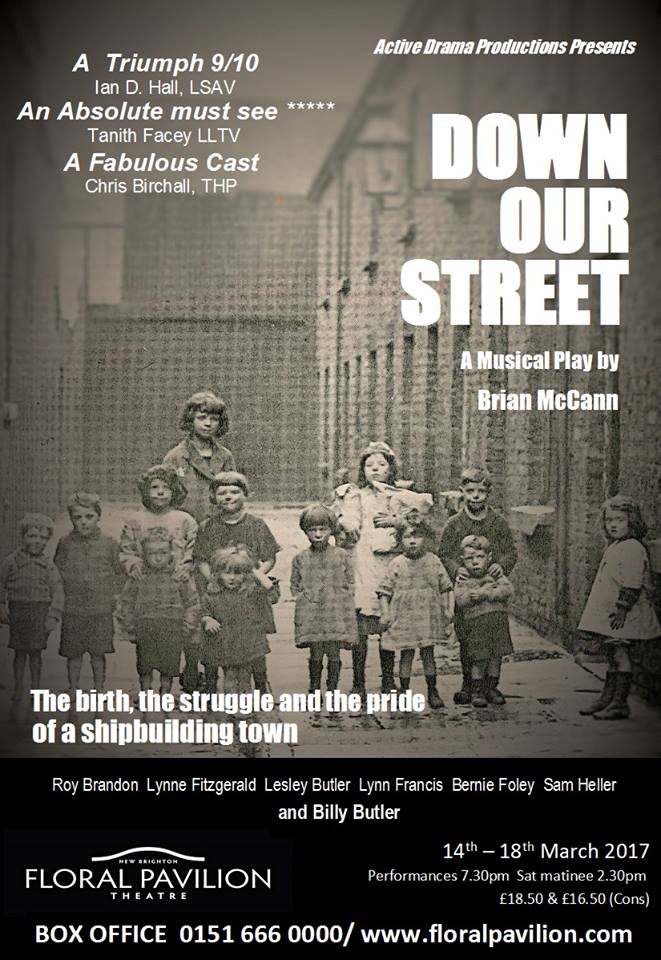 The growth of Cammell Laird and the knock on effect for the area during the boom years are all depicted along with the decline of shipbuilding and the devastating loss of jobs. But don't think for one minute think that it is all doom and gloom, far from it ..... this play captures the spirit of the communities and there is plenty of humour and one liners from the multi-talented cast who all portray several different characters from working men, stay at home wives, to upper crust 'toffs' with Shakespeare, Charlie Chaplin and Winston Churchill also putting in an appearance!
Occasionally some of the dialogue was difficult to make out above the music but you soon catch up as so much is crammed into the story. Missing is a narrator and there are occasions where I feel that would have worked, however the cast consisting of Roy Brandon, Lynne Fitzgerald, Lesley Butler, Lynn Francis, Bernie Foley, Sam Heller and Billy Butler each perform with a pride and compassion and demonstrate great vocals throughout several original songs although it would have been good to have had more songs included. I particularly liked 'Someone Light a Candle' and 'Birkenhead'. I would also have liked to have seen more authentic costumes and hairstyles but given the pace of the play maybe the practicalities of these are not possible.
The ability to pull together and laugh at their plights is admirable in all communities and never more so than with these proud and typical Merseysiders. The content of the play is obviously going to attract those who lived through those shipbuilding years or had connections to the industry and area but 'Down Our Street' could be anywhere, everywhere had industries booming and going into decline, war years, Thatcher years, the similarities are endless and the play could and should be enjoyed by audiences across the country.
Take a trip down 'to the yard' (or a history lesson depending on age) and get along to the Floral Pavillion, New Brighton where 'Down Our Street' continues until the 18th March 2017. For tickets and info, https://www.floralpavilion.com/
Reviewer: Lorna Weekes
Reviewed: 14th March 2017
North West End Rating: ★★★★