'I Think We Are Alone' follows the ins and outs of life Josie (Chizzy Akudolu), Manny (Caleb Roberts), Ange (Charlotte Bate), Clare (Polly Frame), Bex (Simone Saunders), and Graham (Andrew Turner). Through a series of monologues that progress into chance meetings and reunions, we realise that the inner life of everyone around us is more complicated than we feel. Soap Opera-esque in its quest to bare 'gritty' problems, playwright Sally Abbott stares suicide, cancer, child abuse, issues of class and race, and even addiction, in the face. It's a heady mix that doesn't always make for easy viewing.
The cast is a strong ensemble with Turner, Akudolu and Robert's performances as Graham Josie and Manny standing out as truly memorable. Tuner delightfully colours taxi driver Graham with a loveable comic playfulness that seeps beautifully into the serious and darker moments for the character. Meanwhile Akudolu's performance of headstrong mother Josie makes for an enjoying sparring partner for Manny, a man feeling out of place at university, sensitively portrayed by Roberts. Sparring aside, Akudolu's portrayal of a mother reeling from the absence of her father is refreshingly natural, and believable throughout. These are the real highlights of the production.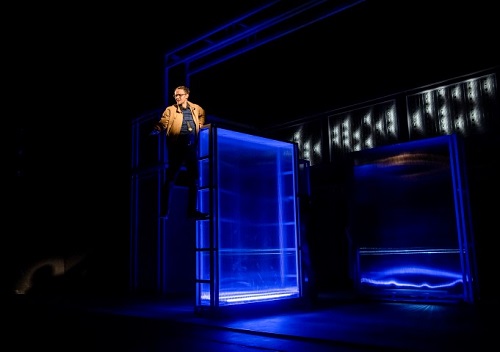 The set is suitably clinical, especially in light of the themes regarding end of life care. Designed by Morgan Large, the set is comprised of large opaque boxes. Subtly effective, they form walls and windows as well as metaphorical breaks in time and place. Contributing to the sense of isolation and loneliness felt throughout the cast and are seemingly members of the company, we see 'bodies' performed by the company. They simultaneously seem strategically placed and consequential, emphasising the confusion of those in need of help. Ella Wahlstrom's soundscape of breathing is all encasing, invasive and effective, though sadly undermined by the play's resolution, which undermines the role of breath for cartoonish comic effect at the end of the production.
Abbott's writing lags. Come the interval, after the deluge of monologues with the occasional duologue, we are not any further into deciphering how one character relates to another. It is a rather convoluted exposition for a play that purports we are all connected and understand each other's stories, and yet does not reveal these beautiful and serendipitous connections until the final quarter of the play. One almost feels cheated that the beautiful relationships reborn or newly forged between the characters are denied the chance of blossoming further on stage.
I Think We Are Alone Now is a paradox. For a company that stands at the cutting edge of theatre practice and pioneering of physical theatre, there is a disappointing lack of their pioneering craft of Frantic Assembly. Clare's nightmare effectively comes to life in the strains of a cotton blanket as screams contort themselves into a gargoyle lurching at the audience. But that is all. The moment is brief. However, despite this lack of physical theatre 'I Think We Are Alone' is ironically triumphant in its most muted moments where stillness and silence are more effective than movement or words. Bex and Graham's solitary scene together, lying still in a hospital bed tugs harder at the heartstrings than most scenes in any non-physical theatre driven production. But this is a stand-alone moment that doesn't save the writing entirely.
Overall, the direction thrives in its quiet and confessional moments. But these moments are lost in the vastness of the King's Theatre. Instead of feeling invited into the world of the characters, we keenly feel the fourth wall, no matter how many times the characters try to break it. The theatre was not on the production's side and intimate confessions would surely struggle to fully engage the hearts of those at the back of the stalls.
Reviewer: Melissa Jones
Reviewed: 18th February 2020
North West End UK Rating: ★★★