Head Gardener Rosalind Sydney's adaptation of this famous novel announced itself from the start as something different. Taut and tense, punch and percussion propelled the story through a green-hued atmosphere, utilising every facet of theatricality and stagecraft; and at turns was tense, melancholic and comic. With a versatile set of wooden crates and green metal frames, tightly plotted movement knitted closely to the light and sound, dialogue was unnecessary. The initially Morose Mary (Itxaso Moreno) – orphaned but nevertheless spoiled - stomped, dodged and clambered past hazards and obstacles represented by a ladder on a genuinely unsettling journey from India to Misslethwaite Manor in Yorkshire. No, wait for it, Scotland. One could have heard a pin drop in the theatre, despite roughly a third of the audience being under the age of 12. Mary was as intense, wild and unpredictable as the overgrown garden itself.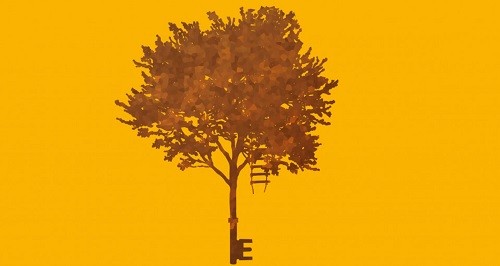 There were only two other cast members; Sarah Miele played an hilarious wittering Martha Sowerby, and a terrifically off-kilter Colin (look, there's a colin flower!) while Gavin Jon Wright a jobsworthesque Mrs Medlock and an excitable Dickon (cleverly producing various woodland creatures within his coat). Of Ben Weatherstaff the gardener there was no sign, but this didn't matter.
From its close beginning it unwound and twisted into bloom towards its joyous finale, a parable of nature restoring what was thought broken; parent-less, displaced Mary, mother-less – and apparently disabled – Colin, even the poor mouse Max who'd lost his entire family. The moment when Mary and Colin performed their discordant duet accompanied by his piece of laptop tech will live long in the memory. Crucially the rhythm and pulse remained from start to finish.
The 'programme' we were furnished with on the way in cannot pass without comment; postcard-sized and made with seeded paper that you can plant later, it revealed that the Horticulturist (Co-Director) was Ian Cameron, the Leaf Blower (Movement Director) Robbie Synge, Garden Designer (Designer!) Karen Tennent, Bird Caller (Sound & Composition) Danny Krass and Bulb Planter (Lighting Designer) Mark Doubleday.
Reviewer: Roger Jacobs
Reviewed: 6th March 2020
North West End UK Rating: ★★★★