Celebrating 30 years with the stage musical Buddy: The Buddy Holly Story is currently touring the UK and continuing to delight rock 'n' roll lovers with a show featuring not only Buddy Holly and the Crickets but The Big Bopper and Richie Valens.
The set is simplistic which is slightly disappointing, but, having stood the test of time and still touring so many years on it obviously works, however I feel lacks imagination. The story unfolds at a local radio station playing live country and western music with the Hayriders (Rhiannon Hopkins and Hannah Price) singing 'Rose Of Texas' followed by Buddy Holly (A J Jenks) and Cricket band members, bass guitarist Joe B Mauldin (Joe Butcher) and drummer Jerry Allison (Josh Haberfield). Holly's passion is rock ' n' roll and he takes the opportunity to liven things up with 'Rip It Up' which sets the theme of how Holly continued in his career doing things his way with fierce determination.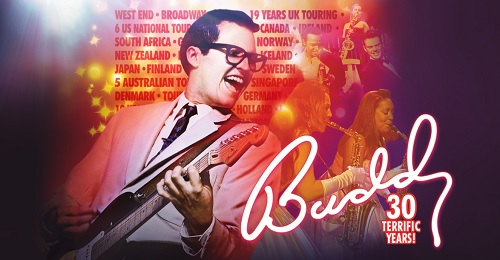 DJ Hipockets Duncan (Harry Boyd) is not happy at the outburst but the group are heard and signed up by a Decca records producer. (again Harry Boyd, Boyd performs as no less than six characters in the show, Hopkins plays five, and several others play multiple roles so pay attention as it can get confusing!) The relationship does not work out with Decca and they end the contract and Holly and the Crickets move on to be managed by Norman Petty (yet again Harry Boyd) who has spotted their potential and after a massive hit with 'That'll Be the Day' which rockets up the charts, he wastes no time in getting them booked to appear at the infamous Apollo Theater in Harlem, New York, an experience that broke new boundaries as they are the first white group to perform there. Tyrone Jones (Miguel Angel) gives a fantastic rendition of Jackie Wilsons 'Reet Petite'.
The show continues with Holly's whirlwind romance and marriage to Maria Elena, his falling out with the Crickets and manager Petty and he goes it alone joining the Winter Dance Party of 1959 touring by bus in the Midwest. Jenks as Holly is charismatic and gives justice to the many hits he performs which include 'Peggy Sue', 'Oh Boy' and 'True Love Ways' to name just a few. On Feb 3rd 1959 in freezing conditions Holly appears alongside The Big Bopper (Joshua Barton) and swivel hipped Ritchie Valens (Ben Pryer) at the Surf Ballroom, Clear Lake, Iowa. This second half focuses much more on the music and by now the audience are in full participation mode and rocking along singing and clapping to 'Chantilly Lace' and 'La Bamba' which Barton and Valens give incredible performances of. Few will not know how tragedy was about to unfold and there is a particularly poignant part in the show reflecting upon this. A fatal plane crash robbed the world of three talented young musicians that day along with the pilot. Holly was aged 22, JP Richardson or the Big Bopper as he was known 29 and Valens just 17.) The Infamous lyric of 'The Day The Music Died' is a referral to the disaster in Don McLean's 1971 song 'American Pie '.
It's now over 60 years since that fateful day and Holly's music continues to be played and delight followers and 'Buddy: The Buddy Holly Story' is a fitting acknowledgement to his memory.
The show continues and for tickets and more information: https://www.blackpoolgrand.co.uk/event/buddy-the-buddy-holly-story/
Reviewer: Lorna Weekes
Reviewed: 22nd October 2019
North West End UK Rating: ★★★★