A Delightfully Moving and Powerful Tale of Hope
Nabucco is a four-act opera by Italian composer Giuseppe Verdi which follows the plight of the Jews as they are attacked, conquered, and exiled from their homeland by the Babylonians in 586 BCE. It was first performed at La Scala in Milan on 9th March 1842.
In Solomon's temple in Jerusalem, the terrified Hebrews await the arrival of the conquering Babylonian king, Nabucco (Baritone Iurie Gisca), who is renowned for his cruelty. The Hebrew high priest Zaccaria (Bass Vadym Chernihovskiy) has kidnapped Nabucco's daughter, Fenena (Mezzo-Soprano Zarui Vardanean), entrusting her safe-keeping to Ismaele (Tenor Vitalii Liskovetskyi), and their love for each other is soon revealed. Nabucco's elder daughter, Abigaille (Soprano Olga Perrier), is also in love with Ismaele and offers to save the Jewish people if he will give himself to her. Ismaele saves Fenena from Zaccaria's attempt to kill her whilst Nabucco orders the destruction of the temple.
At the palace in Babylon, Abigaille discovers she is the daughter of a slave. The Baal high priest (Bass-Baritone Oleksandr Forkushak), shocked that Fenena is releasing the Jews, starts a rumour that Nabucco has been killed so that Abigaille can take power. As Zaccaria prays for divine guidance, his sister, Anna (Nadiia Ieremenko), tells him Fenena has converted to Judaism, exonerating Ismaele for saving a Jew, although old soldier Abdallo (Gicu Barbanoi) advises Fenena to flee. When Nabucco re-establishes his authority and announces he is God, he is struck down by a thunderbolt which renders him insane and allows Abigaille to seize control.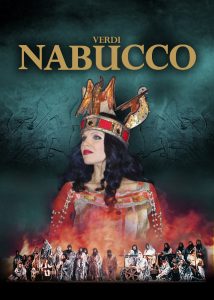 Abigaille is enthroned at the Hanging Gardens and persuades Nabucco to sign a death warrant for all the Hebrews. When he realises he has condemned Fenena to death he pleads for mercy but Abigaille, having destroyed proof of her birth, rejects him. Meanwhile on the banks of the Euphrates, the Hebrew slaves dream of their homeland to the moving and haunting chorus of Va Pensiero.
Back at the palace Nabucco sees Fenena being led to her death and prays to the God of the Jews but will it make any difference? Are Zaccaria, Ismaele, and Anna destined to be killed with her? Does Abigaille have a change of heart, if indeed she has a heart at all? The only thing guaranteed is a dramatic ending!
This was another excellent production by the celebrated producer Ellen Kent, who also directs, and with Nicolae Dohotaru conducting the impressive orchestra, the powerful score, along with the rich detail of the costumes and cleverly adaptable classical set, captured the mood of the piece perfectly.
All the cast performed strongly but special mention for Gisca who wonderfully reflected all facets of Nabucco's character: his intensity as despot; his descent into madness; the reality of his resurrection. Chernihovskiy's Zaccaria was unbowed throughout, his prophesies of hope reaffirmed in his resounding solos. Perrier beautifully captured Abigaille's despair in love and belonging, her powerful solos capturing the raw emotion that sadly takes her character to a darker side.
Wonderful local support was provided by Stagecoach Theatre Arts Salford and Didsbury, as well as Northern Ballet School. Special mention to ABFilmHorses for providing Houdini, the Andalusian stallion.
Nabucco is touring throughout the UK and Ireland with full details available at www.ellenkent.com
The Palace Theatre, Manchester opened in 1891 when it was known as the Grand Old Lady of Oxford Street. Seating just under 2,000, It is Grade II listed and hosts major touring musicals and performances of opera and ballet along with various other comedy acts and one night concerts. Further details http://www.manchestertheatres.com/palacetheatre.htm
This performance was dedicated to the memory of Gerry Tait who died on 22nd October 2016. Gerry was the General Manager of Edinburgh Playhouse for 16 years and then the Divisional Director for Apollo Leisure. He was a good friend and supporter of Ellen Kent and Opera and Ballet International.
Reviewer: Mark Davoren
Reviewed: 4th May 2017
North West End Rating: ★★★★★