'A wish is a powerful thing…' it says on the programme cover but let me tell you, you couldn't wish to be more entertained than with Rainhill Musical Theatre Company's production of Aladdin – talk about starting the New Year with a bang!
Under the direction of Bryan Dargie, our trip to New Peking begins with baddy Abanazar (Julie Molyneux) and sidekick Shabti (Lucy Bradshaw) appearing from the audience in scary mode with suitably Scouse Slave Of The Ring (Pip Bradshaw) setting out the plot before the cast performance of 'Wake Up Boo' gets the audience rocking.
Constable Nee (Ruth Gibb) and Sergeant Naw (Zoe Lawrence) are next on the scene looking for a flower thief and their rendition of 'Brave' firmly pulls the audience further into the production, and heralds the arrival of Aladdin (David Stevens) and sister Wishee Washee (Bláthíne Maguire) with their rendition of 'Call Me Firework' before adoptive mother Widow Twankey (Alan Harbottle) arrives to 'I Got The Music In Me'.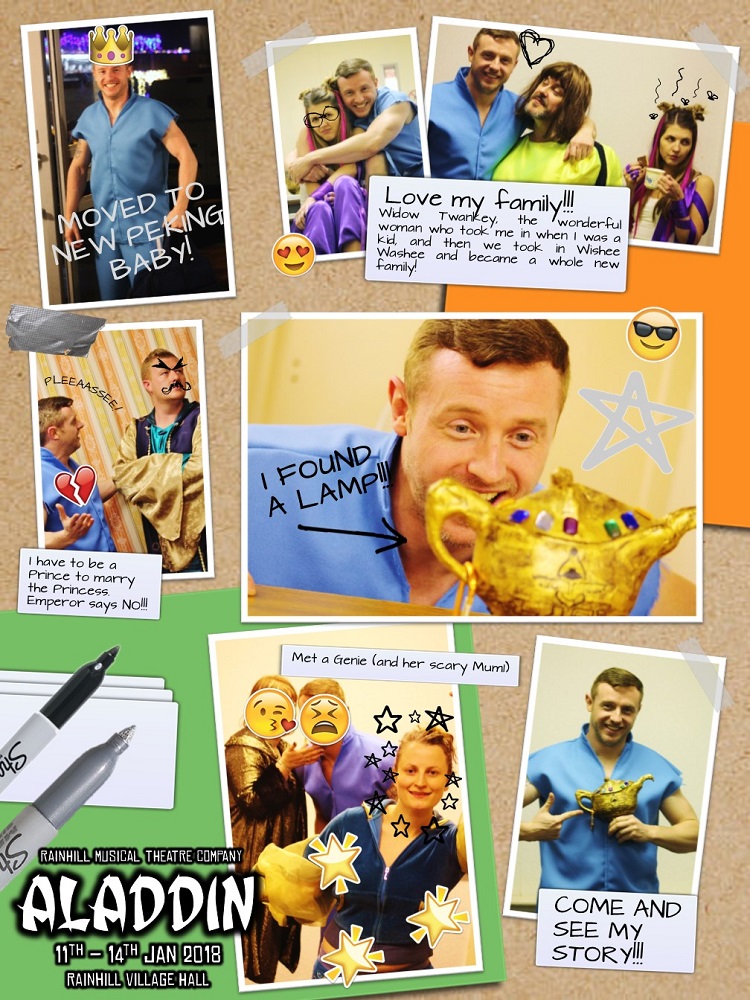 But this is a love story and Aladdin's heart and hopes are set on Princess Blossom (Claire Jones) although with her father, Emperor Xiaoli (Liam Fitzgerald), set on following tradition, whilst Blossom's 'A Thousand Years' allows for some clever scene changes, what's a boy to do but be led astray and to the accompaniment of 'Castle', Aladdin enters the cave and the audience the interval.
The Spirits of the Cave, led by Sally Adamson, launch us back into things with 'Reach' and Aladdin's discovery of the lamp introduces us to a Scouse Slave Of The Lamp (Claire Heaton) and Jeannie the Genie (Grace Hodgson) who challenges our hero's desires with 'Born This Way'. It's only a matter of time before we're back in New Peking – you just can't 'Shake It Off' as Wishee Washee sings - and our love match acknowledge 'C'est La Vie'. When baddies are present however, you never know what is going to happen next – can Shabti turn a corner with 'You Don't Own Me' or are our couple destined never to be?
The choice of songs was perfect and performed superbly by a live band under the musical direction of Wayne Oakes (Keyboard) supported by Kev Bates (Bass), Mike Ciaputa (Guitar), and Theo Fowler (Drums). The choreographed routines, prepared by various cast members, were brilliant.
The set design utilising Chinese red dragons and symbols with bamboo screening around the band were exquisite and allowed clever use of the stage and surrounding space so much credit to the stage management team of Les Dagnall, Tony Dagnall-Moss, and Karen Woods, with Keith Marsh leading the FoH team.
Molyneux's Abanazra was a panto-perfect villain and Harbottle was a panto-perfect dame. Gibb's Constable Nee was hilarious throughout, and it was great to see the talented Jones performing again. Tonight, though belonged to Maguire whose array of talent was well and truly on show: whether singing, dancing, or comic acting, she most definitely put the bang into the firework.
We were left 'Dancing On The Ceiling' as well as the floor by the end as the cast sang us out with 'Never Forget' and when they're truly having so much fun it really is infectious: this is one of the best shows I have seen in a long time and I can assure you, adult or child, you will love it.
Aladdin performs at Rainhill Village Hall on 12th-14th January at 7.30pm with matinee performances on Saturday and Sunday at 2.00pm. Tickets are available via www.rainhillmusicaltheatrecompany.co.uk or telephone 07948 908 693.
Reviewer: Mark Davoren
Reviewed: 11th January 2018