The Curve and Rose Theatre Kingston's co-production of George's Marvellous Medicine is currently on a phiz-whizzing tour around the UK. A treat for sight and sound, this production is characterised by great theatrics, a creative quirky set and overall collective fun.
David Wood's adaption makes the leap from page to stage without disrupting the plot or deflating the magic and is brought to life by Morgan Large's inspired design. An unusually inviting porta-loo, a skeletal caravan and a mechanical mill set the farmyard scene with bizarre accuracy, capturing the essence of Roald Dahl with its pure invention.
This multi-levelled set facilitates the magic without over-the-top gimmicks and high-budget stunts. It even uses small props and details to its advantage; the stuffed chicken gliding around the stage on a remote-control truck is a personal favourite.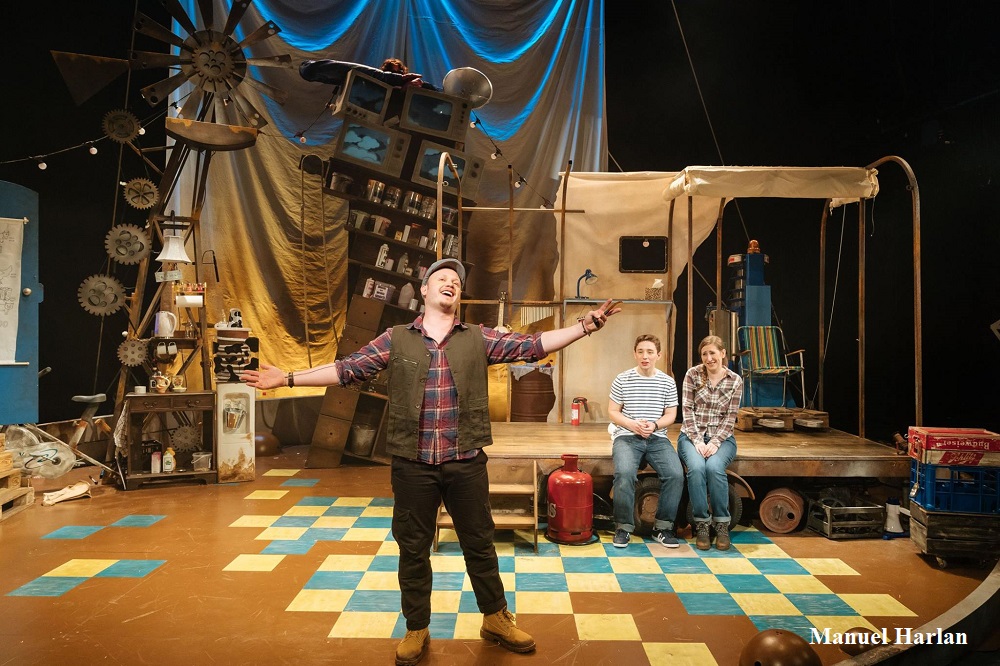 The farm also hosts black-and-white milk dispenser 'cow' and two adorable hessian piglets, snorting convincingly. Old TV sets blast cues to the audience, list each medicine ingredient and transmit Grandma's messages to George. Every aspect of the set plays a practical role that is either humorous or magical.
Normally I'd claim outright that adult actors playing children is a recipe for disaster, but Preston Nyman's George is earnest and charming. Although faltering briefly once or twice, Nyman projects an infectious energy that gets the young audience involved and excited. A small voice behind me said 'I want to see that again!' at the end before he'd even left his seat.
I should mention the astonishing array of instruments George's dad, Justin Wilman, plays throughout the performance. Violin, clarinet, saxophone, flute and recorder interludes add to the varied sound design that enhances the humour, imagination and comic drama in every scene. Some percussive sound effects are slightly mistimed on occasion, but this can be forgiven.
The star of the show was undoubtedly Lisa Howard, George's notoriously difficult and unpleasant grandma. A bawdy gin-drinking leopard-skinned glam gran, Howard's lively portrayal and menacing delivery gets the most laughs. From her stylish entrance on a mobility scooter to her swinging off the caravan frame, Howard is a joy from beginning to end.
One casting decision I might question would be Catherine Morris as George's mum, who comes across as trying a little too hard – although her fleeting impression of Theresa May was a great moment.
As a whole the cast blend and adapt well together. From all-singing, all-dancing imagination scientists to the Kranky family to Chandhi Mistry's super-sized chicken, the cast are as versatile as they are enthusiastic.
Although my instinctive reaction to the closing 'disclaimer' song was one of disdain, I'll admit it's a fun way to portray a necessary safety message. After all, as Roald Dahl himself warns, George's Marvellous Medicine could be dangerous.
Witnessing my most cynical friend's genuine smile and steady flow of chuckles was proof enough that David Wood and Julia Thomas hit the nail on the head with this production, creating a fantastic family show.
Reviewer: Eve Ryan
Reviewed: 20th February 2018
North West End Rating: ★★★★