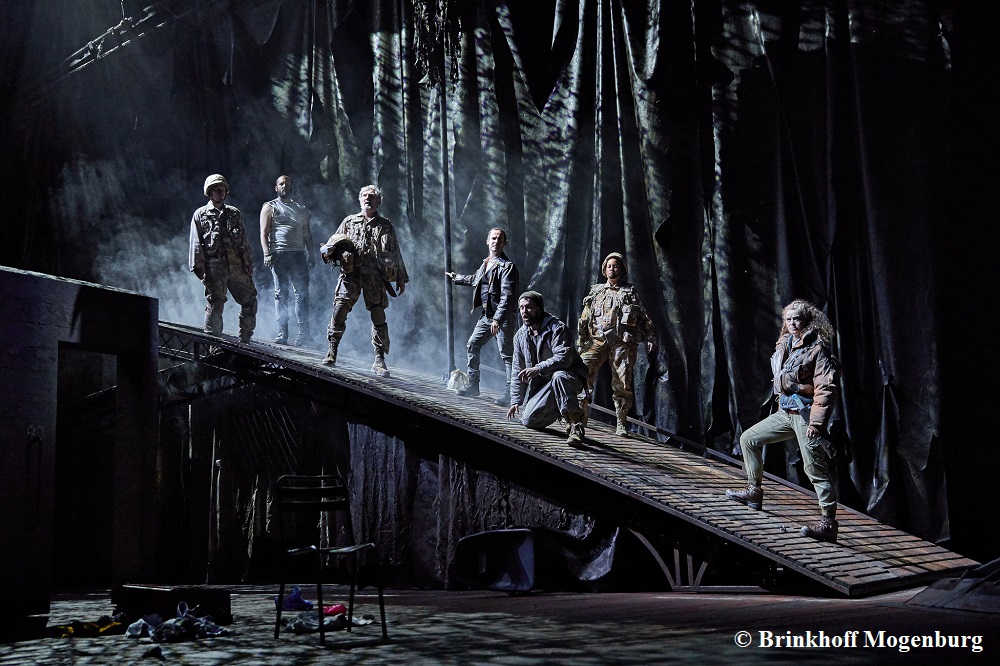 Macbeth performances in Manchester at the moment are like waiting for a Northern train; you wait for ages without one, then they all turn up at once. My third version of Shakespeare's tragedy this year is the National Theatre production, which began its tour at the Lowry this week. According to Director Rufus Norris, the backdrop to this tale of regicide and civil strife is a post apocalyptic Scotland with a fractured government, bitter divisions and lacking in basic facilities, a world which maybe closer than we think post Brexit! Trailing truly awful reviews from its original production on the vast Olivier stage in London, my expectations were not high, but I was pleasantly surprised at the accessible and faithful rendition that I saw this evening.
Unusually, I will begin with the set design of Rae Smith as it is dominant throughout, setting the mood and structure. A huge ramp dividing the stage into two parts acts a road on which action takes place, and is switched across the stage when changing scenes during the production. This device worked well in the confines of the proscenium arch Lyric Theatre and makes the piece flow easily throughout. I was less keen on the 'bin bag chic' costume design of Moritz Junge, which gave the ensemble scenes the look of a vagrants tea party. The black background and stark white lighting by Paul Pyant give an eerily glossy sheen to the props, with long poles towering over the action, ably used by the three witches to observe the action onstage throughout, and as trees during the Birnham Wood battle scene.
Set against this commanding backdrop, the performances of the actors need to be equally striking, but with a few notable exceptions they are overshadowed throughout. Macbeth (Joseph Brown) showed authenticity in his delivery of soliloquise in a deep Scottish burr, but failed to convince as a warrior king and brutal tyrant. Similarly, Kirsty Besterman as Lady Macbeth only hinted at the deeper reasons for her over-weaning ambition, neither a sexual manipulator nor mourning mother was fully realised in her portrayal.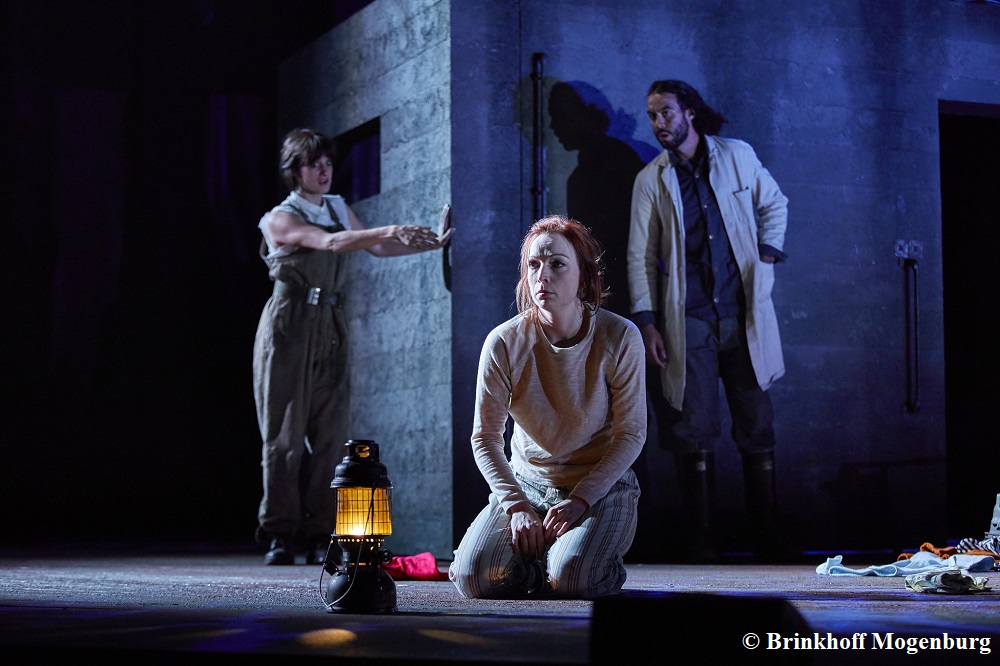 An exception to this criticism was the death scene of Lady Macbeth which was the best I have ever seen, using an innovative revolving set to reveal her corpse, her presence on stage in the arms of her husband gave real emotion to the delivery of the 'out brief candle' passage.
Elsewhere, only Patrick Robinson as Banquo and Tom Mannion as Duncan displayed the necessary depth and gravitas to not be overshadowed by the immense stage and the decision to use them as ghosts following Macbeth's death was clever and chilling. Similarly, the three witches (Elizabeth Chan/ Evelyn Roberts/ Olivia Sweeney) were depicted as wraith like girls, acrobatic and ever present in the background, conjuring horrible doll like images in the guilty mind of Macbeth. The Wyrd Sisters truly were weird here....
This Macbeth is a real curiosity. Some of the ideas are innovative and put together with the professional assurance we would expect of our National Theatre, but let down by fragile performances and a lack of explicit motive. The young audience this evening loved it though. For them, it was accessible, clear and well paced and you could hear a pin drop throughout with a huge cheering ovation at the curtain. So, if it can engender a love of Shakespeare in 14/16 year old Mancunians, then who am I to argue!
Reviewer: Paul Wilcox
Reviewed: 4th October 2018
North West End Rating: ★★★