For over 30 years I have been going to see Joseph and the Amazing Technicolor Dreamcoat on stage in various guises and the show never seems to age. With this in mind I was looking to seeing what the newly revamped Bill Kenwright version had to offer this time round as I visited the lovely Rhyl Pavillion for the first time.
What hasn't changed from my last visit to this production is the painfully long overture which seems to showcase every song in the score even before the curtain rises. Also still in there is the 2nd song from Pharaoh which for me is not needed and interrupts the flow of the whole show. We still have the infamous misbehaving sheep, although I think the flock has grown since my last viewing.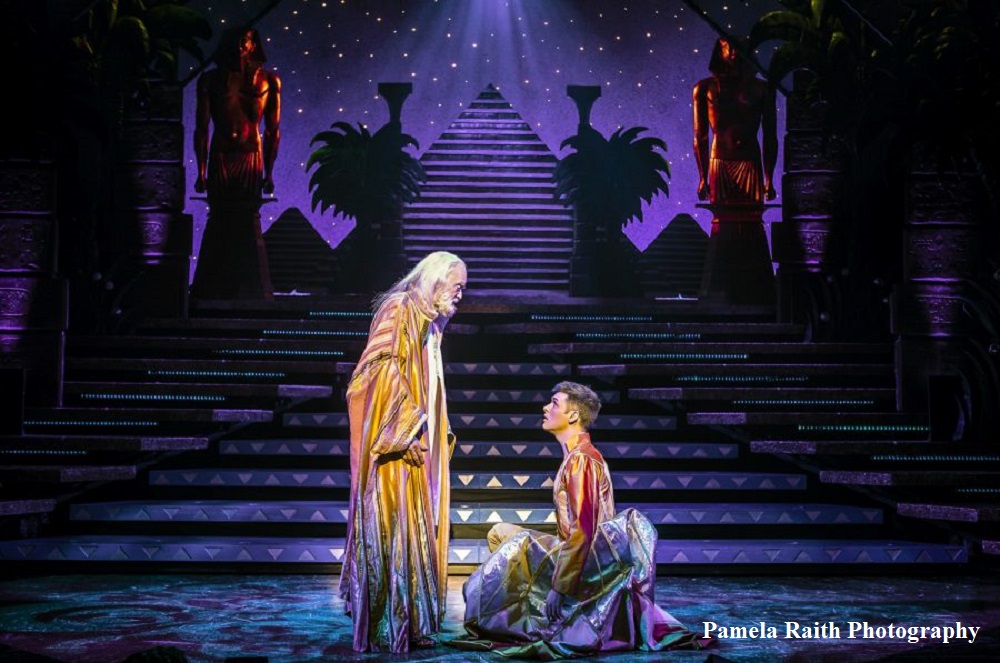 What has changed is Joseph himself, played for the last couple of tours by the superb Joe McElderry he has handed over the coat to Union J star Jaymi Hensley. I have documented on this site that I believe McElderry is the best Joseph ever to be on stage, however Hensley does a fantastic job and comes in my top 5. Vocally he is strong in all areas and his acting is assured for his musical theatre debut.
Our narrator for this tour is Trina Hill who does a good job of keeping to story flowing throughout the evening. He interactions with the youth choir on stage and fellow cast members is good however I felt she struggled slightly with some of the more powerful vocal parts.
Pharaoh is played by the larger than life Andrew Geater powers through the Elvis inspired opening to act 2 displaying all the characteristics of the King. He has the audience in the palm of his hands from the second he appears on stage to the accompaniment of pyrotechnics.
Andrew Lloyd Webber and Tim Rice are credited with the success of this show but one other name should be added to this talented duo. Mr Henry Metcalfe has been involved with this show since the 70's and provided the original chorography. He has played Jacob for as long as I can remember and I can't imagine ever seeing this show without him.
Joseph's 11 brothers are all played superbly here with Alex Hetherington, Matt Jolly and Arthur Boan shining with their vocal abilities and Mikey Jay-Heath standing out with his movement and obvious passion for his role.
The three hardest working members of this cast are without question Amber Kennedy, Eve Norris and Gemma Pipe as the handmaidens and other roles. The number of costume changes these three undertook during the 2 hour performance was simply mind blowing.
Joseph is a timeless piece of musical theatre that sends you away from the theatre with a spring in your step and a smile on your face. With new additional choreography from Gary Lloyd I defy anybody not to enjoy this musical gem.
Joseph continues at Rhyl Pavilion until Saturday 30th March and then continues its UK tour until July. https://www.kenwright.com/portfolio/joseph-and-the-technicolor-dreamcoat/
Reviewer: Paul Downham
Reviewed: 26th March 2019
North West End Rating: ★★★★