Cyrano de Bergerac is a swordsman, poet, and soldier as well as having the biggest conk in all of France, but Deborah McAndrew's masterly adaption of Edmond Rodstan's classic is much more than just gluing on a comedy nose.
With some subtle nods to modernity, McAndrew's text sees past the bombast and self-loathing of a gifted maverick - who just doesn't perceive himself as others see him - placing much more emphasis on honour, loyalty and love in a turbulent seventeenth century France.
McAndrew has become The Broadsides adapter of choice these days, but this is by far her best work, and what a way for a company as bloody minded as the idealistic Cyrano to kick off their 25th anniversary.
When most people think of Cyrano they just recall a 'bloke with a big hooter', but this is an epic tale of misdirected love as Cyrano loses his heart to his cousin, the beautiful Roxane, but unfortunately for him she has fallen head over heels with the handsome but vacuous young noble Christian, who persuades his rival for her affections to pen love letters for him.
Thrown into the mix the dastardly married Comte de Guiche lusting after Roxane, plus the epic siege of Arras, and you have a rollicking romp in a simple set that is played for laughs too.
You can't help but laugh as Cyrano runs through a long list of insults about his humongous nose as he challenges Andy Cryer's ambitious de Guiche before heading off to face down 100 men who were about to murder his drunken friend Ligniere. Nasal insults that would cost a man his life if ever uttered to Cyrano's face.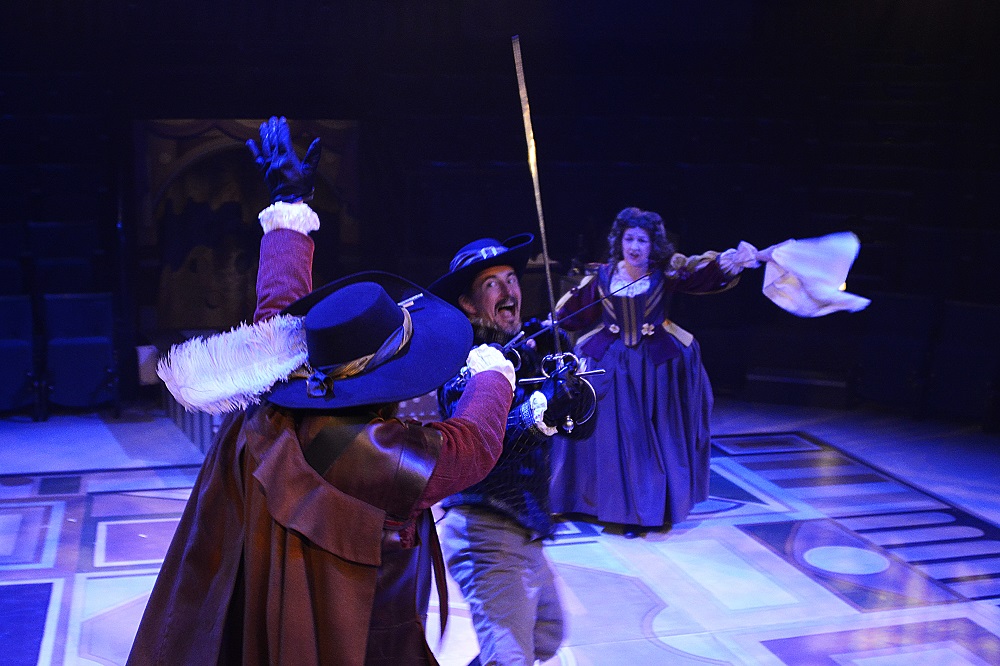 McAndrew's version is added by a flamboyant and funny performance by Christian Edwards who gets beyond the prosthetic to uncover the loneliness and lost love that makes him such a fine warrior, but ultimately destroys him. Adam Barlow pulls off a smart trick playing love rival Christian as not just a pretty face, but a decent man who is just way of his depth.
Roxane's role is in many ways an insubstantial one, but Sharon Singh makes a good fist of a woman who misses all the clues of who really loves her that as large as Cyrano's snozzle. The three leads are quite magnificent in the famous balcony scene where the tongue tied Christian fails to serenade Roxane forcing the man who really loves to step in to bear his heart masked by the dark.
The supporting cast are uniformly on it all night often playing different roles, but for comedy chops you can't beat Francesca Mills with a charming turn as a cheeky pickpocket chased round the stage by her victims, and Paul Branhill offering some sublime timing as the master baker Ragueneau - who also happens to the worst poet in Paris.
McAndrew has cleverly expanded Ligniere's role deep into the second act, and Michael Hugo makes the most of a man living in a bottle nailing the comedy songs that gets him into deep trouble with de Guiche.
The other stars of this show are the songs composed by director Conrad Nelson, and played by the company, which punctuate the action perfectly, and never more effectively as a chorus distracting the audience from the incomprehensible sequence where Cyrano pretends to have fallen from the moon to distract de Guiche from Roxane's rushed marriage to Christian.
Broadsides have spent a quarter of a century doing things very much their own way giving Northern accents and sensibilities a much needed platform, but this very funny and moving adaptation is a reminder that their final product is always of the highest quality.
Cyrano is on tour until Saturday 27th May. For more details of venues/booking go to www.northern-broadsides.co.uk
Reviewer: Paul Clarke
Reviewed: 3rd March 2017
North West End Rating: ★★★★