Outrageous comedy and political commentary are combined to amazing effect in They Don't Pay? We Won't Pay! by Italian playwright Dario Fo, adapted by Deborah McAndrew and directed by Conrad Nelson at the York Theatre Royal. The play focuses on struggling, working-class housewife Anthea (Lisa Howard), who, prior to the first act, takes part in a protest at a local supermarket. The protest, however, soon becomes a violent riot.
Anthea pilfers as much food as she can for herself and her honest-to-a-fault husband Jack (Steve Huison), a committed socialist and trade unionist, as well as her hapless neighbour Maggie (Suzanne Ahmet) and husband Lewis (Matt Connor). As Anthea and Maggie try to hide the stolen goods from their respective spouses, things take a turn for the absurd in the shape of a police Constable (Michael Hugo) who commences a search for the contraband and attempts to bring the thieves to justice, even though his own Marxist politics would have him do the opposite. And things only get more ridiculous from there (the plot includes several fake pregnancies, a visitation from a saint, a Scottish undertaker, repeated breaking of the fourth wall, tins of dog food, and several bags of rice that fall off the back of a lorry).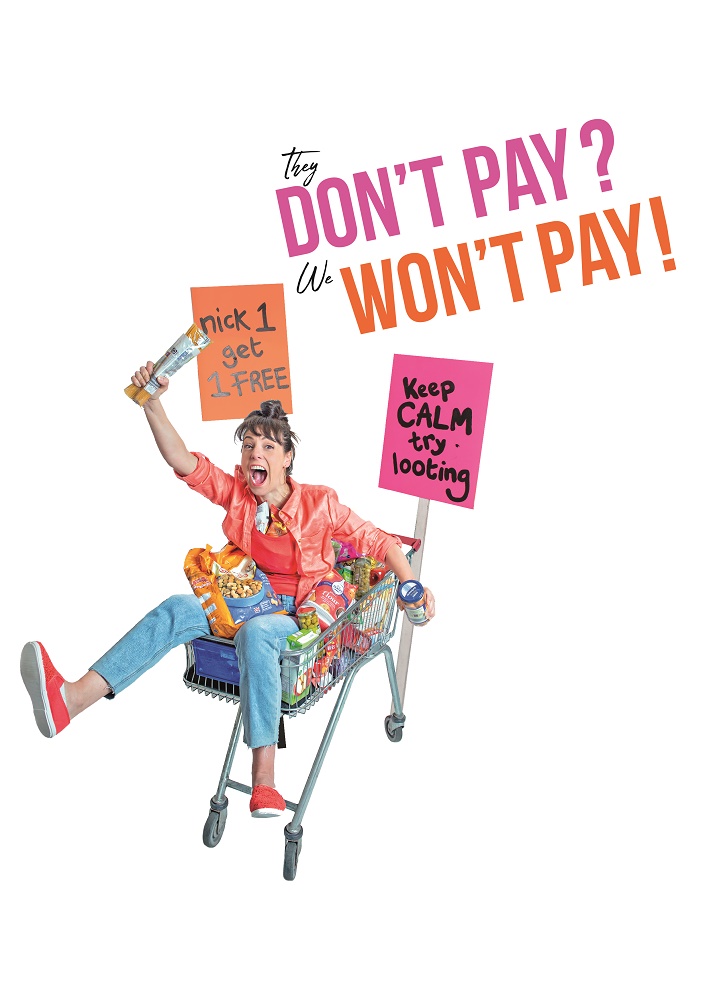 I admit that, going from other works of Dario Fo, I was expecting more of a serious social commentary as humour is lost in translation. As such, I was pleasantly surprised. The play itself treats its subject matter – the immiseration of the working-class, job insecurity, and various political bugaboos – through a premise that is more pantomime or sitcom-like than unsettling, surrealist drama. The story was amusing, but it was really a peg on which to hang the farcical set-pieces and fast-paced, witty dialogue. I laughed, and the audience laughed uproariously. It was certainly the best comedic experience I have had inside a theatre in a good long while. The major flaw of the play, however, is that it does better when it abjures the soapbox and makes its point by leaning more heavily into the comedy and the characters. There were moments where I felt as if I was being lectured or sermonised to, and those dragged down an otherwise wonderfully entertaining experience. Most damning of all, perhaps, is that the play does not offer any solutions to the problems it addresses. For all the comedy, the central theme of the story is presented as resignation towards continual struggle and defeat. Perhaps that was the point: that when faced with an unremittingly bleak reality, anarchic laughter is the only sane response.
The production is excellent, and Northern Broadsides have done an admirable job in transplanting the absurdist (and distinctly Italian) elements of the play into contemporary Britain. Each of the performers was wonderfully charismatic and clearly enjoyed the opportunity afforded to play to the gallery. Special mentions must be made of Lisa Howard, who sustains the energy of the play and provides it with a very human centre of gravity, a character which could easily have become two-dimensional; and of Michael Hugo, who multi-roles four (or five, depending on how you count them) parts with considerable dexterity, all of which are utterly hilarious and distinct. This is the subject of several meta-textual jokes that he can't remember which character he is playing or where he is in the narrative. However, the fast-paced energy and farcical elements did lead to some fumbling of lines, but I'm sure this will be fixed as the run continues. Moreover, the set design cleverly indicated the transition from day to night, which was a small touch but added realism to the otherwise absurd narrative.
You don't have to be a political animal to get a lot from the play, then. The production is truly theatre at its best: amazing entertainment joined with social purpose. I couldn't recommend it enough.
Reviewer: Amanda Hodgson
Reviewed: 9th October 2018
North West End Rating: ★★★★