A Knockout Evening of Musical Entertainment
Wow.
I don't know where to start with this review and I certainly didn't want the show to end.
Let's start with the talented Cast & Chorus that made this musical revue of almost fifty numbers from nearly as many shows such a resounding success:
Sally Adamson; Pip Bradshaw; Bet Davies; Margorie Davies; Audrey Francis; Ruth Gibb; Dru Grindley-Fitzgerald; Alan Harbottle; Claire Heaton; Marian Hitchen; Grace Hodgson; Sarah Johnson; Claire Jones; Maureen Kinsey; Nicola Lyons; Bláthíne Maguire; Barbara Marsh; Samantha Moores; Jeanna Roberts; David Stevens; Sam Troke; Dawn Louise Wright.
My hat goes off to one and all.
Tonight's production presented a wonderful snapshot of musical theatre from its earliest days right up to the modern day as we traversed the full range of emotions from love to sadness, with healthy doses of humour thrown in, and each piece supported by some delightful choreography (Moores; Lyons; Jones) which in combination with the acting and singing presented a visual treat for the ear and eye. The clever use of a backdrop screen by producer Michelle Williams identified each musical and song and later movingly served as a tribute to the many pillars of entertainment lost during 2016 to the fitting accompaniment of Send In The Clowns.
It would have been easy for RMTC to fall back on the numbers from their recent shows but they resisted that temptation as they did the safety net of only playing the well-known songs. Instead they offered a diverse range which ensured there would be something for everyone as well as taking us out of our comfort zone with some new experiences, each accompanied with personalised routines – a true extravaganza.
The second half medley from Cell Block Tango (Chicago) through to Queen of the Night (Bodyguard) allowed nine of the female cast to really give it their all and trust me, they do not disappoint. But before and after this there was a complete riot of unadulterated entertainment that had the audience oohing and aahing as well as clapping and tapping at every opportunity. Everyone excelled, which having seen many perform previously did not surprise, but I am thrilled to have now 'discovered' Hodgson, Maguire and Wright along with Harbottle and Troke. Even though I know how good her voice is, Adamson still knocks me for six every time. Grindley-Fitzgerald and Stevens do not disappoint. Johnson, Jones and Moores delight.
No show can be complete without a wonderful set (Les Dagnall; Tony Dagnall-Moss; Karen Woods) or the support from musical director Wayne Oakes and his team of Theo Fowler (drums); Mike Ciaputa (guitar); Dave Semans (bass guitar); and sound engineer Joe Massey.
Rainhill Musical Theatre Company was originally founded as Rainhill Amateur Operatic Society in 1951 and is affiliated to the National Operatic and Dramatic Association (NODA). Their youth section will be performing 'Now That's What I Call A Century' in April and the adult section will be performing 'Boogie Nights' in June. They are always looking for new members, so whether you want to tread the boards or just help backstage then get in touch – who knows where it might take you but you'll certainly have fun with this very friendly and welcoming group.
Real to Reel plays at Rainhill Village Hall on Friday 20th January at 7.30pm and on Saturday 21st January 2016 at 2.30pm and 7.30pm. Tickets priced at £9 (£7 concessions) are available via Ticketline 0151 290 5401 or on the door.
For further information visit their website http://www.rainhillmusicaltheatrecompany.co.uk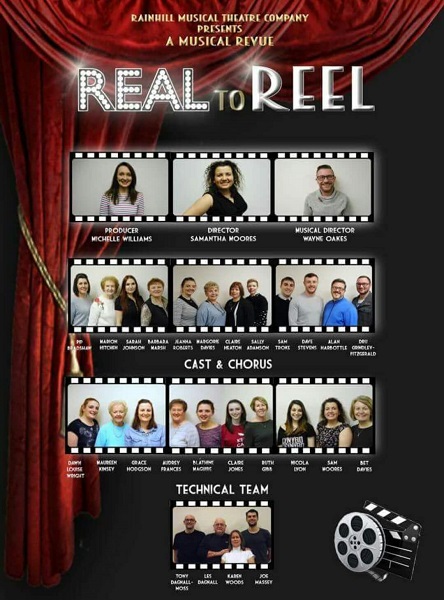 Reviewer: Mark Davoren
Reviewed: 19th January 2017