Aida is a four-act opera by Italian composer Giuseppe Verdi, set in Egypt during the time of the Pharaohs. First performed at Cairo's Opera House on 24 December 1871, tonight, almost 150 years on, it was brought to us by Artistic Director Sergei Shepelev and Music Director Grigorii Arkhipov of the Russian State Ballet and Opera.
In the Royal Palace, Captain of the Guard, Radames (Dmitry Semkin), longs to lead the Egyptian forces in their war with neighboring Ethiopia, his desire for glory inspired by his love for an Ethiopian slave girl, Aida (Elvira Gurieva). The King's daughter, Amneris (Ekaterina Lanceva) loves Radames and is suspicious of Aida. The King (Sergei Garashkin) arrives and, learning of Ethiopian advances from a messenger (Aleksei Christiakov), appoints Radames as commander-in-chief and he is sworn in by the High Priest, Ramfis (Mihail Naumov) and High Priestess (Valeriya Balandina). Aida is left distraught between her feelings for him and her country.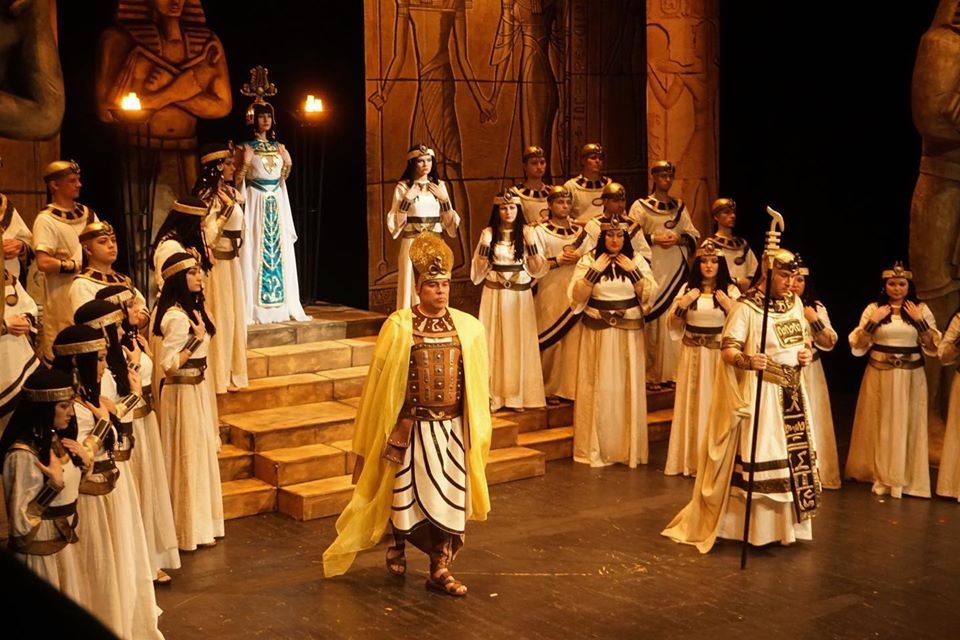 Amneris is keen to test her suspicions and falsely announces that Radames has been killed in battle. Aida's response reveals her true feelings and Amneris is bent on revenge. Radames returns triumphant with prisoners in tow including Aida's father, Amonasro (Vladislav Kalashnikov), who pleads for mercy for his people whilst others call for their death. The Egyptian King offers Radames any prize he chooses, and he asks for the prisoners to be freed. The King agrees and gives him Amneris' hand in marriage.
On the eve of her wedding, Ramfis takes Amneris to a sacred temple. Aida arrives for a secret meeting with Radames, still expressing her fears. Events unravel leading to Radames' arrest. Amneris is determined to save Radames from being found guilty of treason but he declares his enduring love for Aida. Will Radames be found guilty, and if so, what will his punishment be? Will Aida return and their love be reconciled? Or will Radames make excuses and marry Amneris and become the future king? Only one thing is certain and that is a dramatic ending!
All the soloists performed strongly with Gurieva perfectly capturing Aida's anguish and raw emotion throughout as she is torn between her love for Radames and the loss of her home and people. The orchestra under the direction of Arkhipov played beautifully with their delivery of the powerful score that is at times triumphant and at others more softly evocative of the emotions that underly this whole piece.
Shepelev's set design and staging was effective as hieroglyphic curtains gave way to temple scenes replete with columns and pharaoh-like statues and a backdrop of pyramids providing further depth, with subtle set adjustments allowing us to move seamlessly between the acts. The costumes designed by Tatyana Izicheva were rich in detail and colour, reflecting the period perfectly as they highlighted the contrast between royalty and slave, priests and commanders.
A major standout of the evening for me was the performance of the Chorus under the direction of Choirmaster Olga Zhilinskaya who gave us powerful triumphalism amid religious ceremony interwoven with softer and more delicate refrains that resonated with the real heartbeat of the story, as well as some delightful choreography, and intertwined so wonderfully with the orchestra throughout it was as if they were another instrument. Bravo!
Amande Concerts is touring Russian State Ballet and Opera throughout the UK with productions of Aida, Carmen, and Madama Butterfly. Full details available at https://amande-concerts.co.uk/
New Brighton was the place for theatregoers in the 1890's with seven theatres but the re-built Floral Pavilion remains as the only beacon of the power of live entertainment https://www.floralpavilion.com/
Reviewer: Mark Davoren
Reviewed: 10th March 2020
North West End UK Rating: ★★★★★