Remembrance week of the centenary year of the end of the First World War is the right moment for a re-enactment of Blackadder Goes Forth and under the direction of Nick Fawdry, Carlton Players serve up a fitting and moving tribute.
The script – written by Richard Curtis and Ben Elton some thirty years ago – has stood the test of time with slapstick humour and gags galore: it really is jokes away in this clever stage adaptation of four of the original episodes.
As good as the writing may be, it also demands a capable cast to deliver it and we are not let down by an experienced crew of Carlton stalwarts with the action in all four pieces centred around Captain Blackadder (Mike Sanders), Lieutenant George (Marc Smith), Private Baldrick (Graham Breckon), General Melchett (Gareth Crawshaw), and Captain Darling (Alexander Breatnach).
Most able support comes in the form of 'Bob' (Laura Smith) in Major Star; Nurse Mary (Fiona Williams) and Brigadier Smith (Keith Hill) in General Hospital; Lord Flasheart (Robert Thunder), Baron von Richthoven (Mark Prescott) and Lieutenant von Gerhardt (Hill) in Private Plane; and finally, Field Marshall Haig (Steve Youster) in Goodbyeee, all serving to prove the depth of talent on offer in this company.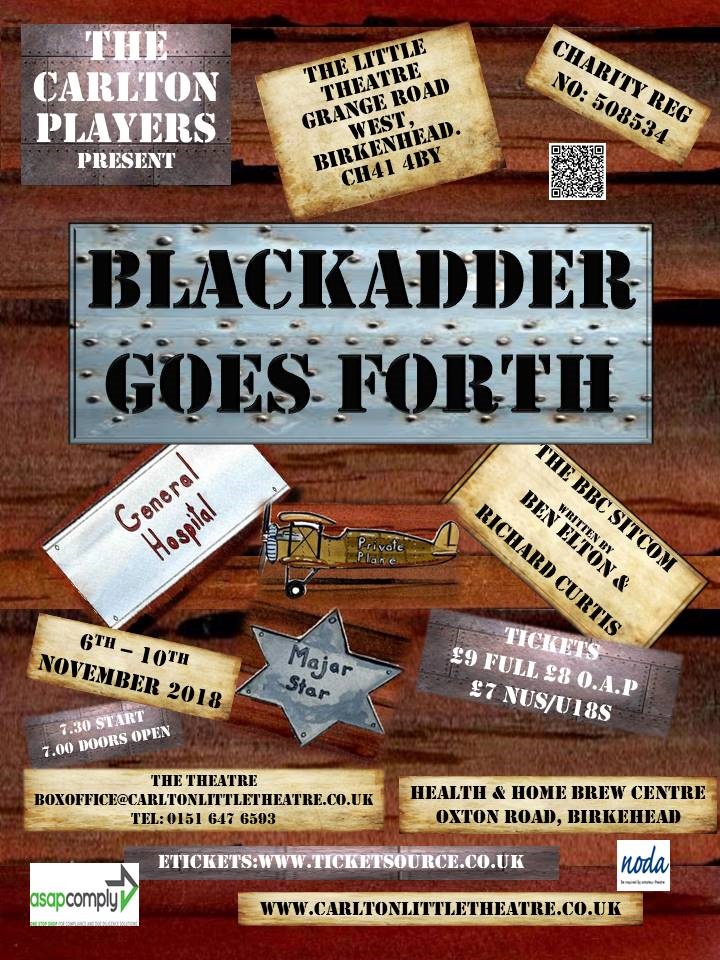 It is an obvious port of call to draw upon and repeat the television characterisations which is admirably achieved by Crawshaw, M Smith, and Thunder; Breckon's Baldrick does that and more; Sanders, as belies an actor of his experience and quality, delivers his own Blackadder and the production is all the better for it as we get a character deeper and richer than the one-liners – funny as they are – on offer. It is hard to put into words, but Sanders conveyed the unease beneath the character's surface exquisitely: despite the constant wit there was a real sense of foreboding.
To perform at this level, you also need the necessary support and again we were not let down. The presentation of the stage perfectly caught the trenches with split staging revealing a general office in one scene, a prison in another. This was wonderfully augmented by great lighting, sound, and costume. The flying scenes are cleverly delivered and in contrast to the barrage of wonderful humour throughout, the ending is immaculately performed and left the audience hushed and stunned. We would have loved a curtain call to properly pay our respects but how can you when no one is left standing: a powerful and moving moment indeed. Well done Nick and all.
The Little Theatre in Birkenhead is a delightful venue complete with bar and seating almost 300 including full disabled access. There is free parking to the rear of the theatre from 6.30pm.
The Carlton Players are the resident company and produce several plays throughout the year including a pantomime. They are always looking for new members so why not get involved?
Upcoming productions include Robin Hood and the Babes in the Wood (20th to 22nd December 2018); Blithe Spirit (5th to 9th February 2019); David Copperfield (19th to 23rd March 2019); Rope (23rd to 27th April 2019); Secondary Cause of Death (11th to 15th June 2019). Further details can be found at www.carltonlittletheatre.co.uk/
Blackadder Goes Forth runs through to Saturday 10th November 2018, doors open at 7.00pm with performances commencing at 7.30pm. Tickets £9 (£8 OAPs, £7 NUS/Under 18) and available at the Box Office on 0151 647 6593 ( email: This email address is being protected from spambots. You need JavaScript enabled to view it. ) or via www.ticketsource.co.uk/thecarltonlittletheatretrust
Reviewer: Mark Davoren
Reviewed: 6th November 2018
North West End Rating: ★★★★