Andrea Levy's Small Island is one of those novels which drags you in and doesn't let you go and Helen Edmundson's theatrical adaptation has perfectly captured its spirit. Directed by Rufus Norris, this is a vibrant piece of drama which beautifully tells the story of Hortense, Queenie, Bernard and Gilbert and their lives in 1940s Jamaica and Britain.
Opening with a vintage film about the Caribbean, the play has an immersive atmosphere from the start as the actors step out of the film onto the stage. A revolving stage and exits and entrances through the stage floor create a sense of space as the projected scenery beautifully creates the various places the characters inhabit, from the busy streets of Kingston to the bombed out landscape of London's post-war streets.
The first character we meet is Hortense (Leah Harvey), whose disdainful and haughty persona resulting from her strict, religious upbringing, is excellent from the start. The effect of the first person narration of the novel is preserved through a number of asides, often delivered with wry humour which present the both the characters' inner feelings and Levy's commentary on them.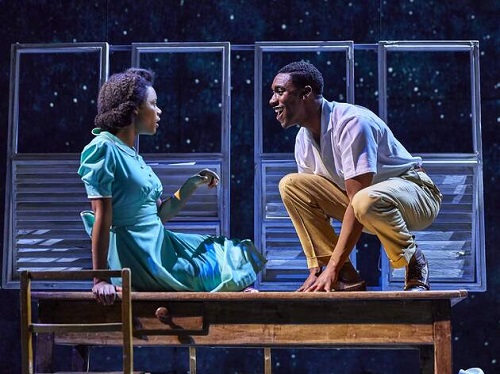 The characters' strong emotions are embedded into the play's world as they weave into the hurricanes and bombings happening around them. The choreography of the ensemble cast create a busy and overwhelming atmosphere which cleverly illustrates the often frightening world in which the characters live.
Queenie's (Aisling Loftus) disorientation over what happened to her life is palpable. As both she and Hortense dream of another life, the reality of their situations is heartbreaking, even with Hortense's high and mighty attitude thinly hiding her innocence and naivete.
Flashbacks to Hortense's and Queenie's childhoods are very well presented, with the narrator remaining on the stage looking on dispassionately creating a sense of truth in their view of the past. Little Hortense (Keira Chansa) gives a very good performance and the decision to have Loftus present her own younger years creates a good sense of the feeling that her life has flown by without her. Her memories of her Aunt Dorothy (Beatie Edney) have a fairy tale gone wrong quality with Edney's manufactured upper class persona being performed wonderfully.
The downward spiral is fully realised when Queenie meets Bernard (Andrew Rothney) a fabulously dull, overpolite banker. As she finds financial security in marriage on the flip side we see the more unusual move of Gilbert (Gershwyn Eustache Jnr) finding financial security in his own marriage as he embarks on a journey to England.
Boarding the Empire Windrush, which in the hindsight of today's world has taken on a whole other meaning, Gilbert's optimistic nature is brilliantly performed and nicely contrasts with his disappointment as life in England doesn't turn out quite as he had hoped. Bitterly remembering his cousin Elwood (Johann Myers) insisting that the British are liars and he's fallen for it, Gilbert experiences a life of overwork and disrespect in the racist, bigoted world he longed to be a part of.
This play is an excellent look at life which explores themes of race, class and gender in a compelling way. Delicately and intricately layered, the piece will make you laugh and cry, before taking a long hard look at a world built more recently than we like to admit and the effects of which are screaming to be heard today. The institutional racism in post-war England is so embedded that even the characters who don't believe they are part of it, such as Queenie, still make remarks such as "you'll soon learn English" and "I don't mind being seen with you", an attitude which we can learn a lot from today. While some elements of the novel, particularly Bernard's wartime experiences, are not included in the adaptation, this is an excellent interpretation of a brilliant book which will captivate you from beginning to end.
Small Island is being streamed HERE on YouTube until 25th June 2020.

Reviewer: Donna M Day
Reviewed: 18th June 2020
North West End UK Rating: ★★★★★