When I was greeted at the entrance by two of the leading ladies – Bláthíne Maguire and Lucy Bradshaw – of recent productions informing me they were resting, I had a little wobble about how tonight might unfold. I needn't have worried as Rainhill Musical Theatre Company showed again the rich depth of talent the company has to offer from its stalwarts through to rising stars as well as some exciting new talent.
Whatever you do read the synopsis, they told me, there's a lot going on, and in true panto style, oh yes there is, and it's all the more fun because of it: wicked pirate Bluebeard (Matthew C Roche) likes getting married but doesn't like staying married for too long, and now he's got his eye on Cinderella (Dawn Louise Wright) who is on a honeymoon cruise with Prince Charming (Ruth Gibb).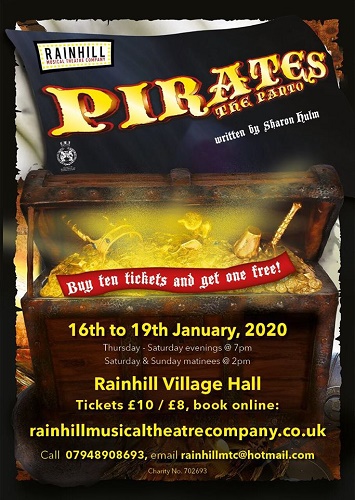 But when you bring together the leads from other fairy tales in the form of The Wicked Queen (Julie Molyneux); Red Riding Hood (Jennie Heyes); Wolfie (Stephanie Bourke); and Goldie Locks (Julie Gould) and throw in a Widow Twanky (Edward Chapman) and an out of sorts Pirate Pat (Claire Heaton), then you're guaranteed to reach the crest of the wave of singing, dancing and adventure on the seven seas.
This stellar cast was ably supported by regulars Sarah Johnson; Claire Jones; Pip Bradshaw; Liam Fitzgerald; Barbara Marsh; Anita Shaw; and Bet Davies, as well as members from RMTC Youth which tonight included Poppy Trigwell; Aaron Savage; Holly Spencer-Storey; Celine Shaw; Milly Sutton; Darcy Trigwell; Grace Spencer-Storey; Maisie Riley; and Lilljana Spencer.
The choice of supporting music offered the perfect accompaniment to the unfolding action and was performed in the main by a live band under the direction of Wayne Oakes (keyboards) accompanied by Ben Knowles (Bass) and Trevor Bartlett (Drums).
The set design was simple and all the more effective for it with our focus well and truly on appreciating the visual treats on stage with wonderful cast performances enriched by detailed costumes produced by members and with delightful choreography under the capable direction of Jones further supported by lighting from Les Dagnall and sound from Sam Heyes.
Roche and Chapman are welcome additions to the company with Roche's Bluebeard played with a subtleness and edge that I really enjoyed, and Chapman the perfect dame with his rendition of Juice a revelation. Bourke and Heyes grabbed their opportunity to step up from a previous ensemble role and thrilled the audience with their duets on both Shallow and Me. Regulars Heaton, Gould and a returning Wright performed and sung sublimely whilst Gibbs' natural comic skill and timing remains excellent as always.
I save the best for last though as there was one special star tonight in the form of debutant director/producer Karen Woods who brought this whole thing together – including making the majority of the costumes – and pulled it off. Woods has been the mainstay of many a RMTC production working tirelessly back of house to makes scenes and sets work effortlessly, so it is fantastic to see her reaching a new potential of which I am sure will be the first of many.
This was a great example of community theatre at its best and I'm already looking forward to All Shook Up coming in June 2020.
Pirates the Panto performs at Rainhill Village Hall on 16th - 18th January at 7.30pm and with additional matinee performances on Saturday and Sunday at 2.00pm. Tickets are available via www.rainhillmusicaltheatrecompany.co.uk or telephone 07948 908 693.
Reviewer: Mark Davoren
Reviewed: 16th January 2020
North West End UK Rating: ★★★★